Junior Bake Off judge Nadiya Hussain: 'I'm learning from the kids!'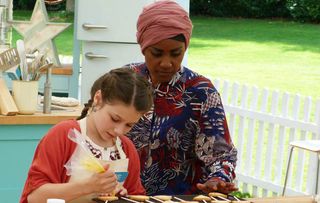 (Image credit: BBC/Love Productions/George Kimm)
She came, she baked, she conquered. Now Bake Off's Nadiya Hussain is switching sides to judge the junior spin-off show…
Nadiya Hussain may have lost her Great British Bake Off crown, but the 2015 winner still feels a champion.
"My life has changed so much. Twelve months ago I was struggling to believe I'd even won the competition and look at me now," grinned Nadiya, 31, who's touchingly incredulous that she'll be back in the tent soon in her new role as a judge for CBBC's Junior Bake Off.
"It certainly makes a change being on the other side of the work surface! And having been a contestant does make it tough to suddenly be a judge. But hopefully the children will be able to relate to me."
We're pretty sure that won't be a problem given that most of the nation can relate to Nadiya Hussain, won over by her brilliant baking, extreme facial expressions and general down-to-earth, all-round fabulousness.
Now a cookbook writer, author and regular presenter on The One Show and Loose Women, she's the ideal choice for this Great British Bake Off spin-off, joining top chef and co-judge, Allegra McEvedy, along with popular kids' presenters, Sam Nixon and Mark Rhodes.
From thousands of entries, 40 children will enter the tent hoping to impress Nadiya with jaw-dropping bakes, including this week's Red Velvet Whoopee Pies and a gravity-defying Showstopper.
So any soggy bottoms in the quest to find Britain's best young baker? Here, the mum-of-three reveals all…
Could the juniors give you adult contestants a run for your money? "The kids are incredible! Not just talented but extraordinary. Bake Off needs to watch out as the next generation of bakers is ready to take our kitchens by storm!"
It must feel odd being in the tent without the original judges and presenters Paul, Mary, Mel and Sue… "But working with the Bake Off crew is so much fun – it's just lovely working with a team of people who all love cake as much as I do! And it's a pleasure to work with Sam, Mark and Allegra. We do a lot of sleeping and eating when we're not filming and a lot of giggling. When we start it's hard to stop!"
The bakers are under huge pressure in the adult Bake Off – how do the juniors cope? "Each child starts off nervous – you can sense it on the first day – but as soon as they begin (cooking) they ease into it and seem to grow through the challenge. By the end of the show some are beaming. I'm learning new techniques and flavour combinations all the time!"
How excited are the children to have you as a judge? "Honestly, my best moments filming Junior Bake Off have been seeing the kids for the first time and their reaction. Everywhere I go the reaction to me is positive, which is testament to how much people love Bake Off. My own kids (Musa, nine, Dawud, eight and Maryam, five) and my nephews and nieces loved watching me compete last year, so you can imagine how pleased they are I'm now doing this."
Any family members itching to follow in your footsteps? "Yes! We have a few budding bakers in the family so watch this space."
Bake Off's made Britain bonkers about baking. Are you hoping this show will inspire children to get in the kitchen? "Absolutely. Baking and cooking are key skills in life and should be on the national curriculum – they're as important as maths, science and English. I've always baked with my kids. It's important to give children confidence in the kitchen and the freedom to bake on their own."
Any top tips for budding bakers? "Paul Hollywood once said to me, 'Don't lose your rag.' Best advice ever!"
Finally, Nadiya, if you were a cake, what would you be? "A chocolate and star anise fondant - dark on the outside, soft and gooey in the middle!"
Junior Bake Off screens from Monday-Friday on CBBC
Get the latest updates, reviews and unmissable series to watch and more!
Thank you for signing up to Whattowatch. You will receive a verification email shortly.
There was a problem. Please refresh the page and try again.