Downton's Joanne Froggatt: 'I keep finishing Brendan's sentences for him!'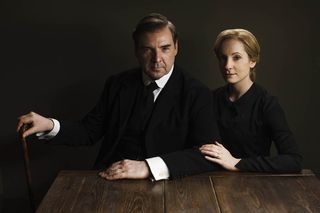 (Image credit: Nick Briggs)
Matters become rather complicated for our favourite Downton Abbey (opens in new tab) couple Anna and Bates this week as Anna pays a visit to the site of Green's death in London and is followed by a strange man. TV Times (opens in new tab) sat down with Joanne Froggatt (opens in new tab) and Brendan Coyle (opens in new tab) who play Anna and Bates, to find out more…


Do people in the street keep asking you if Bates killed Green?

Brendan: "Yes, I get, 'Did he do it?' all the time. And I know whether he did or not!"
The police seem rather interested in Mr Green's death too, what impact does that have on Bates and Anna?
Brendan: "Anna's concealing things because she knows it would be provocative for Bates, but he believes he knows the truth so there is unspoken stuff that is troublesome."
Joanne: "They are trying to heal themselves and move forward with their lives, but that's not going to be an easy process for them because the issue of Mr Green's death keeps getting brought back up, so obviously that is a cloud hanging over them and there will be ups and downs still."
Are you pleased that the aftermath of the rape has become just as important as the attack itself?
Brendan: "What's good is that this traumatic storyline hasn't gone away. It wasn't just done for shock effect and then it was over, it has had a profound effect on their relationship, which has been beautiful to play."
What feedback did you have to the rape scenes?
Joanne: "I received letters from people who had been through similar experiences and I was honoured that they felt able to write to me and trust me with their stories because even in our day and age it is still difficult to be able to confront. It was a very grounding, moving experience and an unusual thing to happen for actor."
Will we ever see a Baby Bates?
Joanne: "Oh, Baby Bates! They've been open about wanting children, and this series Anna said, 'What will be, will be', but they've been through a lot…"
Brendan: "I don't think it's the time. There are a couple of other things for them to sort out first!"
Do you enjoy working together?
Joanne: "Oh yes, it's lovely being in an ensemble and doing scenes as a big group, but there's nothing nicer than being in more focused scenes with just you and the other actor, and Brendan and I really have a shorthand. I keep finishing his sentences in real life though. I've done it a few times this year and Brendan complains, 'You're not actually my wife!'."
Brendan: "She's always picking things off me too, she grooms me like a spider monkey, and tells me how to behave."
Brendan, do you still get lots of attention from Downton's female fans?
Joanne: "Oh the Mr Baters! He gets a lot of mail from ladies, they love him, he's quite an attraction. Whenever we do an event or an interview and he's not there, I always get, [puts on a cross voice] 'Where's Brendan?!'"
Brendan: "She's answering for me again, but the attention is very nice."
How has Downton changed your lives?
Brendan: "I didn't used to live in a castle and I now go to work on a winged unicorn! Seriously, we're seasoned professionals but if this was our first job it would have been alarming to think this was the usual nature of the beast. This is the most successful show any of us have been in, in terms of exposure, but thankfully, it has not been overnight, it has grown as the series has gone on."
What has been your favourite Downton spoof?
Joanne: "I like the P Diddy one, the production values were brilliant."
Brendan: "He popped up in every scene with every character. He must have spent the cost of one of our whole episodes or even a series."
Joanne: "The Comic Relief one after our first series was brilliant too. Bates kept bumping his head and Anna kept running around in the kitchen."
Do you ever worry that you might be killed off?
Joanne: "No, I'm not squeamish about being killed off, but none of us feel the noose hanging over us, apart from Bates, he's already had that once! I'd love to work internationally though and Downton can't go on forever, but when you come this far with a show, you feel a responsibility to see it through to the end, no matter when that is. It'll be like going solo from a band when it finishes!"
To read more, buy TV Times, which is on sale now.
Get the latest updates, reviews and unmissable series to watch and more!
Caren has been a journalist specializing in TV for almost two decades and is a Senior Features Writer for TV Times, TV & Satellite Week and What's On TV magazines and she also writes for What to Watch.
Over the years, she has spent many a day in a muddy field or an on-set catering bus chatting to numerous stars on location including the likes of Olivia Colman, David Tennant, Suranne Jones, Jamie Dornan, Dame Judi Dench and Sir Derek Jacobi as well as Hollywood actors such as Glenn Close and Kiefer Sutherland.
Caren will happily sit down and watch any kind of telly (well, maybe not sci-fi!), but she particularly loves period dramas like Call the Midwife, Downton Abbey and The Crown and she's also a big fan of juicy crime thrillers from Line of Duty to Poirot.
In her spare time, Caren enjoys going to the cinema and theatre or curling up with a good book.
Thank you for signing up to Whattowatch. You will receive a verification email shortly.
There was a problem. Please refresh the page and try again.