Chi-Raq | Spike Lee's angry blast of hip-hop agitprop is a gaudy mess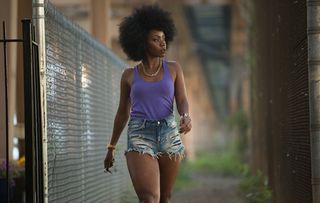 (Image credit: Parrish Lewis)
Spike Lee delivers an angry blast of hip-hop agitprop with Chi-Raq, a flashy but flaky updating of Aristophanes' 2,400-year-old Greek comedy Lysistrata from the Peloponnesian War to modern-day Chicago.
The premise remains the same: a sex strike by women to convince their belligerent men to lay down their weapons. Here the warring parties are rival street gangs from Chicago's South Side headed by Nick Cannon's cocky rapper Chi-Raq (the Spartans) and Wesley Snipes' eye-patch-wearing Cyclops (the Trojans). And it's Teyonah Parris's Lysistrata, Chi-Raq's sassy girlfriend, who calls the strike after yet another innocent bystander falls victim to the city's escalating violence. Her rallying cry: 'No peace, no pussy'.
"Florid doggerel"
There's genuine outrage behind Lee's musical satire, and his fury has good cause. Gun-related deaths in Chicago in the last 15 years have outnumbered American casualties in Afghanistan and Iraq combined. Hence the city's wry slang nickname.
Lee's artistic response is flamboyantly provocative. Unfortunately, his film is also a gaudy mess. The characters mostly speak in verse, which needn't be a drawback but for the fact that their rhymes are florid doggerel that not even Samuel L Jackson – who serves as the story's dapper Greek chorus - can redeem. And when Lee ramps up the craziness in the film's later stages, the farcical scenes are laboured and unfunny.
He has, however, created a very striking heroine in his latter-day Lysistrata, magnificently played by Parris, who fans of Mad Men will recall in the role of Don Draper's secretary Dawn. She, almost alone among the cast, does emerge with credit intact.
Certificate 15. Runtime 127 mins. Director Spike Lee
https://www.youtube.com/watch?v=p5_C-jgCdUM
Get the latest updates, reviews and unmissable series to watch and more!
Thank you for signing up to Whattowatch. You will receive a verification email shortly.
There was a problem. Please refresh the page and try again.