The Valley of Gwangi (1968) | Ray Harryhausen's dino-western gets a special edition Blu-ray release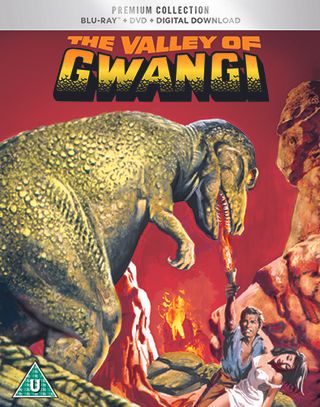 Warner Bros. Home Entertainment unleash the fantasy classic The Valley of Gwangi on Blu-ray, DVD and Digital as part of The Premium Collection
Cowpokes head into a mysterious Mexican valley to head 'em up and move 'em out. But they're not looking for little dogies. They're looking for great, big dinosaurs. James Franciscus (TV's Longstreet) stars in this rip-roaring adventure featuring more dazzling visual effects by Ray Harryhausen.
When British paleontologist Professor Bromley (Laurence Naismith) identifies a tiny prehistoric horse as an Eohippus, which believed to have been extinct for 50 million years, Franciscus' Tuck head into the Forbidden Valley, where they encounter prehistoric creatures, including the razor-toothed 'Gwangi'. Trapping the creature, Tuck then tries to include it in his Wild West Show. But all hell breaks loose, when it breaks loose…
For his last dinosaur-themed movie, Harryhausen was inspired by a story originally conceived by King Kong creator Willis O'Brien, and, weaving his magic, he conjures up a menagerie of creatures including bat-winged pterosaurs, an Ornithomimus, and, for the film's big battle of the giants, a Styracosaurus.
The Valley of the Gwangi joins Warner Bros. Home Entertainment's Premium Collection on Blu-ray, DVD and a Digital Copy (via the Ultraviolet service) in a collectible slipcase which includes artcards featuring the films key art and three lobby cards style stills.
The special feature is Return to the Valley, a 8-minute 2003 featurette in which Harryhausen looks at the making the film, along with other animators from Industrial Light and Magic who were inspired by both Ray and the film.
Ray Harryhausen's Clash of the Titans and The Beast from 20,000 Fathoms are also available as part of The Premium Collection.
Get the latest updates, reviews and unmissable series to watch and more!
Thank you for signing up to Whattowatch. You will receive a verification email shortly.
There was a problem. Please refresh the page and try again.