Ackley Bridge star Amy-Leigh Hickman: 'I hated drama at school!'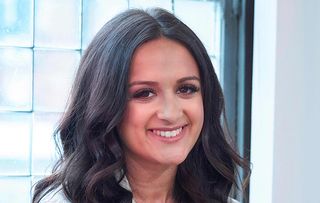 (Image credit: Steve Meddle/REX/Shutterstock)
Amy-Leigh Hickman reveals more on playing Nasreen Paracha, aka Nas, in C4's school drama Ackley Bridge...
Amy-Leigh Hickman spoke to What's On TV to tell us about Nas' disastrous date in Ackley Bridge, plus what her own school days were like and how her storyline helped other gay Muslim girls accept their sexuality….
WOTV: What made Nas realise she's ready to put herself out there and look for love?
Amy-Leigh Hickman: "She took a huge step when she decided she wasn't going to enter into an arranged marriage. She realised it wasn't going to make her happy forever. With Missy's encouragement Nas thinks, 'you know what I'm 17 and I'm going to do what everyone else is doing when they're 17. I'm going to go on dates and download apps'.' She's becoming a bit more like a normal teenager and I really like that."
She's been through a lot lately. Do you think that's influenced her outlook?
AL: "Definitely. She's had a lot going on which is why she realises how important it is to be happy. When I read the scripts I was really pleased that Nas is going to have a bit more fun. I don't think the audience has seen that side to Nas yet but this is where it starts."
She goes to great lengths to find a girlfriend doesn't she? Even joining a football team…
AL: "Nas is very determined in everything she tries to do and that's a quality I really like about her. It's like she's gone, 'do you know what? Screw it. I'm going to do this for me'."
But when she does meet someone it doesn't turn out to be the best first date does it?
AL: "Everyone has been on a date that doesn't go too well but this one goes completely – and literally – out the window. This is the first girl that's been interested in her and Nas is really excited that they'll go on a date together and it will all work out but it doesn't. She get a little bit freaked out and runs away but luckily Missy is only a few steps away and she and Aaron help her out."
How does she feel about it afterwards?
AL: "Thanks to Missy's influence she doesn't get down about it, which she would have done if she was on her own. She's able to laugh about it and say, 'right onto the next one'. She realises this girl isn't for her but she's going to keep on trying."
Where would Nas be without Poppy?
AL: "I know! They've got such a lovely friendship and it's great because me and Poppy are really good friends in real life. We always know those scenes are going to work and we look forward to them because we're actually making each other laugh between takes."
Nas has struggled to reconcile her sexuality with her Muslim faith, do you think it's important to tell these stories on TV?
AL: "It's so important. When I was filming the series last year I did think about it but after it aired I can't tell you the amount of Asian girls who tweeted me or came up to me and thanked me for telling this story because it was actually going on in their lives. One girl told me she watched the episode where Nas came out to Kaneez and actually came out to her parents afterwards. That makes it all worthwhile because you realise you're not just doing a job you love, you're actually doing something for the greater good. It's amazing."
Aaron doesn't bat an eyelid though does he?
AL: "Aaron is not from a cultural background. He's from Yorkshire but not from that community we're talking about so I think he has a different attitude to her being gay. He's a bit like 'oh, okay that's fine. That's not a problem.' He doesn't have that added understanding of her culture and religion."
She struggled to accept Aaron being around at first. How does she feel about him now?
AL: "Aaron is going to be a big part of Nas' life because he's going to be a big part of Missy's life. Nas realises that Missy has always loved and accepted her so she knows she has to be the bigger person and accept the fact that Missy is with Aaron".
And how has her relationship with Kaneez (Sunetra Sarker) changed now she realises her mum knew about her father's double life?
AL: "When Nas told her she was gay there was that shock. I don't think she ever expected in a million years for Kaneez to react in the way she did. Now she has a lot of sympathy and love for her mum and likewise Kaneez does for Nas as well. You see a lot more of that relationship unfold later on in the series."
What can we expect from Nas in the future?
AL: "She's going to have a bit more fun and do a bit more exploring as to where and how she can find a relationship. Then you actually see her get into a new relationship with a new character. You get to see her fall in love and it's a really beautiful love story. It was so nice to play and the girl who plays her girlfriend is absolutely amazing. The character is exactly what Nas needs."
Was your own school anything like Ackley Bridge?
AL: "My school was nothing like it. I was brought up in Hastings and my school wasn't segregated at all. Everyone got on with everyone. When I got the role as Nas I couldn't believe those schools existed but we did our research and there are schools like it. I think I was just lucky to be brought up in a school and a community that wasn't like that."
What's your favourite memory from school?
AL: "Probably leaving. I remember that last exam, putting down my pen and thinking 'oh my god, I'm so thankful'. Sixth form was so stressful. That sense of freedom afterwards is amazing."
Did you witness any of the issues covered on the show, for example bullying, during your own school years?
AL: "I definitely saw bullying. I think there's bullying in every school. Bullying stories happen quite a lot on TV but for a good reason. It's one of those things that happen in every single school. We have to remind kids that it's not ok."
Did you have any inspirational teachers?
AL: "When I was on Tracey Beaker I spent a lot of time being tutored because I was working for half the year. That meant I did half the year at school and then half the year being tutored. The tutors were amazing because they had to teach 10 children and some of the children were six while others were doing their GCSEs like me and yet they could adapt to everyone's needs. Without them I wouldn't have passed all my GCSEs and got the grades I did."
Which subjects did you like?
AL: "I hated drama! I used to get so embarrassed. Everyone always assumed I'd know the answers to things but actually I didn't have a clue so I'd get really embarrassed about standing up in class. I loved English. I loved writing stories and I liked music as well."
You've just worked on the Netflix drama Safe, how was that?
AL: "I loved it. It was amazing. It was so good because I never normally get to play the horrible characters. I always play the dark one who's got a lot going on but I never play a queen bee like Sia. I loved her character and the cast and locations were amazing. It was a great job.
Did you enjoy working with Michael C Hall in Safe?
AL: "I didn't have many scenes with him but he's amazing. He's got a really nice aura about him. He's so friendly, so professional and I'm a big fan of his work anyway so it was really nice to work with him."
Main pic: Steve Meddle/REX/Shutterstock
Get the What to Watch Newsletter
The latest updates, reviews and unmissable series to watch and more!
TV Content Director on TV Times, What's On TV and TV & Satellite Week
I'm a huge fan of television so I really have found the perfect job, as I've been writing about TV shows, films and interviewing major television, film and sports stars for over 25 years. I'm currently TV Content Director on What's On TV, TV Times, TV and Satellite Week magazines plus Whattowatch.com. I previously worked on Woman and Woman's Own in the 1990s. Outside of work I swim every morning, support Charlton Athletic football club and get nostalgic about TV shows Cagney & Lacey, I Claudius, Dallas and Tenko. I'm totally on top of everything good coming up too.