Eddie Marsan: 'Once the genie is out of the bottle, it is impossible to get it back in!'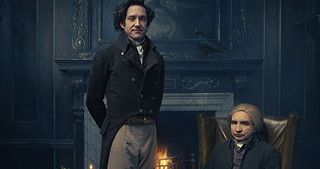 (Image credit: BBC/Todd Antony)
With its larger-than-life characters, Victorian setting, fine costumes and a plot that takes in big themes of love and loss, war and peace, politics, friendship, rivalry and betrayal, Jonathan Strange and Mr Norrell has everything you could ask for from Sunday night TV. (Sunday, BBC1, 9pm)
Bertie Carvel and Eddie Marsan play the titular duelling magicians, with supporting cast including Charlotte Riley, Marc Warren, Ariyon Bakare, Paul Kaye, Samuel West, Vincent Franklin and Alice Englert bringing to life Susanna Clarke's epic 2004 novel.
A Dickensian feast of oddballs and rakes, with added fantastical spells and mysterious worlds – to thrilling life. Eddie Marsan and Bertie Carvel tell us about playing rival magicians in an enchanting adaptation of Susanna Clarke's spellbinding bestseller…
So were you spellbound by the story?
Bertie: "I read it years ago and loved it. It's not a story that is trying to convince you that magic exists, it takes for granted that it does and then focuses on the people who live in that world. So you are watching credible, complete, fully imagined people who are recognisably in the same world we inhabit. We take for granted that they have magical powers. Given the popularity of fantasy genre, it is not such a stretch of the imagination – we have all seen Harry Potter, Lord of the Rings and Doctor Who."
Tell us a bit about the story...
Bertie: "The story begins in the early 1800s when magic is no longer practiced in Britain. Instead, it is discussed and theorised by Victorian geeks in public houses. Only when Mr Gilbert Norrell (Eddie Marsan), who has been secretly amassing the finest collection of magic books in the world, is challenged to prove his claim to be a practicing magician. Once word gets out that Norrell made the statues in York Cathedral come to life, magic is the talk of England. And when, in a bid to win favour with the rich and powerful, Norrell casts a spell to bring a prominent politician's beautiful fiancee back from the dead – he also unwittingly reawakens a dangerous spirit world…."
What type of character is Mr Norrell?
Eddie: "Norrell is a very, very lonely man who tries to control the world. But once the genie is out of the bottle, it is impossible to get it back in, which has huge ramifications. He is not all bad, though. I think he is a great character – I have an interesting face so I always get to play interesting characters!"
Bertie: "By contrast to grumpy, bookish Mr Norrell, Jonathan Strange is a charming, affable, happy-go-lucky gentleman. But their lives become intertwined when he also discovers a talent for trickery."
What happens when Jonathan Strange discovers a talent for trickery?
Bertie: "Strange is just motivated by trying to find an occupation. He has been useless at everything else, trips over magic and discovers this prodigious talent. And then he becomes a man of destiny. Strange and Norrell both have a talent for magic and some extraordinary things happen, but they deal with those situations in a way you can really believe in. It is a grown up drama, serious without taking itself too seriously."
What's their relationship like?
Bertie: 'Strange and Norrell are two sides of the coin. It is about reason versus instinct. They are both passionate about magic in very different ways – Norrell wants to organise magic, but it is completely out of his control, while Strange pushes boundaries and experiments."
Eddie: "Norrell is very anal and very cerebral while Strange is visceral. So you have one man who has to strain like crazy to find any drop of inspiration and one man who is a natural, who wakes up one morning and can do it."
How does it feel to be be part of one of the most ambitious dramas in recent years?
Bertie: "Every day has been remarkable. I pinch myself doing this job all the time. Actors are like professional children, and on this we are free to play and be child-like – to be in wonder."
Do you believe in magic?
Bertie: "Those who don't believe in magic will never find it. It sounds a bit grand, but I actually think theatre and acting is a sort of magic, isn't it? Which is to say that it is make believe, and when it is done well, you believe it. So if you didn't believe in magic, you couldn't be an actor, could you? That is an oblique answer!"
Eddie: "I always agree with Bertie. I think the world is miraculous. We can find the extraordinary in the ordinary, and it is a miracle that we are here. I am a bit of an atheist, but I do believe the world is miraculous and we just have to open our eyes to it…"
Get the latest updates, reviews and unmissable series to watch and more!
Thank you for signing up to Whattowatch. You will receive a verification email shortly.
There was a problem. Please refresh the page and try again.