Film review | How I Live Now - Saoirse Ronan holds Kevin Macdonald's moody survival thriller together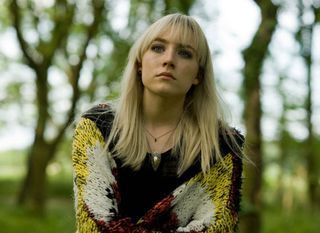 Kevin Macdonald's adaptation of Meg Rosoff's bestselling young adult novel How I Live Now goes from soppy teen romance to gritty survival thriller, a wildly severe mood swing that might impress a stroppy adolescent but which requires a terrific lead performance by actress Saiorse Ronan to pull off on screen.
At the start of the film, Ronan's prickly self-absorbed American teenager, Daisy, gets sent to stay with her bohemian English cousins in their rambling house in the country. There are signs that things are amiss in the wider world – soldiers at the airport when she arrives; alarming reports on the TV news; the departure of her Aunt Penn (Anna Chancellor) on a peacekeeping mission abroad – but obsessive-compulsive Daisy is too busy warring with the self-critical voices inside her head to notice.
She's equally shut off from her immediate surroundings until her cousins slowly pull her out of her solipsistic shell and she discovers the joys of open-air swimming and the even greater joys of love with handsome, hawk-taming Edmond (George MacKay). This rural idyll is shattered when a nuclear bomb goes off in London - an event we experience at a distance, entirely from the characters' point of view, as an ominous silence, followed by a sudden rush of wind, a muted, far-off rumble and a fall of snow-like ash. It's a stunning scene and one made all the more chilling by its restraint.
From here, the story gathers pace. Soldiers arrive and Daisy and the youngest cousin, Piper (Harley Bird), are forcibly separated from the boys, Edmond and 14-year-old Isaac (Tom Holland from The Impossible), and taken to a distant work camp. But Daisy will stop at nothing to be reunited with Edmond and breaks out of the camp with Piper for a perilous cross-country trek to get back home.
How I Live Now works best when it remains inside its heroine's head. World War Three, we gather, has broken out, but Macdonald isn't aways convincing when he gives us glimpses of the bigger picture, despite harrowing individual scenes. Somehow, though, Ronan makes the story work. And she let's us believe in Daisy's serial transformations, from sullen teenager to dreamy lover and, ultimately, fierce and resourceful survivor.
Certificate 15. Runtime 101 mins. Director Kevin Macdonald. http://youtube.com/v/RSaxm68PPT4
Get the latest updates, reviews and unmissable series to watch and more!
Thank you for signing up to Whattowatch. You will receive a verification email shortly.
There was a problem. Please refresh the page and try again.