Jamie Dornan is deep inside the mind of a serial killer!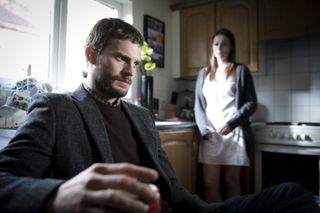 Belfast actor Jamie Dornan tells us about his dark new role as a serial killer in BBC2's five-part drama, The Fall, also starring Gillian Anderson...
On the surface your character Paul Spector seems like a good guy – he's a grief counsellor, husband and father. What does that add to the drama?
"Spector's heinous crimes are made even more shocking when you see him being such a good husband and father. He does unspeakable things, which are far removed from his home life. It's really jarring to watch him washing his daughter's hair one minute, then planning his next attack."
Was it difficult to play such different sides to him?
"It was tough and not an easy place to have your head for four months. That said, it was great work and I always felt blessed to get the part. I tried to approach it as if playing two different characters - the loving family man and the dark killer who needs to satisfy his horrible urges. When Spector puts on his black killing gear it really helped me become that other side of him."
Did you do any special research or preparation to immerse yourself in the role?
"For four months I didn't read anything other than books about innocent deaths. It definitely affects you. It was also physically demanding. Although I didn't think I needed to be a big guy or look like Arnie. His victims are small women and Spector's whole thing is to try and blend in and be inconspicuous. Every day I had to do something horrible I would talk to the actresses beforehand to let them know it didn't come easy to me. I know some actors might never leave that headspace, but I did my best to slip out of it as soon as 'cut' was called. My bookshelf is hilarious now, it ranges from the Harry Potters to Inside the Mind of a Serial Killer!"
From the beginning of the drama we know he's the killer and Gillian Anderson's character DSI Stella Gibson is hunting him. Does this make The Fall more of a why-dunnit than a who-dunnit?
"Yes, and I thought that was fascinating. I'd never read anything like it. We don't make the viewers wait 20 episodes before revealing who the killer is. Within five minutes you know it's Paul Spector. You get to live with him, follow him, and see the why rather than the who. It's as interesting to watch the motives of Spector as it is to watch Stella try to catch him."
Are you worried about the reaction from your family and friends when they see you in such a dark role?
"They may look at me in a different light and not come near me for a while! It's going to be interesting for people in my life to see it – Spector is void of emotion whereas I'm basically a cryer! Hopefully I'll keep friends and loved ones. I surprised myself with how dark I looked at times. I think it might be time to do a comedy next."
Get the latest updates, reviews and unmissable series to watch and more!
Thank you for signing up to Whattowatch. You will receive a verification email shortly.
There was a problem. Please refresh the page and try again.