Lesley Manville: 'Mum is a bit like Mike Leigh's work. He shows we're all ordinary, but epic things happen'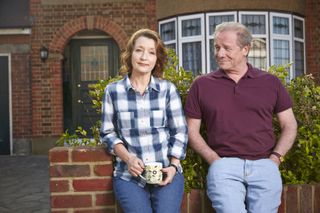 (Image credit: BBC/Big Talk Productions/Mark Johnson)
By her own admission, Lesley Manville (opens in new tab) is not known for her comedy roles. Lesley, 60, has built up an enviable reputation on stage and screen by playing a range of dark and often formidable characters, including her most recent BAFTA-nominated performance in acclaimed BBC1 crime drama River
So it's a lovely surprise to see her as a kind but wry widow in BBC2's heart-warming new comedy Mum (opens in new tab) (Friday, May 13).
The series, from the makers of Him & Her, centres on Lesley's character Cathy, who is dealing with the recent death of her husband while being surrounded by quirky friends and relations, including her unpleasant in-laws, her beloved son Jason (Sam Swainsbury), and his sweet-but-dim girlfriend Kelly (George Gently's Lisa McGrillis). Here, Lesley tells TV Times (opens in new tab) more…
What's the appeal of Mum for you?
"I'm known for playing big, emotional, tough classic roles so it's nice to do something lighter that still has character and substance. I know my forte wouldn't be an out-and-out comedy where you go, 'Here's the joke - boom boom.'
"So what I loved about Mum was that it is this lovely drama about this real family and then every now and again you get this laugh that is more about recognition than a gag, it's subtle and gentle and beautifully handled."
How would you describe Cathy?
"She wants everything to be all right for other people because she feels they need nurturing, but we had to make sure that she had a twinkle and a wit about her, too. So you can see that she is quietly laughing at all these other mad people, but she also has so much patience and understanding."
Family friend Michael, played by Peter Mullan, holds a candle for her, could there be romance in store?
"I can't tell you! I don't think she realises yet that he has feelings for her, but what is so nice is that when she does say what she feels about people, she is usually saying it to him. If there was any romance, it would be a slow burn because the six episodes cover a year, from January to New Year's Eve, and by then she is moving on from her husband's death."
Can you relate to Cathy?
"Well, my son Alfie [27, with ex-husband Gary Oldman] is a similar age to my on-screen son and I do relate to her because she is very pragmatic and comfortable in her own skin, as I am, but I'm not as patient as her. I am more judgemental!"
You've worked a lot with Mike Leigh over the years and have been in more of his productions than any other actor – you must be pretty proud of that!
"It's good, isn't it?! We did start when I was 22 though, so it has been over a period of 37 years and sometimes I have just played little cameos, which is what his group of actors do all the time, we just pop in. Mum is a bit like Mike Leigh's work where he shows how we are all ordinary people, but epic things happen in our lives."
What do you get recognised for most?
"People don't really know my name and that suits me fine, but I do get recognised sometimes, mostly for my theatre work. I know I will be sitting on the bus now and people will go, 'Mum!' But I don't handle that very well because I don't like selfies or anything like that. I don't tweet and I'm not on Facebook either. I don't need to tell everyone I am on a train or that I have just been for a wee!"
Get the What to Watch Newsletter
The latest updates, reviews and unmissable series to watch and more!