Matt Smith and Claire Foy: 'You see Prince Philip and the Queen's wonderful domestic moments in The Crown'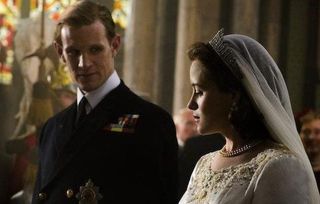 Stars Matt Smith and Claire Foy reveal how the first series of Netflix drama The Crown lifts the royal veil on the early life of Queen Elizabeth II and Prince Philip
Claire Foy and former Doctor Who star Matt Smith play the young Queen Elizabeth and Prince Philip in Netflix's lavish new period drama The Crown. We spoke to the pair to find out what it's like to play royalty…
This is the most expensive series Netflix has made; what's it like to have been a part of such a big project? Claire: "Everything's on such a massive scale and there are surprises every time you turn up on set. You just turn up and are faced with a giant aeroplane…" Matt: "Or a statue of Jared Harris, dressed up as King George VI." Claire: "They closed The Mall the other day for us to do a shot in an open-topped car. It was marvellous!"
Did it take you long to find the characters? Matt: "I really enjoyed the scenes with Jared Harris, who plays Elizabeth's father George VI, because that's where I really explored the character. Jared is amazing as well and there are lots of brilliantly detailed and nuanced scenes from him. The early days were good, but hopefully we can crack on and keep making it better!"
There's a very powerful scene where Prince Phillips is in a boat with the King… Claire: "Yes, I love that scene!" Matt: "We go duck hunting which was great to shoot. I had a gun and we were on the water, I was loving it. The director manages to match up the drama of it so brilliantly, that's the moment when Philip realises he's witnessing the demise of the King."
Did you feel pressure taking on such well-known roles? Matt: "Yes but every role comes with pressure. You think 'Yes I've got a job!' and then 'Oh God, I've got a job.'" Claire: "We had a lot of time before we actually started shooting and we had all the scripts as well, which is so rare for TV. There were lots of rehearsals and we had an amazing voice coach, so we were well supported. A lot of the time with TV you get the job and it's a mad rush to get it done, but we were lucky because there was so much preparation time with this." Matt: "I would also say that every department on this there is real quality throughout. The costume department, the make-up guys, everyone. Things like this aren't easy to pull off in television, but when you are making a show about the Royal family it needs that scale, it needs these great locations and it needs 200 extras turning up because otherwise you don't buy it in the same way." Claire: "Someone told me the other day there are 7,000 extras in the whole thing. That's insane."
Matt, were you hesitant about taking on another long-running series after Doctor Who? Matt: "I was until I heard Claire Foy was doing it! Having made a continual TV show for four years, you're always looking for ways to vary your working life and that was a long – but wonderful – slog. But the quality of the writing and the directors and the ambition they showed … I feel very privileged to be part of it." Claire: "Matt and I started at roughly the same time, which wasn't too long ago, but TV has changed completely. This just feels like we're making 10 films because of the amount of detail, time and love that goes into it. It feels like a different world."
The royals are always popular in America. Do you think The Crown will do well in the states? Claire: "I don't know? It's so funny being British because monarchy is something you have grown up with, you completely take it for granted, so I have genuinely got no concept of whether Americans love them. We'll find out I suppose!"
People are talking about this being the new Downton Abbey… Matt: "I don't think you can really qualify yourself against other programmes like that. We have made a drama about a very interesting family, I think, and there's definitely an appetite for the Royal family in America if you go and look at any newsstand there are all sorts of magazines over there, but also this is Peter Morgan's interpretation of that family and it is our interpretation of these characters." Claire: "It's funny because I think any period drama after Downton will always be compared because it was such a successful British export. I think it was brilliant because that was the first moment where suddenly British TV made a mark in America and it was amazing. But content-wise and show-wise, you might as well compare The Crown to The Sopranos as Downton!"
https://youtu.be/JWtnJjn6ng0
Both your characters have to make real sacrifices don't they? Matt: "It's funny because we both side with our characters, don't we? I think there is a profound love and respect there and ultimately they are great soul mates and one of the virtues of the show is that it does uncover the detail of their relationship and you do glimpse the profound love but also the profound struggle that they go through when she is made Queen of England." Claire: "It's like your grandparents, isn't it? When you're young you just assume they've always been 70 years old, but as you get older yourself you find yourself going through what they did and start to imagine them at 25 or 30." Matt: "They were the most famous people in Britain as well so they couldn't go anywhere. They got the train to Balmoral and 10,000 people turn up."
Prince Philip isn't universally popular with the establishment at first though is he? Claire: "He's a real outsider – a rogue." Matt: "He's like an alien."
Do we see a different side to him? Matt: "He was a wonderful family man actually, but he was also quite conflicted. He thought he would have a career in the Navy, but all of a suddenly she becomes Queen and they're thrust into the spotlight. He has to walk two steps behind his wife and it's very difficult for him to define himself."
Do you have a newfound respect for them? Claire: "It's quite difficult to look at it like that because in our head, our Elizabeth and Philip are completely different from the real life people, but you can't help admire them for taking on such responsibility and duty, while also fighting for their relationship." Matt: "… and how normal they are sometimes. What's amazing about the show is that you glimpse behind the royal veil. You see them getting ready for bed, bickering about life and you see them sharing these wonderful domestic moments. I found that particularly endearing."
There are some big set pieces as well, like the coronation for instance… Matt: "The coronation was brilliant…" Claire: "That was a tough day, but it's nothing compared to what she had to do. She was sitting there for hours with that crown on her head. It weighs a tonne! She was being watched by all the major heads of state in Westminster Abbey and millions of people all over the world on TV. Goodness knows what she was thinking because she looked so composed." Matt: "She is unflappable isn't she? She's brilliant."
Do you think the Queen and Prince Philip will watch the series? Matt: "I'm not sure. I would watch it if it was me!" Claire: "I would as well." Matt: "Someone reflecting my whole life back at me? I'd like to see what they've come up with." Claire: "They might turn off immediately and go 'No I don't want to know!'" Matt: "They might say: 'That didn't happen!' No, but there's always a pressure playing people that are alive isn't there? This isn't Spitting Image, we aren't doing caricatures of these people, but I think the casting has been superb throughout. These are people who have the essence of the characters and the same energy in many ways." Claire: "I think anyone with the amount of experience they have of people investing in their lives and picking things apart, this is probably small fry. Obviously we're not going to see them in the street, it's not like the Queen will come up to me and hit me with her handbag!" Matt: "We should be so lucky!" Claire: "Can you imagine? We'd be going 'I'm so sorry!'"
Claire you've played Anne Boleyn in Wolf Hall, did that help at all as preparation for this? "No not at all! Anne was very much at the mercy of her husband. She was the person who walked two steps behind and unfortunately ended up losing her head. It was funny having two coronations though! Maybe if Anne Boleyn was married to Prince Philip that might have been interesting." Matt: "Sparks would certainly fly!"
Did you have to learn a lot about royal protocol and etiquette for the series? Matt: "Yeah we had a lovely guy called Major David who gives us lessons in everything, but the great thing about Philip is that he gets to ignore all of that." Claire: "We mainly receive a lot of the protocol, but we only just realised that we don't bow to anyone. We can wave how we want." Matt: "It's interesting when you think about it, something like this will never happen again, there will never be another monarch that serves this long again. That's why it is such an amazing story and she's an amazing woman."
How did you find the royal accents? Claire: "I think we met somewhere between us and them, but we both had a few problems with the vowel sounds didn't we?" Matt: "It's because we are both common!" Claire: "I know!"
The first series of The Crown will be available on Netflix from Friday, November 4
Get the What to Watch Newsletter
The latest updates, reviews and unmissable series to watch and more!
Feature writer for TV Times, What's On TV, TV & Satellite Week and whattowatch.com
Sean has been writing about all things telly for over 10 years and in that time he's been lucky enough to interview stars like Ian McKellen, Tom Hardy and Kate Winslet. His favourite shows are The Great British Bake-Off, People Just Do Nothing and Succession and in his spare time he enjoys drinking tea, doing crosswords and watching football.