Matthew McNulty: "I don't think there's any danger of me letting any cats out of the bag because the bag never opens."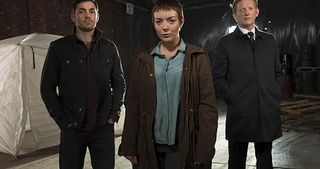 Matthew McNulty (opens in new tab) is confident that he won't spill the beans about what's coming up in ITV's new psychological thriller Black Work during his chat with TV Times (opens in new tab) - but then we can be very persuasive…
We like a challenge, so are you sure you won't spill the beans and tell us some secrets about Black Work?
"I'm great at keeping secrets because I'm not a great talker. So I don't think there's any danger of me letting any cats out of the bag because the bag never opens. The secrets of Black Work are safe with me. So wait...and watch more of it."
Although Jack is married, do his feelings go deeper than just wanting to help Jo (played by Sheridan Smith) with the investigation into the death of her husband Ryan?
"Jack has his own reasons for wanting to help Jo find out what happened to Ryan. He's with her constantly throughout her personal investigation, not just as a shoulder to cry on but also as an extra port of information for her."
Why has Jo lost trust with her colleagues in the force?
"Jack and Jo don't really know what's going on with the police force because everyone has something to hide and they're trying to find out what."
Does Jack come under suspicion?.
"Like most of the characters in this show, he's harbouring a secret. It comes out eventually – I can't say too much more!
You've been filming action scenes at a shopping centre in Leeds . These places can be very busy, so has anyone recognised you?
"While they were filming some long-lens shots of Sheridan and I on an escalator, the girl in front of us did a double take, took out her earphones out and said: 'You two are on the telly!' We tried to carry on and just ignore her, which we felt awful about, but she didn't get it. Luckily we caught up with her afterwards and apologised!"
In Black Work, Jack's a big supporter of his swimmer son, Liam. Are you keen on the sport?
"I'm a terrible swimmer, I can swim but not very well. I do a lot of sports - I like football and I watch any sport.
Are you competitive?
"I guess I am quite competitive. I suppose you've got to be in this industry. I don't think there are many non-competitive actors out there. And if they're not - I kind of question how they've got to where they are because you've got to be driven in this industry.'"
You made your TV debut in Emmerdale in 2001 and over the last couple of years, you've had roles in BBC1's period dramas The Paradise and Jamaica Inn. What's your next dream role?
"Something with swords and horses! I'd like to do more comedy, but there's probably a reason I haven't done much – I'm not very funny!"
* Black Work continues on ITV this Sunday at 9pm
Get the latest updates, reviews and unmissable series to watch and more!
Thank you for signing up to Whattowatch. You will receive a verification email shortly.
There was a problem. Please refresh the page and try again.