Ruth Jones: People used to shout 'Nessa!' at me, but now they shout 'Stella!''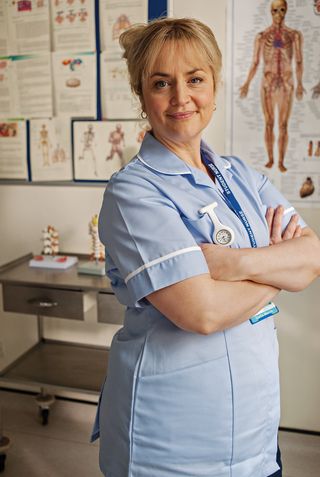 (Image credit: www.andyshortphotography.co.uk)
It's all change for Stella (opens in new tab) as Ruth Jones (opens in new tab) returns for a third series of the comedy drama, premiering on Sky 1 HD on Friday, January 24 at 9pm.
TV & Satellite Week (opens in new tab) caught up with her to find out more…
So what's in store for Stella this time around?
"In series one and two she went through quite a big journey with her heart being broken and mended and broken again, so now she has given up on men and is instead focusing all her energies on her new career as a nurse and she has gone blonde again so she has very much taken a new direction and it's a new chapter in her life."
How does she find nursing?
"She absolutely loves it. Now the kids are older this is an opportunity for her to do something that she didn't get the chance to do earlier on and her default is to look after people so this is a natural progression for her. Having a whole new precinct in the series with the hospital there is plenty of room for comedy, but later on in the series there is quite a sad story as well. Anybody who has trained as a nurse though will look at it and think that is not remotely like it, because we have taken a lot of comic licence, so don't expect to learn anything about nursing!"
She has not completely given up on romance though has she? Tell us about her new neighbour Michael Jackson (Patrick Baladi)..
"Michael is a solicitor who is new to Pontyberry and has an ex-wife and daughter. We wanted very much in this series to have an English family and put them in the heart of Pontyberry and see what happened. There is a frosty start between him and Stella, they meet during a bit of a road rage incident and then Stella bumps into him again and it ends up that he is actually moving in next door to her. As the series progresses, things start to soften between them and they become friends and things go from there and they become attracted to each other, but it takes a little while for that to blossom."
Why did you cast Patrick?
"I think he is like a British George Clooney. He has got a great sense of comedy, but he is also very sexy and good looking and can play the drama really well. It is quite a unusual quality to be able to combine all of that and he was the first actor I think we met for the role and we just thought that he was Michael."
What's in store for Stella's children this time?
"Well, Emma goes on quite a sad journey when she falls in love and Luke goes on a journey in this series as well and Ben, having been this perfect child in the first two series, has now become this really surly, grumpy teenager so that has been quite good fun."
Do you feel more protective of the characters and the show because you co-created and wrote it?
"Oh yes because it is mine and my husband's company that makes it and we created it together, so it is a bit like planting a seed and then watching as time goes by this beautiful plant grows. It has been a huge privilege for us and I have really enjoyed every minute of it."
Has Stella been your favourite character to play?
"I don't really have favourites. I love playing Stella and I think she is probably nearer to me than any other character I have played, but I also love playing extremes with characters like Linda in Nighty Night and Nessa in Gavin & Stacey. But you can't sustain that level of comedy for an hour so what is brilliant about Stella is that I get to do the drama as well, it is a dream really."
Are there any guest stars this series?
"There is a night out and we meet Rylan from The X Factor. I have to say I wasn't sure what to expect of him because I kind of dipped in and out of The X Factor and I thought he was going to be a diva, but he was brilliant, so professional and really good fun and just got on with the job."
How has the reaction to Stella compared to something like Gavin & Stacey?
"I am surprised that now more people seem to mention Stella to me than Gavin & Stacey. When we filmed the first series of Stella, people used to shout, 'Nessa!' when I was filming on the street and now they shout, 'Stella!' which is a really big compliment. It is a very different show because it is more of a comedy drama and there are more characters in it, but I love how people have bought into the characters and genuinely want to know what happens next."
Caren has been a journalist specializing in TV for almost two decades and is a Senior Features Writer for TV Times, TV & Satellite Week and What's On TV magazines and she also writes for What to Watch.
Over the years, she has spent many a day in a muddy field or an on-set catering bus chatting to numerous stars on location including the likes of Olivia Colman, David Tennant, Suranne Jones, Jamie Dornan, Dame Judi Dench and Sir Derek Jacobi as well as Hollywood actors such as Glenn Close and Kiefer Sutherland.
Caren will happily sit down and watch any kind of telly (well, maybe not sci-fi!), but she particularly loves period dramas like Call the Midwife, Downton Abbey and The Crown and she's also a big fan of juicy crime thrillers from Line of Duty to Poirot.
In her spare time, Caren enjoys going to the cinema and theatre or curling up with a good book.
Get the latest updates, reviews and unmissable series to watch and more!
Thank you for signing up to Whattowatch. You will receive a verification email shortly.
There was a problem. Please refresh the page and try again.