Sherlock double act to take on Dracula – making 'evil sexy!'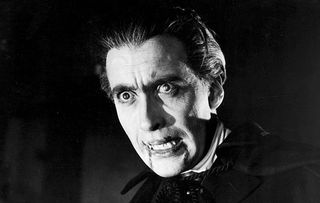 (Image credit: Moviestore/REX/Shutterstock)
Christopher Lee made the role of Dracula his own - now Sherlock writers Steven Moffat and Mark Gatiss are producing their own version of the legendary story by Bram Stoker. BBC and Netflix are co-producing the series.
Having teamed up with huge success on Sherlock, writing double act Steven Moffat and Mark Gatiss are now sinking their teeth into Dracula for BBC1.
The pair are acting as co-creators, writers and executive producers on Dracula, which will consist of three feature length episodes.
Dracula promises to re-introduce the world to "the vampire who made evil sexy". The year is 1897 and in Transylvania, the blood drinking Count is drawing up swift attack plans against Victorian London.
Steven and Mark said: "There have always been stories about great evil. What's special about Dracula, is that Bram Stoker gave evil its own hero."
The pair reimagined Arthur Conan Doyle's stories in Sherlock and viewers can surely expect them to give the same treatment to the famous Bram Stoker story, which was originally published in 1897.
Sherlock, which started in 2010, saw Benedict Cumberbatch as Sherlock Holmes, with Martin Freeman as Doctor John Watson and Mark Gatiss himself as Sherlock's brother, Mycroft Holmes.
As well being showrunner for Doctor Who, Steven Moffat has also previously taken on another literary classic with his BBC1 series Jekyll, starring James Nesbitt, which was billed as a sequel to the Strange Case of Dr Jekyll and Mr Hyde by Robert Louis Stevenson. Mark played Robert Louis Stevenson in the 2007 drama.
Talking about Dracula, Charlotte Moore, BBC Director of Content said: "Genius duo Steven Moffat and Mark Gatiss turn their attentions to Dracula for unmissable event television on BBC1."
The series will be shown on the BBC first in the UK and on Netflix outside of the UK. No casting has been announced yet and the BBC hasn't revealed when it will air.
Main pic: Christopher Lee - Moviestore/REX/Shutterstock; Mark and Steven pic: Joanne Davidson/REX/Shutterstock
Get the latest updates, reviews and unmissable series to watch and more!
Thank you for signing up to Whattowatch. You will receive a verification email shortly.
There was a problem. Please refresh the page and try again.