Samantha Bond: 'Home Fires was one of the happiest shoots I've ever known!'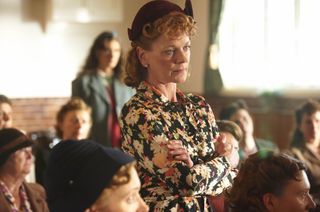 Samantha Bond talks to us about her leading role in ITV's new World War Two drama Home Fires (Sunday). She also reveals she's seen the scripts for Downton Abbey's final series!
Tell us a bit about your character, Frances Barden, in Home Fires?
"Frances is forward thinking and a bit progressive. She literally wears trousers! She's determined to move the Women's Institute in Great Paxton forward and open it up to all the women of the village, not just the middle and upper-class people."
How does WI president Joyce Cameron (Francesca Annis) react to that?
"Joyce has been a very good leader, but she's been a little intransigent! In real life when the threat of war came a lot of WIs decided to close and that's what Joyce believes. What Frances believes is the WI needs to keep looking outwards to the practical things the WI can achieve."
How was it having those confrontational scenes with telly great, Francesca?
"It's been quite frightening squaring up to Francesca Annis for these sparky scenes. In real life Francesca is twinkly, giggly and rather naughty, so I try not to be like a rabbit in the headlights when she suddenly gets cross with me!"
The WI was a valuable organisation during the Second World War. Do you think history's been a bit unkind to it?
"History's been unfair to the WI. During the war period, women made the local communities work and the WI was crucial. They really helped the government because they knew so much about the local area, produced food and helped house evacuees. It was a support network for an entire community!"
Can you reveal whether you've seen the scripts for the final series of Downton Abbey?
"I have. But, as you know, we're sworn to secrecy!"
Do you find you're getting more period roles since joining Downton Abbey?
"I've always seemed to do quite a lot in a corset. Quite nice not to be in a corset on this occasion. The first one I ever did was Jane Austen's Mansfield Park."
Why do you think you get picked for period roles?
"I've got a very straight back! I've been known to take my corset off and sit very straight and no one knows why. I don't know why!"
What do you tend to get recognised for most?
"It depends on gender and age. Obviously there are quite a lot of Downton fans. I can get accosted by teenagers because of Outnumbered. Then there are men of a certain age who get misty eyed because of Miss Moneypenny in the Bond films. And then there's a rather sweet collective who know me from the Doctor Who spin off for little ones, The Sarah Jane Adventures. It happened when we were shooting Home Fires. The little girls who star as extras went 'Excuse me, are you Mrs Wormwood?' And I said 'yes I am!'"
How have you enjoyed working on Home Fires?
"I'm very, very proud of this. I'm crossing all my fingers. I'd love to do a second series! It was one of the happiest shoots I've ever been involved in. It has a fantastic energy and honesty. I don't know why these things come together, a little bit of alchemy? For the director and producer to cast something like 15 regular members individually, and make that all work as a collective, it is magic, chemistry and all those funny words!"
Read our interview with Francesca Annis here
For who's who of cast and characters view our gallery
Get the latest updates, reviews and unmissable series to watch and more!
Thank you for signing up to Whattowatch. You will receive a verification email shortly.
There was a problem. Please refresh the page and try again.