Best ITV Dramas — latest drama series to enjoy on the ITV Hub
By Claire Crick
Best ITV dramas — our guide to the best dramas on offer on the ITV Hub and how you can watch them anywhere in the world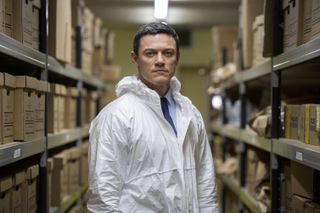 (Image credit: ITV)
Here is our guide to the best ITV dramas available to stream right now on ITV Hub, including how many episodes there are in each series and what the TV critics think.
There has never been a better time to discover gripping new ITV dramas to get your teeth into. ITV Hub has a great selection of hit shows from real-life crime to psychological thrillers. Don't miss our guide to the best BBC dramas, the best Channel 4 dramas, and the best Channel 5 dramas.
What are the best ITV dramas to watch on the ITV Hub?
The Tower
The Tower opens with a dramatic scene, after a veteran beat cop and a teenage girl fall to their deaths from a tower block in south-east London. Left alive on the roof are a five-year-old boy and rookie police officer named Lizzie Adama. (Tahirah Sharif) Within hours, Lizzie has disappeared, and Detective Sergeant Sarah Collins (Gemma Whelan) is charged with leading the investigation.

The three-part series aims to get to the bottom of what happened on that fateful day, and find out what's happened to young officer Adama and what she's been up to. On top of this, there's suspicious characters lurking about, perhaps even closer to home as fellow officer Kieran Shaw (Emmett J Scanlan) also looks like he's got something to hide...
What our TV reviewers say: "New revelations arrive quickly, so, even if you do feel like you see something coming before the show gets there, there's bound to be something coming up to hook you right back into the investigation. Plus, there are still enough things left unsolved that will keep you coming back for more.
As far as the cast is concerned, Emmett J Scanlan does good work here portraying an officer who's clearly hiding something but still playing his part at work. Kieran Shaw is a calm and collected character whenever he interacts with Sarah, but we can't help but feel that there's something sinister waiting to burst out at any moment."
Number of seasons: 1
Number of episodes: 3
Average episode length: 60 minutes
The Long Call
This four-part series follows DI Matthew Venn (Ben Aldridge), who's returned to a small community in North Devon to live with his husband. He grew up in the Barum Brethren, but abandoned the strict evangelical community to go to university at 19. At this point, he publicly declared he no longer believed, much to his mother's dismay and he's had a strange relationship with his family ever since.
After a body is found on a beach near Matthew's home, a shadow of doubt is cast across the entire community. Matthew will work closely with DC Jen Rafferty (Pearl Mackie), a fiercely determined single mother who moved to Devon to escape her traumatic past life in London. The murder case inevitably opens up new wounds for Matthew, as dark truths are exposed.
What our TV reviewers say: "Crime fans won't want to miss this gripping thriller adapted from a novel by Ann Cleeves, whose books were the source for Vera and Shetland. Ben Aldridge stars as DI Matthew Venn, who was raised in the strict religious community of the Barum Brethren in Devon before moving away and cutting ties 20 years ago. Now he's returned with his husband, and the discovery of a body on the beach leads him back to the Brethren, and his estranged mother (Juliet Stevenson)."
Number of seasons: 1
Number of episodes: 4
Average episode length: 60 minutes
Angela Black
In Angela Black, Joanne Froggatt plays the titular role who seems to be living a completely happy life in suburban London. She works as a volunteer at a dogs' home, is married to the charming Olivier (Michiel Huisman) and they have two sons. But, appearances can be deceiving. She's actually the victim of domestic abuse and is trapped in a marriage she can't escape.
Angela is approached by a private investigator named Ed (Samuel Adewunmi). For reasons as yet unknown Ed reveals Olivier's most sinister secrets to Angela, which is where the drama begins.
What our TV reviewers say: "Joanne Froggatt gives a typically knockout performance as troubled mum Angela in this powerful drama from the creators of Liar and Baptiste, which explores the devastating impact of domestic abuse. Summary: While desperately trying to keep the violence she suffers at the hands of her husband Olivier (Michiel Huisman) a secret, Angela is thinking about how to leave him. But her world is turned upside down when she meets Ed a stranger (Samuel Adewunmi), who claims to be a private investigator and delivers terrible news to her about Olivier. Who will she trust and can she find the strength to fight back?"
Number of seasons: 1
Number of episodes: 6
Average episode length: 60 minutes
The Larkins
The Larkins is an adaptation of the much-loved novel The Darling Buds of May, which was famously turned into a series starring David Jason, Pam Ferris, and Catherine Zeta-Jones. The new adaptation stars The Chase's Bradley Walsh as Pop Larkin and Joanna Scanlan as Ma Larkin.
It was written by The Durrells screenwriter Simon Nye, who said: "The novels are short, hilarious and magical. We will be expanding the Larkins' world a little and can't wait to immerse ourselves in this glorious countryside idyll."
What our TV reviewers say: "We're in need of comfort viewing in the autumn, and this new adaptation of The Darling Buds of May hits the spot. Bradley Walsh and Joanna Scanlan star as Pop and Ma Larkin, leading an idyllic life on their Kent farm with six children and various guests. With big shoes to fill (the hit 1990s adaptation starred David Jason, Pam Ferris and a then-unknown Catherine Zeta-Jones) the cast, including Amelia Bullmore as Miss Pilchester and Peter Davison as the vicar, do a 'perfick' job."
Number of seasons: 1
Average episode length: 60 minutes
Manhunt
Manhunt season 2 sees Martin Clunes returning as DCI Colin Sutton for a brand new case. This time, Colin and his team are after a serial rapist who terrorized elderly women living in South London.
Colin is on the verge of retirement, but he's drafted back in to catch a notorious criminal who has escaped justice for 17 years. Based on the diaries of the real Colin Sutton, this new series shows how Colin's assistance led to the case being solved and an incredibly dangerous individual being taken off the streets in just a matter of weeks.
With work reportedly underway on a third season, there might be more Manhunt on the way before long.
What our TV critics say: "It's a disturbing subject matter, but Clunes handles it with great care as we delve into a high-profile detailed investigation conducted with diligence."
Number of seasons: 2
Episodes: 7
Average episode length: 60 minutes
Hollington Drive
Hollington Drive is a psychological thriller that features The Bletchley Circle co-stars, Anna Maxwell Martin and Rachael Stirling, as Theresa and Helen — two sisters who are pillars of their local communities. Their seemingly perfect lives are turned upside down when a neighbor informs Theresa that her 10-year-old son Alex has gone missing and Theresa suspects her and Helen's children could be responsible.
What our TV critics say: "A tense drama with two great female leads."
Number of seasons: 1
Episodes: 4
Average episode length: 50 minutes
Professor T
Professor T is an ITV adaptation of a Belgian crime drama by the same name. It stars Ben Miller as Professor James Tempest, from Cambridge University — an eccentric but genius criminologist with OCD.
After a student is attacked on the university campus, Professor Tempest becomes involved in the police investigation. Detective Inspector Lisa Donckers (Emma Naomi) believes he is the perfect fit for the case and he becomes a police advisor on a series of cases.
Describing the show's appeal, Ben Miller said: "Professor T has it all: intriguing murders, dreaming spires, and a cast of unforgettable characters, each with their own fascinating secrets. You don't have to be a professor of criminal psychology to know the ITV audience will love it."
The first season is available on ITV Hub. The full season is also available to watch on Britbox UK.
What our TV critics say: "It's the start of an impressive side-hustle and the professor's true calling. An immensely enjoyable series, with Ben Miller in his element. Bonus points for casting Frances de la Tour as T's adoring mum Adelaide."
Number of seasons: 1
Episodes: 6
Average episode length: 50 minutes
Innocent
Innocent season 1 sees Lee Ingleby as a man wrongly accused of killing his wife, while season 2 stars Katherine Kelly as teacher Sally Wright who has spent five years in prison for the murder of her 16-year-old student Matty Taylor, who she was also accused of grooming. But when new evidence comes to light, her conviction is overturned, but who really killed Matty?
What our TV critics say: "Prepare yourselves because this addictive thriller will leave you on tenterhooks!"
Number of seasons: 2
Episodes: 8
Average episode length: 60 minutes
Too Close is a psychological thriller mini-series based on the novel (of the same name) by Natalie Daniels. The drama explores a twisted working relationship between a forensic psychologist, Dr. Robertson, and her newest patient Connie Mortensen.
Connie is a woman who's been accused of a heinous crime but claims she doesn't remember anything about it. As Dr. Robertson begins working on Connie's case, the two grow extremely close.
The cat-and-mouse series runs for three episodes and features some huge twists and turns.
What our TV critics say: "We bet the first two minutes of this tense psychological thriller will make you gasp!"
Number of seasons: 1
Episodes: 3
Average episode length: 55 minutes
Marcella
Season 3 sees Marcella in Belfast working as an undercover detective. She has taken on a new identity, Keira, and has infiltrated the infamous Maguire crime family. But soon her mental state starts to fracture and Marcella starts to cut ties with her old life.
What our TV critics say: "Another nail-biting series with twists you really won't see coming!"
Number of seasons: 3, however, only Season 3 is currently on ITV Hub
Episodes: 8
Average episode length: 60 minutes
The Bay
Morven Christie stars as Detective Sergeant Lisa Armstrong in this gripping crime drama, set in the seaside town of Morecambe on the west coast of England. Season 1 sees Lisa called in to investigate missing twins, but it soon becomes apparent that her link to the family might be more than just professional.
Season 2 of The Bay, which is also on ITV Hub, sees Lisa return to solve another local crime while still dealing with the fall out of her actions from last year. She is given the chance to step up while investigating a shocking murder, but while she is trying to uncover who the killer is, Lisa and her family are unknowingly stalked by a mysterious figure.
What our TV critics say: "Right up until the final episode, it is impossible to predict the outcome of this excellent second series. There are so many twists before all is revealed."
Number of seasons: 2
Episodes: 6 per season
Average episode length: 45 minutes
Finding Alice
Finding Alice is a new contemporary ITV dramedy, starring Keeley Hawes as a woman who has lost her husband. This dark comedy, which has been renewed for a second series, sees Keeley team up again with writer Simon Nye — who penned her hit series The Durrells.
Alice becomes a widow when her husband Harry falls down the stairs after they move into their dream house. But it's not just the practicalities of life without Harry that soon dawn on Alice (where is the fridge in their new smart house?!) but Harry's death also uncovers a string of dark secrets, criminality and debt that Alice must now deal with.
The cast also includes Joanna Lumley, Nigel Havers, Jason Merrells, Gemma Jones, Isabella Pappas and Kenneth Cranham.
All six episodes are available to stream on ITV Hub and BritBox.
What our TV critics say: "As casts go, you can't get much better than the line-up in Finding Alice. The series is darkly comic and somewhat offbeat — roll on season two!"
Number of seasons: 1
Episodes: 6
Average episode length: 60 minutes
Unforgotten
Unforgotten is a crime drama focusing on historical cold cases that have been kept buried for years. Nicola Walker and Sanjeev Bhaskar star as London detectives DI Cassie Stuart and DS Sunil 'Sunny' Khan — the perfect duo who make it their mission to fight for justice for long-forgotten victims. Each season brings a new mystery for the pair to solve, along with plenty of long-held secrets and killer twists along the way.
What our TV critics say: "Nicola Walker and Sanjeev Bhaskar are great as DCI Cassie Stuart and DI Sunil 'Sunny' Khan in this compelling crime drama. The tension mounts as more secrets are revealed each episode and there's always plenty to keep you guessing."
Number of seasons: 4
Episodes: 8
Average episode length: 60 minutes
The Pembrokeshire Murders
The Pembrokeshire Murders is a real-life crime drama. The three-part story stars Luke Evans as real-life detective DCS Steve Wilkins of the Dyfed-Powys Police force, who risked his reputation by reopening two unsolved double murder cases.
One was the killings of Peter and Gwenda Dixon, in 1989, on the Pembrokeshire Coastal Path. The second crime was committed almost four years earlier, at Scoveston Manor.
Steve Wilkins believed that convicted burglar, John Cooper, was responsible for both crimes. However, he didn't have enough evidence to prove it. In a strange and bizarre twist, the killer's eventual downfall was partly due to his appearance on the classic ITV game show Bullseye.
The Pembrokeshire Murders stars Luke Evans in the role of DCS Steve Wilkins, while Keith Allen plays killer John Cooper.
What our TV critics say: "We've seen many real-life crime dramas recently, but the tale of a case solved with the help of Jim Bowen is one to remember."
Number of seasons: 1
Episodes: 3
Average episode length: 60 minutes
Grace
This feature-length drama — which is an adaptation of Peter James' bestselling novels — sees John Simm star as DS Roy Grace who is haunted by the disappearance of his wife. When DS Grace finds his career hanging by a thread after a recent courtroom controversy, he can't afford to make any mistakes at work. But trouble looms when ghosts from his past come flooding back as he looks into a sinister new case.
What our TV critics say: "The sweeping skies and picturesque coastlines of Brighton form a perfect backdrop for this crime thriller which sees John Simm at his brooding best."
Number of seasons: 1
Episodes: 1
Average episode length: 120 minutes
The Sister
The Sister is a dark story of murder, forbidden secrets, and ghosts — but it isn't just your usual run-of-the-mill thriller, because there is a supernatural theme running throughout, making it all the more chilling.
Adapted from the novel 'Burial' by Neil Cross— the author who also brought us Luther — The Sister sees Russell Tovey as Nathan, a quiet man who is dedicated to his wife, while secretly harbouring a terrible secret from his past. A knock on his door one rainy night soon sets off a shocking sequence of events that Nathan has spent the last decade trying to avoid.
Russell Tovey explained the plot to us: "At a New Year's Eve party 10 years ago, Nathan fancies this girl, but they go for a drive with Bob and something happens and the girl dies. Nathan has rebuilt himself and put Pandora in the box, but now Pandora's running around crazy and he's trying to get her back in. He's riddled with fear. It's about the unraveling of a good person who got involved in a situation he shouldn't have."
Joining Russell Tovey in the cast are Bertie Carvel, Amrita Acharia and Nina Toussaint-White.
You can also watch The Sister in the US as it is currently available on streaming service Hulu.
What our TV critics say: "This isn't just your usual run-of-the-mill thriller, because there is also a supernatural theme running throughout, making it all the more chilling."
Number of seasons: 1
Episodes: 4
Average episode length: 60 minutes
Des
Des, one of the most popular dramas on ITV last year, sees David Tennant play serial killer Dennis Nilsen in a chilling true-crime drama. Nilsen, one of Britain's most notorious killers, infamously murdered boys and young men in his London flat during the 1970s and 80s. His crimes were only discovered when a neighbor called a plumber to unblock a drain and human remains, which the killer had tried to flush away, were discovered.
As well as Tennant, who bears an uncanny resemblance to Nilsen, the drama also stars Daniel Mays as Detective Chief Inspector Peter Jay, while biographer Brian Masters is portrayed by Jason Watkins from The Crown.
What our TV critics say: "David Tennant gives a thoroughly chilling performance as Dennis Nilsen, not to mention creating an uncanny resemblance to the killer in this series. If true-crime drama is your thing, then Des is a must-see."
Number of seasons: 1
Episodes: 3
Average episode length: 60 minutes
Quiz
Quiz is a fascinating drama that delves inside the controversy which saw Major Charles Ingram accused of cheating his way to the £1million jackpot on Who Wants To Be A Millionaire?
But, as Charles celebrates his win, the suspicious production team play the recording back and becomes convinced that another contestant, Tecwen Whittock, was coughing to signal the correct answers to Charles.
Succession's Matthew Macfadyen and Sian Clifford play Charles and Diana Ingram, while Michael Sheen is quiz show host Chris Tarrant.
What our TV critics think: "Michael Sheen gives an eerily accurate portrayal of Chris Tarrant in this brilliantly gripping drama based on the 'coughing scandal' that has gone down in TV history."
Number of seasons: 1
Episodes: 3
Average episode length: 60 minutes
The Singapore Grip
Set in World War Two, The Singapore Grip is a lavish drama based on J. G. Farrell's satirical novel published in 1978. The series follows a British family living in 1940s Singapore at the time of the Japanese invasion, but they're also dealing with their own fair share of personal threats as they find their trading company at risk.
Luke Treadaway plays reluctant hero Matthew Webb while David Morrissey plays Walter Blackett, a ruthless rubber merchant.
With Webb's health failing, Walter needs to ensure the future of their firm is secure and decides Webb's son Matthew is the perfect match for his spoilt daughter Joan. But Matthew's idealism leaves Walter increasingly suspicious as Matthew himself falls under the spell of Vera Chiang, a mysterious Chinese refugee.
What our TV critics say: "We're treated to an excellent cast in this slick, satirical period drama, which is a great adaptation of a finely written novel."
Number of seasons: 1
Episodes: 6
Average episode length: 55 minutes
Honour
Honour sees Keeley Hawes star in this factual drama about the real-life so-called honour killing of Banaz Mahmod, who was murdered by members of her own family for falling in love with the wrong man.
The Bodyguard actress plays real-life Detective Chief Inspector Caroline Goode, who brought five killers to justice in a heartbreaking true story that saw twenty-year-old Banaz murdered in London in 2006 after police apparently missed repeated chances to save her from her tragic fate.
Buket Komur stars alongside Keeley as Banaz.
What our TV critics say: "Honour shines a light on this heartbreakingly tragic case, while Keeley Hawes gives a great performance as DCI Caroline Goode."
Number of seasons: 1
Episodes: 2
Average episode length: 60 minutes
Handpicked related content
Get the latest updates, reviews and unmissable series to watch and more!
Thank you for signing up to Whattowatch. You will receive a verification email shortly.
There was a problem. Please refresh the page and try again.