The Ipcress File (1965) | Michael Caine's cockney spy anti-hero Harry Palmer gets a Blu-ray makeover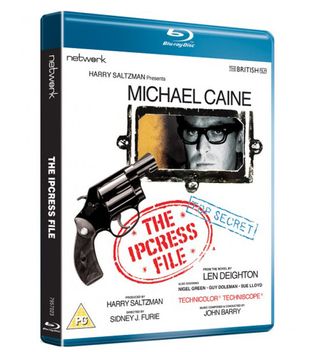 SYNOPSIS Under threat of blackmail, Harry Palmer (Michael Caine), a stubbornly insolent sergeant working for the Ministry of Defence, is transferred to an elite counter-intelligence unit. Palmer and the rest of his unit are then tasked with following the trail of a missing scientist. But when he finds a piece of tape marked IPCRESS in an abandoned warehouse, Palmer suddenly becomes a marked man...
THE LOWDOWN With 1960s cinemagoers already turned on by the super-groomed exploits of Ian Fleming's playboy superspy James Bond, novelist Len Deighton presented a very different picture of the British secret service in the shape of racketeering Army sergeant turned secret agent Harry Palmer in his 1962 novel, The IPCRESS File.
This first screen adventure for Leighton's anti-hero is a gritty tale of brainwashing and international treachery that bristles with wit and tension. Still the best of the five Palmer adventures, it also helped cement Michael Caine's international superstar status. Complete with thick spectacles and even thicker Cockney accent, with a taste of Mozart, fine food and cheery wisecracks at the expense of his posh superiors, especially Major Dalby (Nigel Green), Caine's Palmer is a shabby, iconic delight.
A huge international success for director Sidney J Furie (who had previously helmed Wonderful Life with Cliff Richard and The Shadows and The Leather Boys), the film (produced by Bond producer Harry Saltzman) scored the director a Bafta for Best Film, while Ken Adam and Otto Heller also got gongs for their inventive, stylised art direction and cinematography. Adam, of course is best known for his work on most of the classic Bond movies, while Heller also photographed the black and white British classic Victim (check out the Blu-ray) and Michael Powell's lurid thriller Peeping Tom (reviewed here). Bond composer John Barry also supplied the distinctive score.
THE UK BLU-RAY RELEASE The Network Distributing Blu-ray release, part of their British Film collection, features the film in a High Definition transfer made from original film elements in its as-exhibited theatrical aspect ratio.
SPECIAL FEATURES (in Standard Definition unless otherwise stated) • Michael Caine is Harry Palmer - exclusive interview with Sir Michael Caine • The Design File - exclusive interview with production designer Sir Ken Adam • Commentary with director Sidney Furie and film editor Peter Hunt • Michael Caine Goes Stella http://youtube.com/v/pM_ZdfzwgY8
Get the What to Watch Newsletter
The latest updates, reviews and unmissable series to watch and more!