'No Return': air date, cast interviews, plot, trailer, episode guide, and all about the harrowing holiday thriller starring Sheridan Smith
'No Return' follows a family's worst nightmare while on holiday in Turkey in this edge-of-your-seat ITV series.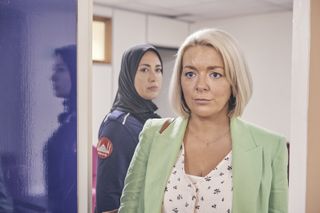 (Image credit: ITV)
No Return sees Sheridan Smith and her Four Lives co-star Michael Jibson play husband and wife Kathy and Martin Powell whose family holiday in Turkey turns into a living hell.
"What happens to this family is so unexpected," explains Sheridan. "They go off on holiday to Turkey which they have been really looking forward to and it turns into a disaster when their son Noah is arrested. I'm sure people will think about what they would do if that was their child. Suddenly they are plunged into a completely different legal system. It's just a nightmare.
"When I read the script and then when I was playing the role I was thinking, 'My God, if this was my son Billy, I can't imagine how I would feel.' There was a lot of angst during filming. Lots of crying, lots of screaming, lots of constant tension."
The four-part drama comes from award-winning screenwriter Danny Brocklehurst, the mastermind behind The Stranger, Brassic, and Come Home.
"I've been delighted to be working with Danny on these fantastic scripts," says executive producer Nicola Shindler. "He makes the audience ask 'what if that were my holiday, my child' in a thrilling way. And we are so lucky to have Sheridan and the rest of this very talented cast to bring this story to life."
Here's everything we know about the nail-biting series No Return...
'No Return' release date
No Return started on ITV on Monday, Feb. 7 at 9:00pm with the four episodes running weekly on a Monday evening. The next episode airs on Monday, Feb. 14 on ITV. All four episodes are now available on streaming services ITV Hub and BritBox. It promises to be one of the best ITV dramas of the year, and we will update this page when we hear if No Return gets a US or worldwide release date.
* How to watch No Return online anywhere in the world
Is there a 'No Return' trailer?
A trailer for No Return has been released by ITV which shows the family holiday unfolding, from their fun times in Turkey to the nightmare with the police. Take a look at Sheridan Smith, Michael Jibson and Louis Ashbourne Serkis in action below, with the emotional Lewis Capaldi hit song Someone You Loved in the background...
'No Return' plot
In No Return, Kathy Powell (Sheridan Smith) and Martin (Michael Jibson) are looking forward to a fun and relaxing family holiday in Turkey with their two children, Jessica, and 16-year-old Noah. But their dream all-inclusive holiday soon plunges into a nightmare when Noah accepts a seemingly innocent invitation to a beach party.
Within hours, the family's world is shattered and Kathy and Martin find themselves fighting for their son's freedom against a complex foreign legal system and intense media coverage. The drama explores the themes of guilt, parental love, teenage consent, and just how far parents will go in order to protect their children.
'No Return' episode guide (with spoilers)
Here's our guide to all four episodes of No Return. They contain spoilers so please skip if you haven't yet seen...
Episode 1
The first instalment of this drama saw Kathy and Martin heading off on a much-needed family holiday to Turkey, but soon their days of relaxing in the sun were shattered when their teenage son, Noah, got arrested in the middle of the night following accusations of sexual assault from another boy while at a local beach party. The shock and horror at what was happening hit Kathy and Martin hard, with the language barrier and harsh Turkish legal system leaving them desperate for answers. While Noah remained adamant that he was innocent, the family were desperate to get him out of custody, however, as the evidence started to stack up against the teenager, the desperate parents found themselves a lawyer who turned out to be more of a flash Harry than a serious legal mind. Clutching at straws and desperate to save her boy, Kathy took it upon herself to track down Milo, the boy who had accused Noah of assault. However after her search ended with her being thrown out of a neighbouring hotel, it seemed she was never going to find the answers she was searching for. By the end of the first episode Noah was transferred to a prison, having been officially charged with sexual assault... while Kathy and Martin were horrified to learn that nothing happened quickly in the local justice system and that they were looking at months stuck in Turkey rather than days or weeks. But is Noah telling his parents the truth about what happened at the party? Or is there more to this story than meets the eye?
Episode 2
While other holidaymakers squabble over sun loungers, the Powells face a two-hour drive to visit young Noah (Louis Ashbourne Serkis) in prison - and it's a heartbreaking moment for Kathy (Sheridan Smith) when her son breaks down in front of her. Learning that Noah's hearing isn't scheduled for nearly two months, Kathy ropes sister Megan (Siân Brooke) into a morally dubious plan to subvert the legal system - but with Martin (Michael Jibson) working on a secret scheme of his own, the family are playing a dangerous game. Ramping up the tension from last week's opener, this episode delivers a devastating cliffhanger…
Episode 3
There's mixed news on the matter of poor Noah's welfare: on the bright side, he appears to have made a friend in prison, but unfortunately this attracts the unwanted attention of the cell's top dogs. (They don't speak much English, but the words 'admit' and 'gay' leave little room for doubt.) After Noah's request for bail is rejected at his trial hearing - where his fateful encounter with Milo is dissected in excruciating detail - Kathy flies back to the UK to seek help from the Foreign Office, but ends up taking matters into her own hands once again…
Episode 4
Things are not looking good in the run-up to Noah's final hearing: Kathy's 'smoking gun' dossier on Milo's family doesn't impress the Turkish courts, and Noah is left with an agonising choice - plead guilty and get a smaller sentence with a possible transfer to a UK prison, or gamble on a not guilty plea and risk up to 15 years in a Turkish jail if he loses. With a young man's future on the line, the finale of this gripping thriller doesn't disappoint - thanks in no small part to a heartbreaking performance from rising star Louis Ashbourne Serkis as terrified Noah.
'No Return' cast — Sheridan Smith on playing mum Kathy Powell
Sheridan Smith takes the lead role of mum Kathy, who's dreaming of a well-earned family break, only for it to turn into a holiday from hell.
Sheridan says: "Kathy and her husband Martin (Michael Jibson) have been together for years and years. Kathy's sister Megan (Siân Brooke) has done much better than her in terms of being well off. Kathy sees Megan as the sister who has landed on her feet with the younger man who has his own business and they have a nice house.
"Megan and Steve plus their seven-year-old son Fred appear to be the idyllic little family. It looks to Kathy that they have the big house, the money and a lovely life. But actually Megan has her own problems going on. Siân Brooke and I worked together on The Moorside so it was great to do some lovely sister scenes with her. There's a real journey in the story of the two sisters. That was really nice to play. So there's a little bit of envy on Kathy's part because hers is very much a working class family. They've got two kids - Noah, 16, and Jessica, 14. It's amazing for me to play a mum of two teenage children when my own son Billy isn't even two yet. It was nice to have grown up kids in the scenes with me.
"Kathy and Martin have done what they can to drag 'em up right, as my dad would have said. They have clearly been together forever and are just a proper, normal family. I think most people watching will be able to relate to that. They fly off on a typical family package holiday that they go on every year. But then it goes wrong.
"When we filmed the scene of police arresting Kathy and Martin's son at their holiday hotel it was actually really horrible. We were in this little room and they had all of these supporting artists with guns playing the police officers. They barge in, push Kathy out of the way and get her son. It's like, What's going on?' Kathy doesn't speak the language so doesn't understand them.
"It was genuinely terrifying doing the scene. Let alone what it would be like in real life. It's your worst nightmare as a parent. It's then another world for them. They end up with a Turkish lawyer called Rico, played by Philip Arditti, who is a brilliant character who drives a flash car. The family are just lost, basically, and he makes suggestions about how to deal with the police. It's such an ordeal for them all. Every time they go to court it feels like a dead end. It just feels desperate while their son is stuck in prison."
* Sheridan Smith is a BAFTA-award winning actor made her name in The Royle Family in the late 1990s and has gone on to star in Gavin & Stacey, Cilla, The C Word, Mrs Biggs and The Moorside. She was most recently seen on BBC1 as grieving Sarah Sak in BBC1 drama Four Lives, as disgraced Jenna in The Teacher, and in Sky's family drama Hansel and Gretel: After Ever After.
Michael Jibson on playing Kathy's husband Martin Powell
Michael Jibson plays Sheridan's on-screen husband Martin Powell, who's desperately in need of some family time.
Michael says: "No Return is about a family that aren't communicating. The idea that they go on holiday and by the end everybody is different. Martin and Kathy (Sheridan Smith) met and married very young and have been together for as long as they can remember. They are a normal working class family with two children - Noah, aged 16, (Louis Ashbourne Serkis) and Jessica, 14 (Lily Sutcliffe). They don't have particularly well paid jobs. This trip to Turkey is their big holiday of the year which they look forward to.
"They take every day as it comes with no real problems in their lives. As the story unfolds you discover something has happened in the past which they have got through. So what happens in Turkey is the biggest challenge they, as a couple, will probably ever face. Everything about them is exposed to the world and to each other. They have to communicate with each other and they have to work through it.
"The drama that unfolds aside with the Turkish authorities, ultimately people are going to relate to this because it's about a working class family who are on holiday. When we all go on holiday, we are nervous because we are going to a different country and culture. We over plan and over prepare. We take too many clothes and too many packets of tea just in case. And one of the worst possible things that could happen does happen to this family. Their son is arrested by the police for an alleged sexual assault."
* Michael Jibson recently co-starred alongside Sheridan Smith as DC Paul Slaymaker in Four Lives, and has appeared in the ITV dramas Honour and Quiz. He's also had roles in hit movies such as Star Wars: The Last Jedi, 1917 and Les Misérables, and is an Olivier Award winner, having picked up a statuette for his role as King George III in Hamilton. An early stage role saw him lead the cast in the Madness musical Our House.
Who else is starring in 'No Return'?
Martin and Kathy's 16-year old son Noah is played by rising star Louis Ashbourne Serkis, son of Lord of the Rings star Andy Serkis and Bridgerton's Lorraine Ashbourne, while Noah's younger sister is played by newcomer Lily Sutcliffe.
Sherlock star Sian Brooke plays Kathy's sister Megan, and actor and comedian Rufus Hound also appears in the series as private investigator Al Milner. Completing the cast are David Mumeni, who plays Megan's husband Steve, Philip Arditti as Noah's legal representative Rico Karvalci, and Murat Seven as hotel worker Ismail.
'No Return' cast — Louis Ashbourne Serkis on playing Noah Powell
Kathy and Martin's son Noah Powell is played by Louis Ashbourne Serkis. Noah clever, sensitive and, like most teenagers, extremely self-conscious. He might be 16 years old, but Noah is very much a child, still trying to figure out who he is in an adult world. Recently Noah's been having a hard time at school and his bad temper has become even harder to control. He has a great relationship with his family, but there are parts of his life which he has no interest in discussing with his mum and dad. Noah should be getting ready for his exams and spending the summer having fun before college, but instead he faces up to 15 years in a prison thousands of miles from home. One night changes Noah's life forever...
Louis says: ""When you first meet Noah, you are led to believe he's just an ordinary teenage lad. It is only as the story unfolds that you begin to realise he's a young man who is just on the cusp of discovering himself, and that there are secrets about himself that he's not yet ready to share. Noah loves his mum and dad, and tries to get on with them, but there are so many things that he can't share or be open about. This is partly to do with his age, but there are other private reasons that keep them at a distance.
"I was blown away by the clever setting of the journey that Noah goes on with his family. It is highly complex, tension filled and explosive, heightened by the fact that they are away on holiday. What should have be an idyllic two weeks away together turns into a nightmare, which shatters all of their lives, challenges their relationships but finally allows each of them to come to terms with the lies and untruths they have lived with for so long."
Get the latest updates, reviews and unmissable series to watch and more!
TV Content Director on TV Times, What's On TV and TV & Satellite Week
I'm a huge fan of television so I really have found the perfect job, as I've been writing about TV shows, films and interviewing major television, film and sports stars for over 25 years. I'm currently TV Content Director on What's On TV, TV Times, TV and Satellite Week magazines plus Whattowatch.com. I previously worked on Woman and Woman's Own in the 1990s. Outside of work I swim every morning, support Charlton Athletic football club and get nostalgic about TV shows Cagney & Lacey, I Claudius, Dallas and Tenko. I'm totally on top of everything good coming up too.
Thank you for signing up to Whattowatch. You will receive a verification email shortly.
There was a problem. Please refresh the page and try again.