The Teacher — Sheridan Smith thriller cast, air dates, interview, trailer, plot, episode guide, and everything we know
The Teacher has now arrived on Netflix and stars Sheridan Smith as an older teacher accused of having a drunken fling with a teen pupil.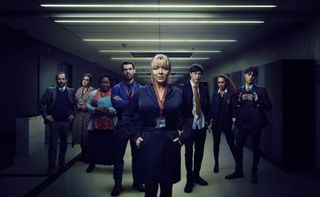 (Image credit: Channel 5)
The Teacher starring Sheridan Smith was shown on Channel 5 in the UK 2022 but has now landed on streaming giant Netflix, and yes it will truly shock. In this intense thriller, Sheridan plays a state secondary school teacher who's accused of a drunken fling with one of her pupils.
Sheridan says "I'd been reading lots of different scripts, then this one came along and I was gripped. I couldn't put it down, which is rare - I read it all in one go. Initially, the dates weren't working, but I couldn't stop thinking about this script. Then things moved around so it didn't clash anymore, and it felt like a sign."
Sheridan Smith is starring alongside former British soap stars such as Kelvin Fletcher (Emmerdale) and Ian Puleston-Davies (Coronation Street). The Teacher is produced by Clapperboard, who created last year's Channel 5 drama Intruder.
Clapperboard's Managing Director Mike Benson says: "When we first developed Teacher we had Sheridan in mind as someone who could bring empathy and complexity to the character of Jenna — so the fact she has agreed to come on board is hugely exciting."
So here's everything you need to know about The Teacher now on Netflix...
The Teacher release date
The Teacher is a four-part drama that launched in the UK on Channel 5 on Monday, Jan. 31 2022 at 9pm. It's now available on steaming service Netflix for 2023.
The drama is currently being streamed in New Zealand on TVNZ OnDemand.
Is there a trailer for The Teacher?
Yes an official trailer for The Teacher has been released by Channel 5 which shows the interactions between teacher Jenna and her pupil Kyle at school which leads to big trouble. Take a look below...
The Teacher plot
In The Teacher, Sheridan Smith plays Jenna Garvey, a popular English teacher at Earlbridge School who's in her late 30s. She has a chaotic personal life which some of her teaching colleagues aren't comfortable with.
Jenna's life then unravels after she's accused of a drunken sexual encounter with one of her pupils, 15-year-old Kyle Hope, after a night out to celebrate a promotion.
The police come calling and she's arrested. With no memory of the night in question, Jenna's only hope of redemption lies in uncovering the truth about a dark event in her past that returns to haunt her. Will her teaching colleagues, friends, and family stick by her, or be repulsed by the allegations?
The Teacher — what happened in episode 1?
The first installment of the drama left fans hooked after being introduced to English teacher Jenna Garvey, who was popular with her students and great at her job, but whose wild partying lifestyle was starting to impact her career.
Until now she has managed to juggle getting drunk and waking up in strangers' beds with a successful career, however, a night out to celebrate her promotion to Head of English soon turned into a living nightmare for Jenna.
Fond of a drink, Jenna was determined not to let her big night end early and headed to a nightclub to continue the party after most of her colleagues went home. Soon she was downing shots and dancing with students who were also there for a night out with their friends.
However, the next morning Jenna woke with no recollection of what she had been up to, and soon her world came crashing down when she got to work and discovered someone had made a formal complaint against her.
Before she could get her head around what was happening, the police had arrested her and she was being questioned at the station, where she admitted that she couldn't remember what happened. As the investigation into what went on that night got underway, Jenna went home, panicking about how her life was falling down around her and there was nothing she could do.
However, a voicemail from Kyle, the student she is allegedly meant to have slept with in the nightclub toilets, seemingly confirmed her worst fears. But did she really sleep with a minor? Or is there something about Kyle's claims that don't add up?
The Teacher — what happened in episode 2?
The beginning of episode two saw Jenna being hounded by the press and the public, unable to leave the house without having abuse hurled at her. But as she became the target of online trolls, she started to doubt her own innocence and became convinced that perhaps she is guilty after all.
Despite her solicitor urging her to plead not guilty and letting the case go to trial, Jenna decided she didn't want to put Kyle through a trial, still putting her pupil's welfare before her own.
Soon she found herself with a suspended sentence, living with her estranged father and doing community service while sleeping back in her childhood bedroom.
However, towards the end of the episode, Jenna happened to bump into Kyle, and it soon became clear that all wasn't quite as it seemed. As she apologised to the teenager for her supposed crime, he replied 'You weren't meant to plead guilty' before racing off.
It also became apparent that the inappropriate images sent to Kyle from Jenna's phone weren't sent from an account registered to her, backing up her claims that she didn't knowingly have any social media or instant messenger accounts on her phone.
It is clear someone added the app to her phone when it was 'missing' in episode one, but who? And if Kyle has all but admitted that he hasn't been telling the truth, will Jenna be able to work out what really happened that evening in the nightclub toilets?
The Teacher — what happened in episode 3?
The third installment of the series saw Jenna trying to piece her chaotic life back together by quitting drinking and trying to work out who has convinced Kyle to lie about them sleeping together.
The plot thickened as Jenna continued to get parcels sent to her, all with the same handwriting on the envelope. Clearly whoever was sending them knew her well, because they are arriving at her house, the school, and even at her father's home.
Soon it was confirmed that Kyle is being manipulated into lying about Jenna when teacher Lydia confiscated his phone during a lesson and discovered the truth behind the accusations against Jenna. But who is behind Kyle's lies is still a mystery.
As Jenna headed back to the nightclub to see if she could trigger her memory, she still couldn't remember a thing. However, CCTV footage made her even more convinced that she is innocent when she spotted Kyle acting shiftily. Meanwhile, Kyle was forced to tell his mum everything after she quizzed him about the phone, and it became clear that the person getting Kyle to lie is also someone she knows.
After she received a prospectus in the post from her old school, complete with explicit images added in, Jenna worked out that the person tormenting her is someone from her past... meanwhile we saw Pauline serving dinner to her partner, who turned out to be the same man from the old school prospectus. But who is he? And what is his connection to Jenna and Kyle?
The Teacher — what happened in episode 4?
The final episode of the drama saw Jenna work out that the accusations against her were connected to one of her previous jobs as a teacher back in 2006 when she made a complaint about another teacher, Arnold Cleary, who had groomed one of his pupils.
Because of her actions, Cleary had ended up going to prison when he tried to run away with the female pupil he was in a relationship with, and he then apparently spent the next 15 years plotting revenge on Jenna.
Cleary, who had now been released from jail and changed his name to Brian, got closer to Jenna by dating her well-meaning colleague and friend, Pauline, who in turn got him a tutoring gig with Kyle Hope. Brian then used his link to Kyle to manipulate him into lying about Jenna, and it turned out that he was the one who'd given the teenager the burner phone.
As Jenna got closer to the truth about Brian, she received some information about him from her old school, including a picture. But when Pauline came to visit her, she was shocked to recognize the face and stole it, clearly intending to confront her man.
Realizing the walls were closing in on him, Brian persuaded Kyle to visit Jenna and take the blame for everything that happened, promising that there was no one else involved. He then lured Jenna to his flat by texting from Pauline's phone and inviting her round for a cuppa. Once there, it was instantly clear that something wasn't right, and soon Cleary/Brian was approaching with a hammer and threatening Jenna.
Still in denial about his breach of trust all those years ago, Brian argued that he and his pupil were in a consensual relationship and just as it seemed things were about to turn nasty he ran out of the house.
Jenna was then shocked to find Pauline hidden in a cupboard, and although she had heard everything that Brian had said, Pauline still maintained that he was her soulmate. Jenna then went to get back in her car, only to find Brian standing by it... the pair once again argued, and when Jenna fought back telling Brian that she would never be like him, Brian threw himself into the path of an oncoming lorry and died.
The last scene saw Jenna going to visit Kyle as he played football with his friends, clearly to reassure him she understands why he did what he did. But there are still many questions left unanswered... will Jenna fight to clear her name now that she knows she's definitely innocent? Will she get her job back, or will she still move away? And, most importantly, will there be a second season?!
Interview: Sheridan Smith on playing Jenna Garvey in The Teacher
Sheridan Smith, who plays accused teacher Jenna, says: "I love playing people who are flawed and complex. Jenna's got a drink problem, she's lost her mum, she has a really strained relationship with her dad - she's gone off the rails and lost herself a bit. I always want to make a character likeable because I want to find the heart in them, but I do want the audience to doubt Jenna and to feel unsure about where they stand.
"She's a bit naive. She tries to be a mate to her students, which is her undoing in the end. There are teacher-student boundaries, and she has maybe let that slip. I really hope people don't know what to think about her - there were scenes where I was thinking 'this is terrible, you'd be fired immediately'. Her actions didn't sit right with me, but I enjoyed playing them!"
Sheridan has already had an acclaimed performance earlier this year in BBC1 drama Four Lives in which she played Sarah Sak, the mother of Anthony Walgate who was murdered by serial killer Stephen Port. Her other successful roles were playing Cilla Black in ITV's Cilla and Ronnie Biggs wife in Mrs Biggs, also on ITV. In April 2022 she'll star alongside Jenny Agutter in the sequel movie The Railway Children Return. This year she'll also star in ITV's holiday nightmare drama No Return.
The Teacher cast — who else is starring
In The Teacher, Samuel Bottomley of Ackley Bridge fame will play opposite Sheridan Smith as the state school pupil — 15-year-old Kyle Hope — at the centre of the sexual encounter that Jenna is accused of having. Samuel also played school bully Dean Paxton in the hit movie Everyone's Talking About Jamie in 2021.
Playing Jenna's teaching colleagues are former Strictly winner Kelvin Fletcher as Jack, Cecilia Noble (Small Axe, Black Mirror) as Pauline and Sharon Rooney (My Mad Fat Diary) as Nina. Karen Henthorn palys DI Sowerby
David Fleeshman (It's a Sin, All Creatures Great and Small) will play Jenna's father while former Corrie star Ian Puleston-Davies (Tin Star, Marcella) is also featuring as Brian, alongside Sarah-Jane Potts as Mary, Tillie Armaty and Lilly, Matt Devere as JoJo and Dhillon Aaronveer as Adnan.
Sheridan Smith on filming The Teacher in Hungary
Although The Teacher is set in Bradford, much of the drama was actually filmed in Budapest, Hungary which Sheridan Smith found a little jarring after emerging from lockdown.
"All the actors said we found the flight quite nerve-racking, because it had been two years since we had taken a plane anywhere," she says. "But once we got to Budapest all the anxiety went away, and it was a lovely job.
"I missed my son, Billy, like mad, but we FaceTimed every day. They found the most amazing locations to use, then they did a day of shooting rooftops in Bradford and suddenly it all links in and you don't think it's Budapest. They've done an amazing job – the magic of television!"
Samuel Bottomley on playing teen pupil Kyle
Samuel Bottomley says: "I was instantly intrigued by the story and I knew that even if I didn't end up acting in the show, I would be watching it. I couldn't see where it was going at all. Every episode I read, I thought something different about my character and about Jenna. Each episode will change the audience's perspective. That's what really stood out, just how many times I ended up thinking completely differently about the characters – that's what the best scripts are like.
"Kyle loves his sport, he's pretty smart and quite popular in school. Generally, he's a good kid, who doesn't tend to get into too much trouble. He's not like his peers – he's had less than other kids in terms of his upbringing, because it's just him and his mum in a flat. He doesn't have a father figure and he's desperately trying to find that somewhere. At the start of the series, he has a really lovely relationship with his English teacher, but he's young and naive. She's his favourite teacher, before any of the drama happens – everyone's got that one teacher that they find cool, or they get on with most and for Kyle that's Jenna. She likes him because he's not like the other kids he goes to school with, there's more of an edge to him. He loves English and he wants to be an actor. I don't think he necessarily expects what happens after he makes his accusation. I don't know what he did expect, but he definitely gets a shock once it all comes out. He thinks he's more grown up than he is and he puts his trust in the wrong people.
"It was brilliant to work with Sheridan Smith. It's the first time we'd worked together but as soon as I met her, she welcomed me into the cast with open arms. We sat down and talked about the characters and the scripts and she never let me feel too nervous. We were messing around all the time between takes. Everyone had a really good time filming the series and me and Sheridan were always laughing and joking. It was a little bit nerve-wracking working on this series, but that's not necessarily about who you're acting with, it's more about the job itself. Working with big people, you've got to take it in your stride because it's only a positive – you're only going to learn more and become a better actor."
The Teacher a brief episode guide (with spoilers)
Here's what happens in all four episodes of The Teacher. Please look away if you want to avoid any spoilers...
Episode One: Monday January 31, 9pm
Jenna Garvey is a popular teacher with a chaotic private life. Beneath the veneer of professional respectability, Jenna is emotionally troubled, seeking to numb her pain with alcohol and promiscuity. After a night out celebrating a promotion, Jenna is accused of sleeping with Kyle Hope, a 15-year-old pupil.
Episode Two: Tuesday February 1, 9pm
Jenna's life falls apart as she is formally charged with having sex with a minor. The press get hold of her story and let rip with salacious stories. Her self-esteem shrinks further as she's forced to stay with her cold, critical father.
Episode Three: Wednesday February 2, 9pm
After what's happened Jenna stops drinking and starts to reassess her life.
Episode Four: Thursday February 3, 9pm
Jenna encounters her past and uncovers the twisted truth behind her downfall. She suspects she has an enemy.
There was a US version called A Teacher
In the US back in November 2020 there was a miniseries called A Teacher shown on FX and Hulu. It starred Kate Mara and Nick Robinson as the high school teacher and pupil who had a sexual encounter. It was set in Austin, Texas, and was based on a movie. The drama explored all the complexities of the relationship and the consequences for both, and those around them.
Get the latest updates, reviews and unmissable series to watch and more!
TV Content Director on TV Times, What's On TV and TV & Satellite Week
I'm a huge fan of television so I really have found the perfect job, as I've been writing about TV shows, films and interviewing major television, film and sports stars for over 25 years. I'm currently TV Content Director on What's On TV, TV Times, TV and Satellite Week magazines plus Whattowatch.com. I previously worked on Woman and Woman's Own in the 1990s. Outside of work I swim every morning, support Charlton Athletic football club and get nostalgic about TV shows Cagney & Lacey, I Claudius, Dallas and Tenko. I'm totally on top of everything good coming up too.
Thank you for signing up to Whattowatch. You will receive a verification email shortly.
There was a problem. Please refresh the page and try again.