'Kelvin's Big Farming Adventure' season 1: exclusive interview, release date, episode guide, and what happens in Kelvin Fletcher's new series
'Kelvin's Big Farming Adventure' on BBC1 sees former 'Emmerdale' star Kelvin Fletcher running his own farm with his family.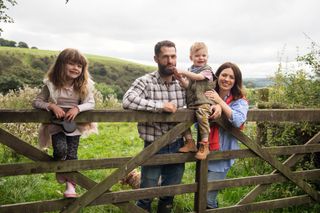 (Image credit: BBC)
Kelvin's Big Farming Adventure series 1 on BBC1 this January sees Kelvin Fletcher getting down and dirty on his own farm. Former Strictly winner Kelvin spent most of his career in the most famous fictional farming area in Britain, playing Andy Sugden in Emmerdale for two decades. But now he's trying it out for real after buying a 120-acre 18th-century farm in Derbyshire's Peak District. Turning his back on city life, Kelvin, his wife Liz, and their children Marnie and Milo will decamp to the countryside and turn their hands to a whole new way of life and BBC1 cameras are with them every step of the way.
So here's everything you need to know about Kelvin's Big Farming Adventure, plus our episode guide, and exclusive interview with Kelvin Fletcher and his wife Liz who reveal their experiences of running their farm...
'Kelvin's Big Farming Adventure' release date
Kelvin's Big Farming Adventure is a six-part series starting on Monday January 17 at 8.30pm on BBC1. After each episode airs it will then become available on streaming service BBCiPlayer. We will update if the show gets a worldwide air date or comes to BritBox at a later date.
Is there a trailer for 'Kelvin's Big Farming Adventure'?
A trailer for Kelvin's Big Farming Adventure hasn't arrived but we're keeping an eye out and we'll post it right here if one drops. If you're into your farming shows, Clarkson's Farm season 2 is on its way to Prime Video!
What happens in 'Kelvin's Big Farming Adventure'?
Kelvin Fletcher is about to live out his rural dream and escape to the country to run an 18th century farm. But acting the part and doing it for real are very different things and we're about to find out if Kelvin, his wife Liz and their kids can really cope when they're thrust into the tough world of livestock markets and sheep wrangling.
And with a cast of unruly beasts to manage, it's fair to say Kelvin will find out why they say never to work with animals and young children. Plus he'll need to overhaul and manage the huge estate with its never-ending outbuildings. The programme was filmed over an entire summer and shows Kelvin's every step as he and his family make their first rookie attempts to kickstart their farming business.
Our exclusive interview with Kevin Fletcher and wife Liz about their experiences behind 'Kelvin's Big Farming Adventure'
What made you want to buy a farm in the first place?
Kelvin Fletcher says: "Ever since I was a little boy I've wanted to live in the countryside and recent events have made me want to do that even more. So the idea of buying a farm all came about as one of my crazy ideas that I suggested to Liz, and fast forward a couple of months and here we are in the thick of it! It's kind of weird that a TV production company has followed that journey, though, because at times you feel pretty vulnerable and it's all been captured for the nation to see. But we've embraced the unknown and together we've made some good choices and some poor choices. But we're loving it!"
Did do you know anything about farming beforehand?
Kelvin says: "What I knew about farming you could write on the back of a stamp! I was born and bred in Oldham, so I couldn't be any more of a townie really. We're kind of the joke in the local community because there's an assumption that you're going to know the basic lingo, but I was like, what's a ewe? I'm sure some viewers are going to be watching at home thinking, he's bloody stupid, how does he not know that?"
What's been the biggest challenge?
Liz says: "Every day is a challenge. I think what we had to face up to really quickly was the amount of jobs that needed doing. So fences broke down, there were holes in the roof and blocked drains. Although we've got sheep, pigs, alpacas and rabbits now, the first few weeks was nothing to do with animals!"
Kelvin says: "I don't know if we both fully appreciated what we took on. So yeah, we've really jumped in at the deep end. But I think the biggest challenge has been the balance of life. You know, you're ten minutes late for school, there's a pig running loose and Milo's potty training and having a wee in the car. Literally, that's what it's like every single day. It's chaotic but I love it!"
Have there been any times where you've thought, let's quit this life and go back to Oldham?
Kelvin says: "I had to clean maggots out from a sheep's hooves and the sight of it would have made anybody's stomach turn. I think in that moment I was like, there's no way I can do this!"
Liz says: "Sometimes I'm like, wasn't life easier when we just lived in a house? There have been times when I've bathed the kids, got ready to go to bed and I've gone to shut the curtains and the pigs have escaped! So it's 9 o'clock at night and I'm trying to get all these pigs back into their shed in the pitch black!"
Kelvin says: "I'm sure if you're a proper farmer your animals never escape as much as ours do. Either we're not shutting gates properly or I've built a fence that's clearly not as strong as it should be and the next minute you're chasing around the fields. But we're learning, we're going to make mistakes, that's the whole process."
Have you had any support from anyone in your local community?
Kelvin says: "Jilly our tenant farmer has been amazing, she's been a godsend. Actually she and her husband had to help us out the day we got the keys to the farm because our car got stuck in the mud in one of the fields! Liz got the ironing board out and tried to stick it under the wheel, but in the end I had to ring Jilly and introduce myself and next thing her husband came and pulled us out with his tractor!"
Has it been nice embarking on this adventure with your family?
Liz says: "It has! Out of everything that has been one of the greatest things, because the farm is like a huge playground to them. They've really got into it to the point where they're telling us what to do with the sheep now!"
Kelvin says: "Marnie is amazing, she's really come into her own. We did sheep show recently and she was in a pen showing our sheep in front of spectators, judges and the TV crew. I was so proud of her!"
Kelvin, how do you find the time between being a farming and acting now?
Kelvin says: "Actually we got the keys to the farm and then two weeks later I went to Budapest for six weeks to film the drama Teacher with Sheridan Smith for Channel 5. It was a really great experience, but it definitely left Liz in the lurch! We're both still very committed to our day jobs, but we're spinning plates really. I guess it's about finding a balance."
Have you watched Matt Baker's or Jeremy Clarkson's farming shows?
Liz says: "We're obsessed with all farming shows, we're mad on them. We get the kids watching them, too."
Kelvin says: "I think what they all represent is good, wholesome TV. They're about escapism, they're about family, they're about the simplicity of life, being outdoors and being at one with nature. They're informative, but they're also light-hearted and fun and you can watch them with the kids – well, maybe not Jeremy Clarkson's one because of all the swearing!"
'Kelvin's Big Farming Adventure' episode guide
Episode 1: Monday January 17, BBC1 8.30pm
The opening episode of season 1 sees Kelvin almost faint while cleaning maggots from a sheep's hoof, and even lose a brand new baby rabbit belonging to his young children, Marnie and Milo. If he can't keep a rabbit penned in, it makes you wonder how on earth he's going to cope with a whole menagerie of farm animals?
Episode 2: Monday January 24, BBC1 8.30pm
'That's the first udder I've ever felt but it feels nice,' declares Kelvin to a bemused sheep farmer called Jean, who's selling a few of her prize flock to the former soap star. The Fletchers are buying their first animals, 10 Cotswold sheep, for their 120-acre farm. "They can't be as hard as kids to look after, can they?" worries Kelvin. They may be farming novices but the ex-Emmerdale actor and his wife Liz have bags of enthusiasm for their newfound country life!
Episode 3: Monday January 31, BBC1 8.30pm
After his sheep-buying exploits last week, Kelvin is getting into thes wing of being a proper farmer. Now, however, he wants to expand his farm to breed pigs. But he dashes away to a motor racing training session (a big passion of his) which means his wife Liz must bring home the bacon, so to speak. How will Liz cope?
Episode 4: Monday February 7, BBC1 8.30pm
It's the Ashbourne Agricultural Show and Liz isn't feeling confident about their three sheep entered for competition. Mini sheep whisperer Marnie, however, is on hand to for advice. Meanwhile, as Kelvin and Liz are still getting to grips with the all-consuming demands of running a farm, their daughter Marnie, who's just 4, is training sheep, moving pigs, putting up fences and racing her mini quad bike around the fields.
Episode 5: Monday February 14, BBC1 8.30pm
Kelvin tells former Emmerdale cast mates Adam Thomas (also his brother) and Danny Miller that 'I've honestly never been happier!' when they pop by for a visit. Life on the farm is suiting Kelvin, and he's excited to bring home three alpacas, . But farming isn't just about buying animals, it's about making a living from them too and Kelvin has to take his first lamb to the butchers after explaining the situation to his daughter Marnie. With a heavy heart he drives the condemned little lamb to the slaughterhouse. Will his £94.50 profit and leg of lamb to eat help him get over it. And how does he explain to his family their roast is the lovely lamb who was running around the field a few days before?
Episode 6: Monday February 21, BBC1 8.30pm
The final farm visit of this series sees the family preparing for a party to welcome their new neighbours. There are 200 guests, with many eager to meet the celebrity couple from next door. Kelvin and Liz embrace all with good humour, games of rounders. Now they know they've got lots of friendly farming folk nearby to help should they hit troubles!
Kelvin Fletcher's career…
Kelvin shot to fame playing Andy Sugden in the ITV soap Emmerdale. After joining in 1996 we watched Andy's character develop over 20 years, seeing him go from a traumatic upbringing to being framed for his lover Chrissie's father's death. Kelvin left the show in 2016, and went on to play Steve in the 2018 series The Shore. He also took part in Springtime on the Farm the same year, so he should know what he's let himself in for. Kelvin appeared in the 2019 series of Strictly Come Dancing. Paired with professional dancer Oti Mabuse after Jamie Laing was forced to drop out, the pair scooped the famous glitterball after winning the series. He's also appeared in Death in Paradise and starred as Nathan in the popular series Moving On. Kelvin will soon be starring alongside Sheridan Smith in the Channel 5 thriller The Teacher.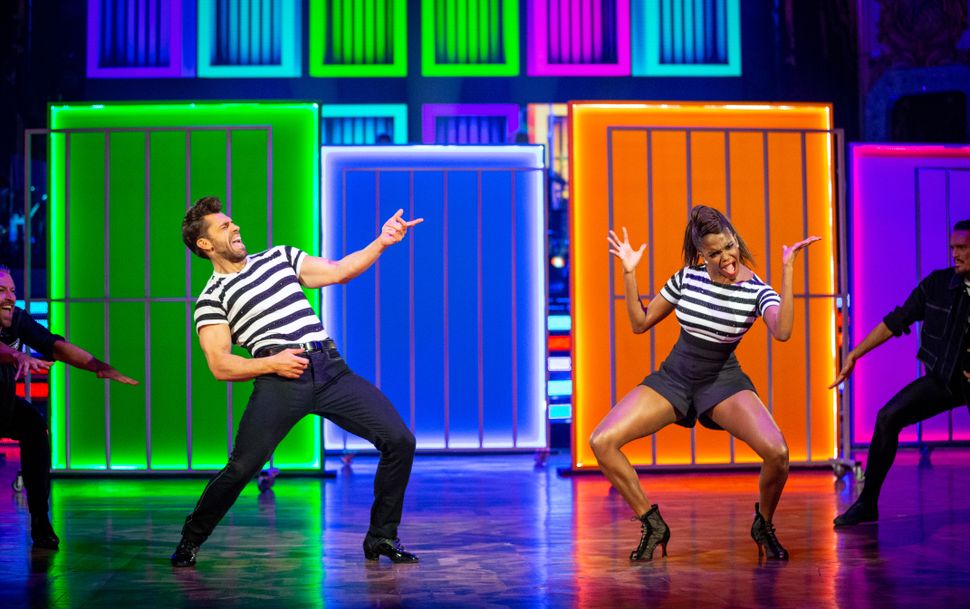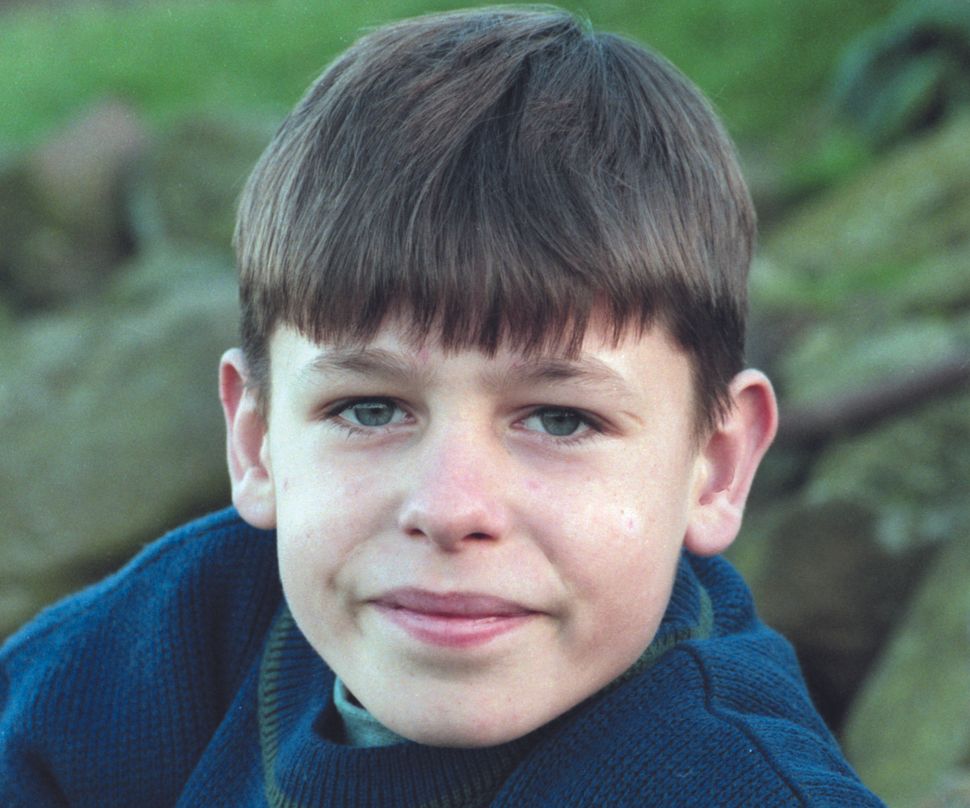 Kelvin Fletcher's family
Kelvin and his wife Liz Marsland were childhood sweethearts who met when they were children. They shared their first kiss when Liz was just eight-years-old. Liz is also an actress, best known for her role as Liz Steele in the 2016 TV series In The Club where she starred alongside Jill Halfpenny and Katherine Parkinson. Liz and Kelvin married in a swanky Mayfair ceremony in 2015 and have two children, Marnie and Milo.
Get the What to Watch Newsletter
The latest updates, reviews and unmissable series to watch and more!
TV Content Director on TV Times, What's On TV and TV & Satellite Week
I'm a huge fan of television so I really have found the perfect job, as I've been writing about TV shows, films and interviewing major television, film and sports stars for over 25 years. I'm currently TV Content Director on What's On TV, TV Times, TV and Satellite Week magazines plus Whattowatch.com. I previously worked on Woman and Woman's Own in the 1990s. Outside of work I swim every morning, support Charlton Athletic football club and get nostalgic about TV shows Cagney & Lacey, I Claudius, Dallas and Tenko. I'm totally on top of everything good coming up too.