The Thief, His Wife and the Canoe — 2023 release date, cast, trailer, plot, episode guide and everything we know
The Thief, His Wife and the Canoe on ITV stars Eddie Marsan and Monica Dolan and tells the bizarre true story of canoe conman John Darwin and his wife Anne.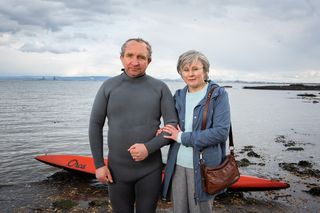 (Image credit: ITV)
ITV's real-life drama The Thief, His Wife and the Canoe stars Eddie Marsan as former teacher John Darwin, the conman who brazenly faked his own death in 2002 for life insurance money, while Monica Dolan plays his wife, Anne, who ended up heading off for for a life with her husband in Panama, without the rest of their family knowing a thing.
Also starring in The Thief, His Wife and the Canoe is Mark Stanley (White House Farm, Trigger Point) and Karl Pilkington (Sick of It).
The four-parter is based on the unpublished manuscript written by journalist David Leigh, who was the first journalist to track down Anne as she was on the verge of setting up a new life in Panama. Richard Laxton, who counts Honour, Mrs Wilson and Mum amongst his credits, directs all four episodes, with the script penned by Unforgotten writer Chris Lang.
"I'm so thrilled to be working with Chris Lang, one of our greatest writers and to get the chance to work with Monica Dolan," says Eddie Marsan.
"The story of how and why John Darwin faked his own death to defraud insurance companies is fascinating, and if it weren't fact, you'd think it unbelievable. I can't pretend to understand what was going on in his head when he made those choices, but I'm going to do my absolute best to portray him."
Monica adds: "The Thief, His Wife And The Canoe tells the story of surely the most outrageous fraud of modern times. As breath-taking as their managing to pull this deception off in the first place, is how spectacularly the couple wrecked it for themselves as soon as they had got away with it."
Here's everything you need to know about The Thief, His Wife and the Canoe on ITV...
The Thief, His Wife And The Canoe release date
The four-part drama The Thief, His Wife And The Canoe originally aired in the UK in April 2022 on ITV. This 2023 repeat of the drama starts on ITV on Monday, June 12 at 9 pm and then runs over consecutive nights on ITV at the same time until Thursday, June 15, 2023.
All episodes are now available on BritBox in the US and on ITVX in the UK.
The Thief, His Wife And The Canoe plot
Four-part ITV series The Thief, His Wife And The Canoe explores John Darwin's big scam and how it was carried out.
It also shows how his wife Anne became complicit in her husband's bizarre deception to avoid bankruptcy, as she played the grieving widow and tried to convince the world, their friends, the police and insurance companies that John had gone missing while canoeing off the North East coast.
Even their sons, Mark and Anthony, were none the wiser for five years, as their father secretly lived hidden in a bedsit next door to the home he shared with Anne.
The strange saga unfolded in a series of increasingly bizarre twists, that saw the couple start a new life in Panama, before they were eventually rumbled. John turned himself into the British police in 2007, claiming to be suffering from amnesia. The pair were subsequently found guilty of fraud.
Is there a trailer for The Thief, His Wife And The Canoe?
ITV's official trailer for The Thief, His Wife and the Canoe takes a look at the canoe scam in action. See Eddie Marsan and Monica Dolan in their roles below...
The Thief, His Wife And The Canoe cast — Eddie Marsan on playing John Darwin
in The Thief, His Wife and the Canoe, Eddie Marsan plays canoe conman John Darwin, who was eventually jailed for fraud in 2008.
He's also played Terry Donovan in the American crime drama series Ray Donovan since 2013 and has also starred in the films Deadpool 2, War Horse, Mission: Impossible III, Snow White and the Huntsman and Happy-go-Lucky. Most recently he's played grieving dad Arwel in BBC One's The Pact season 1
Eddie Marsan says: "It's a great story about two ordinary people who get into extraordinary circumstances. I love stories like that. John tried to build a buy-to-let empire and retire early. He had delusions of grandeur. In a narcissistic way, he thought he was smarter than everyone else. He thought he could outsmart everyone else. He saw other people as merely two-dimensional and thought he was the only three-dimensional person in the world. But he underestimated people's ability to see through him."
Eddie was very interested in portraying John's narcissism: "You can see it in the way he treated his sons. Before he faked his own death, he said, "My sons will get over it in a few weeks." He had a very difficult relationship with his dad. He wasn't that emotionally attached to his father, so he didn't realize his sons would be that attached to him. Narcissists think everyone is like them. John lacked empathy. When he actually listened to his sons' grief, he was shocked by it.
"John's a fantasist, but his story captures the zeitgeist. I always play characters who are psychologically deluded, narcissistic or abusive. It used to be that they were on the periphery of stories. Society was the norm, and they were outside it. But recently I've been playing these characters and they are among us now. The idea of a middle-aged man suffering from self-delusion and narcissism is quite prominent."
Monica Dolan on playing Anne Darwin
Monica Dolan joins Eddie Marsan as John's wife Anne Darwin, who began to suffer emotionally as the deception continued and she found herself lying to everyone around her.
Monica says: "It's an astonishingly interesting relationship between John and Anne. It's also a series of events that is incredibly bizarre, and yet if you follow what they were trying to do, every individual event makes sense. The drama says something wider as well. No one is denying they were criminals, but at the same time banks were selling mortgages they shouldn't have been selling to that couple. They were bound to get into trouble. It really is a fascinating story.
"One of the things I found very, very clever is that Anne is narrating the story, so there's this whole issue of her mendacity. How true will her narration be? How much of what she is saying is genuine? It's always very interesting to play a character who is untruthful. There is so much to play with – how much is she lying and how much are other people projecting things onto her?
"Every scene has been illuminating about how people from all these different bodies — the police, the family liaison unit and her legal representatives - viewed her. There's so much to be played in terms of "how good a liar is she?" If you're lying badly, it makes other people look stupid, and they can't all have been stupid in this story. The audience knows she's lying, and there's no mileage in making it too obvious. Also, I don't think John could have achieved what he did without her, and yet she inspires sympathy in people. It's a terrific tale about an unreliable narrator."
No stranger to playing real-life characters, Monica Dolan won the Best Actress BAFTA for her portrayal of Rosemary West in 2011's drama Appropriate Adult. She's also famous for W1A, Vanity Fair, A Very English Scandal and was most recently seen in The Dig on Netflix.
Who else is starring The Thief, His Wife And The Canoe?
Also starring in The Thief, His Wife And The Canoe are Mark Stanley (Anne Boleyn) and Dominic Applewhite who are playing John and Anne's sons, Mark and Anthony. They knew nothing of the insurance scam and fake drowning and even thought their father had died.
Also look out for Karl Pilkington as DC Phil Bayley, plus Karina Fernandez, Lois Chimimba, David Fynn, Alice Arding, Francesca Knight, Colin R Campbell and former Coronation Street star Andrew Lancel.
The Thief, His Wife And The Canoe episode guide (with spoilers)
Here's our complete episode guide for The Thief, His Wife And The Canoe. It's a true story but of course there may be spoilers so please look away if you don't want to know...
Episode 1:
We meet John and Anne Darwin, a couple plagued by debt. Facing bankruptcy John decides to fake his own death using his canoe, much to the horror of his wife. They successfully pull it off and John goes into hiding while Anne consoles her sons.
Episode 2:
John successfully applies for a passport to create a new identity, while forcing Anne to demand an inquest into his death so they can get the insurance payout. Miraculously it works and the cheques arrive. They plan a new life together in Panama.
Episode 3:
John has had enough of being dead and returns to England to declare he is suffering from amnesia. He is reunited with his sons. Journalists hunt down Anne in Panama and the story starts to unravel as a photograph of the two of them emerges.
Episode 4:
Anne and John are interviewed by the police – the truth emerges. The case goes to trial where Anne pleads not guilty on the grounds of marital coercion. Their traumatized sons initially refuse contact but come to find forgiveness for their mother.
More from writer Chris Lang on his ITV drama
Best known for his crime dramas Innocent and Unforgotten, screenwriter Chris Lang relished the chance to tell the true and truly strange story of the Darwins. "I got sent a load of research material and I kept finding myself thinking, "I can't believe they did that!"' he recalls.
The 60-year-old actor and writer, who was once in a comedy group with Hugh Grant, was keen to find clues that would unlock John Darwin's personality. "John had a Range Rover with personalized plates which shouted out to the world, "Look at me, look at how well I'm doing!"' he reveals. "But in truth, he had catastrophically overreached himself."
Chris made the decision to tell the story from the point of view of Anne, who wrote a book about her experience called Out of My Depth. "John is a relatively easy character to understand, but Anne is much more complex," he explains. "To try to understand how a mother could have committed such a heinous crime, I decided to place her at the centre of the piece."
As well as the tragicomic nature of the story, Chris was also drawn to how quintessentially British it was. "There's the seaside setting, the ordinariness of the couple, that sense of things going on behind the net curtains," he says. "You'd never have imagined they could have been hatching this extraordinary plot, that they nearly got away with. It's a brilliant slice of English life!"
What's the true story behind ITV drama The Thief, His Wife and the Canoe?
John and Anne Darwin ran a business renting bedsits in County Durham, but ran into debt after purchasing two houses in Seaton Carew in December 2000. It was these debts that caused John to fake his own death in 2002 to claim life insurance. However, the crime ended up taking its toll on Anne, who lied to their sons, Mark and Anthony, for five years in the early days of the fraud, even though her husband secretly was living in a bedsit next door to the couple's home.
Devastated by the loss of their father, neither son had an inkling their parents were capable of such treachery and being involved in a £679,000 insurance scam. Anne and John eventually decided to leave Seaton Carew and move to Panama City to start a new life together before their secret was exposed by the discovery of an infamous photo of them posing in a Panama real estate office in July 2006.
At her trial Anne Darwin pleaded not guilty, arguing that she'd been coerced into the plot by her husband, but the jury didn't believe her. John was ordered to serve six years and three months in prison, while Anne got six years and six months.
Since the extraordinary case, the couple have divorced, with John remarrying and Anne writing a book about the scandal in 2016 called Out of my Depth. She has also since reconciled with her sons.
Has there been an adaptation of the Canoe man John Darwin case before?
Yes, the story of John and Anne Darwin was dramatized in the one-off BBC4 docu-drama documentary Canoe Man in 2010. It starred Bernard Hill and Saskia Reeves as John and Anne Darwin (see below).
Get the What to Watch Newsletter
The latest updates, reviews and unmissable series to watch and more!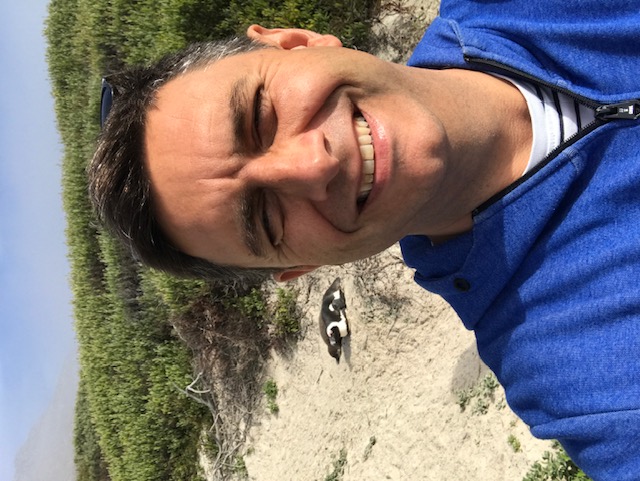 TV Content Director on TV Times, What's On TV and TV & Satellite Week
I'm a huge fan of television so I really have found the perfect job, as I've been writing about TV shows, films and interviewing major television, film and sports stars for over 25 years. I'm currently TV Content Director on What's On TV, TV Times, TV and Satellite Week magazines plus Whattowatch.com. I previously worked on Woman and Woman's Own in the 1990s. Outside of work I swim every morning, support Charlton Athletic football club and get nostalgic about TV shows Cagney & Lacey, I Claudius, Dallas and Tenko. I'm totally on top of everything good coming up too.