'The Pact' — release date, cast, plot, trailer and everything you need to know
The Pact follows five friends whose relationship is tested in the aftermath of a shocking and unexplained death.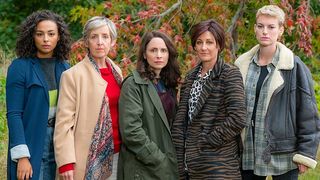 (Image credit: BBC)
The Pact is the latest crime drama from BBC Cymru Wales to hit our screens this spring and the broadcaster seems confident it has another hit on its hands.
The six-part crime thriller follows in the footsteps of shows like Keeping Faith, Hinterland and Hidden, with channel execs hoping a "strong cast and gripping storyline" will reel viewers in.
Writer/Creator Pete McTighe teases: "The Pact is a show that explores secrets and their consequences, and examines the fragile nature of trust, through the prism of a complex, relatable friendship group. Yes, it's a thriller, with big twists and surprises, but first and foremost it's a character piece — so it was important to me to take time to drill down into each of our key characters and properly explore the impact of a terrible moral dilemma on each one."
Here's everything you need to know about BBC Wales' new drama, including episode summaries... but watch out for spoilers if you haven't watched yet!
The Pact release date
The six part drama started on Monday 17 May on BBC1 at 9pm. The second episode aired on Tuesday 18 May. The drama has aired on Monday and Tuesday nights, with the final episode airing on Tuesday 1st June.
All six episodes are available on BBC iPlayer to stream right now.
The Pact plot
An official synopsis from BBC Wales reads...
"The story follows five friends (Anna, Nancy, Louie, Cat and Tish) in the aftermath of a shocking and unexplained death where a chain of events forces them into a fragile pact of silence, bound by a secret that will change their lives forever. The drama will follow the story of five friends, a sudden death and a web of lies."
BBC Cymru Wales Head of Commissioning Nick Andrews says...
"The Pact is such an exciting commission for BBC Wales. It builds on our strong portfolio of impactful drama, and like Hinterland, Keeping Faith and Hidden before it, brings together the best in the business to do their best work. It's a brilliant story and the strong cast and crew make this a highly anticipated series."
The series boasts an impressive cast with Breaking Bad star Laura Fraser taking centre stage as Anna, alongside Julie Hesmondhalgh as Nancy (Broadchurch, Coronation Street), Eddie Marsan as Arwell (Ray Donovan) and Abbie Hern as Tish (The Twilight Zone)
A host of established Welsh talent including Aneurin Barnard (The Personal History Of David Copperfield, Dunkirk), Eiry Thomas (Keeping Faith), Heledd Gwynn (Ordinary Lies), Abbie Hern (The Twilight Zone), Aled ap Steffan (Gangs Of London), Jason Hughes (Midsomer Murders) and Mark Lewis Jones (The Crown), Rakie Ayola (Grace) will also star.
Meanwhile, Gabrielle Creevy, who won Best Actress in the 2019 BAFTA Cymru awards for her role in the hit BBC drama In My Skin.
Speaking of the new drama Julie Hesmondhalgh told us: "It's a great story, but I think we were all attracted to it by the really complex and flawed female characters at the heart of it. Also, I have watched loads of dramas that start with a bang and then fizzle out towards the end, but The Pact doesn't do that. There are twists throughout. I don't think people will be disappointed by the ending!"
What happened in episode 1? Contains spoilers!
Episode one of The Pact introduces us to Anna, Nancy, Louie and Cat, a group of women who work at Evans Brewery. Things are far from smooth sailing though, as boss Jack is young and tyrannical, and they've had enough of his obnoxious behaviour.
During a work function, a drunken snap decision results in the accidental death of Jack, forcing the terrified group to make a pact of silence following the unintentionally deadly prank.
The first episode ends on a massive cliffhanger when the four women each receive an ominous text saying "I know what you did and I want money", leaving viewers on the edge of their seat wondering who spotted them disposing of Jack's body. Could it be his dad and former brewery boss Arwel Evans? Or is a member of the group secretly blackmailing the others?
What happened in episode 2? Contains spoilers!
In episode 2 of The Pact, we learned a lot more about the lives of the women involved in their boss' murder. It's revealed that their lives are far from happy and aside from their personal struggles, they've got the added stress of dealing with the blackmailer from the first episode. Without even finding out their identity, they decide to pay them off with £5,000.
On top of this, viewers learned a lot more about Jack's grieving father Arwell. But he's starting to act suspicious, refusing to give the police access to his son's bedroom or personal items. We've even seen him burning evidence, which suggests he's got something to hide...
What happened in episode 3? Contains spoilers!
This episode ended on a massive cliffhanger, after the identity of the blackmailer was finally revealed. It all came to a head after Anna secretly transferred £5,000 from their savings account, causing a rift between her husband who demanded to know the reason why. She managed to convince him that she was helping out a friend who was in serious financial trouble, but things got even more complicated when she received another text on the morning of the memorial, demanding a further £10,000.
This text spooked Anna, who downloaded an app and managed to track the location of the mysterious phone sending her all these messages. Upon arrival, she texts the number and hears the device ping, and a guilty looking Nancy appears holding the phone. Is she truly blackmailing her friends, or is she doing someone else's dirty work?
What happened in episode 4? Contains spoilers!
Episode four gave viewers a flashback revealing how Nancy became so desperate for money that she would try blackmailing her friends, but as her betrayal becomes known to the others in the group, will she ever be able to earn their forgiveness? Also Louie gets devastating news from the doctors when they tell her that Arwell will never regain consciousness.
What happened in episode 5? Contains spoilers!
As news of Arwell's death spreads, the police close in on the group of friends and they're all taken in for questioning once again. Finally Anna tells Max the truth about what really happened the fateful night that Jack died, but that's not the only dark family secret to be revealed. Their daughter, Tamsin, has got her own bombshell that she is about to drop, leaving Anna and Nancy reeling in the episode cliffhanger.
What happened in episode 6? Contains spoilers!
The final episode of The Pact certainly kept us on the edges of our seats right until the very end. Not only did we finally find out exactly what happened to Jack the night he died, but we also saw everyone struggling to cope with the fall out of their secrets and lies that had been eating them up since the start of the series. Not only were we delivered the bombshell that Anna and Max's daughter, Tamsin, was pregnant with Jack's baby, but also that she was the one who killed him after following her mum and friends to the woods the night of the party. Finally it was Nancy who made the ultimate sacrifice and took the blame for the crime, protecting goddaughter Tamsin and making amends for blackmailing her friends out of their life savings.
Where was The Pact filmed?
The show's writer Peter McTighe, who lives in Wales, said he wanted to write a "world-class drama" that takes advantage of the country's "epic locations and incredible talent both on- screen and behind the camera".
Filming took place in Merthyr Tydfill, Usk, Cardiff and the Rhymney Brewery in Pontypool.
"We filmed in some completely beautiful places. The woods at Pontsticill are where a lot of the action takes place and you'll see that beautiful landscape in all climates. As did we! It's a stunning place," says Laura Fraser, who plays Anna.
"Our first location was Rhymney Brewery in the Valleys, right next to Big Pit and surrounded by mountains. It was the end of the summer then and absolutely boiling.
"It was a gorgeous drive to location every day from Cardiff. We also filmed around Usk which was a beautiful little town and at St Mary's Church in Marshfield, which I loved."
The Pact trailer
Yes there is and it shows us just how exciting this new drama is. We see a body being discovered in the woods. Then we see Nancy saying: "If we hold our nerve and stick together, this will pass". But judging by the rest of the trailer, we don't think it will! We see everyone getting questioned and things quickly start to unravel…
Feature writer for TV Times, What's On TV, TV & Satellite Week and whattowatch.com
Sean has been writing about all things telly for over 10 years and in that time he's been lucky enough to interview stars like Ian McKellen, Tom Hardy and Kate Winslet. His favourite shows are The Great British Bake-Off, People Just Do Nothing and Succession and in his spare time he enjoys drinking tea, doing crosswords and watching football.
Thank you for signing up to Whattowatch. You will receive a verification email shortly.
There was a problem. Please refresh the page and try again.