The Ipcress File with Joe Cole — US release date, cast interviews, trailer, plot, episode guide and all about this new adaptation of the famous spy thriller
The Ipcress File on AMC+ and ITV sees former Peaky Blinders star Joe Cole playing iconic spy Harry Palmer.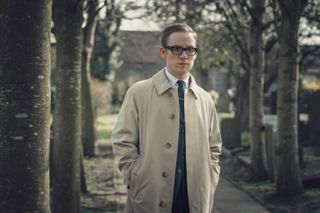 (Image credit: ITV)
In the ITV and AMC+ adaptation of The Ipcress File, Joe Cole (star of Peaky Blinders and Gangs of London takes on the iconic role of Harry Palmer, based on the globally renowned Len Deighton novel from 1962 and made famous by Michael Caine in the 1965 spy thriller. Filming took place in Liverpool, Cheshire and Croatia in 2021 and it's set to air in 2022. Tom Hollander, Lucy Boynton and Ashley Thomas also star.
The high-octane espionage series, set during the 1960s at the height of the Cold War, follows Palmer, a working-class British sergeant, who's on the make in Berlin and ends up becoming a spy to avoid a stint in military jail for dodgy dealings and side hustles.
Harry Palmer's first case is The Ipcress File, which involves a missing British nuclear scientist. But Palmer's links to the man suspected of the kidnap takes him on a potentially deadly undercover global mission from Berlin, to London, Beirut and a nuclear atoll in the Pacific. But can Palmer survive brainwashing, inter-departmental rivalry, treason and a series of dangerous twists and turns?
So here's our guide to everything you need to know about ITV and AMC+ spy drama The Ipcress File starring Joe Cole...
The Ipcress File release date in US and UK
AMC+ will be showing The Ipcress FIle in the US and Canada on Thursday May 19 2022. As soon as worldwide air dates are announced we will update here.
The Ipcress File launched in the UK on Sunday March 6 on ITV at 9pm, 2022 and the 6 episodes ran weekly. The drama can be watched as a box set in full on both ITV Hub and BritBox.
* How to watch The Ipcress File online anywhere in the world
Is there a trailer for The Ipcress File?
Yes! ITV has released a trailer for The Ipcress File and it's really got us excited. It's great to see Joe Cole, Tom Hollander and Lucy Boynton in action at last. Enjoy the new trailer and also a preview clip, both below...
The Ipcress File cast — who's starring
Joining British star Joe Cole in The Ipcress File are Bohemian Rhapsody actor Lucy Boynton as fellow spy Jean Courtney and Us and The Night Manager star Tom Hollander as Major Dalby who works for British intelligence.
Also look out for Ashley Thomas (NYPD Blue, Top Boy, Them) as Maddox, Joshua James as Chico (Industry, Life, Absentia), David Dencik (McMafia, Face to Face, Chernobyl) as Colonel Stok and Tom Vaughan-Lawlor (Dublin Murders, Avengers: Endgame, Avengers: Infinity War) as Cathcart.
Joe Cole on playing Harry Palmer in ITV's The Ipcress File
Joe Cole says: "I've seen the film but my Harry is a little bit different. I saw it as a fantastic opportunity. I wasn't too familiar with Harry Palmer as a character to be honest before being sent the material but very quickly after speaking to family members and people from generations gone by I realised what an important character he is within the British system and for me it was just a fantastic opportunity to do something different and I tried to avoid as much of Michael Caine's stuff before and do my own thing with it."
Although Joe says he's made the role his own, he still sports the spy's trademark glasses. "He's such an iconic character,' says Joe. 'The glasses were massive in helping me get into the role of Harry Palmer. As soon as I put them on it was "job done".'
Set in 1963, the story follows Harry, who's doing shady deals on the black market while serving for the British Army in Berlin. After he's caught and sent to prison, he receives a visit from William Dalby (Tom Hollander), the enigmatic head of a secret intelligence agency. Dalby offers Harry the chance to become a spy and help find a missing British nuclear scientist who appears to have been kidnapped by one of Harry's former contacts.
"Harry doesn't have much choice in the matter,'" says Joe. "He's a reluctant participant in Dalby's mission. It's either that or being sent back to prison.?
"He's a detective, he's a spy, but he is very different, he doesn't have a lot of money, he's from a working class background, he's operating in a diff world, in diff classes and he's hyper intelligent and he's fun, and for me the most important thing was trying to capture that and John's writing was so good but it was this constant battle of trying to make him not sound like a dick, make him tow the line, not be sarcastic, be likeable but also push a load of buttons but just enough that you don't immediately turn off…"
Lucy Boynton on starring as Jean Courtney in The Ipcress File
Lucy Boynton told us: "I was just incredibly excited by the prospect of doing this version of The Ipcress File. It's such a fascinating world to explore, especially through Jean's eyes which is obviously how I approached reading the script in the first place. I just think she's such an interesting commentary on what it's like to be a woman in a male dominated industry and especially within the context of this era of so called liberation for women."
The Ipcress File — plot and episode guide
Follow what happens in the twisting turning plot of ITV's The Ipcress File here with our episode guide below which we'll update as the series progresses Remember you can get ahead of us is you box set the whole series on ITV Hub.. There are some spoilers below so do skip if you wish to avoid....
Episode 1: Sunday March 6 9pm ITV
Savvy working-class soldier Harry Palmer (Joe Cole) is serving in Berlin and doing shady deals on the black market. When Harry is caught and sent to military prison in the UK, he receives a surprise visit from William Dalby (Tom Hollander), the enigmatic head of a secret intelligence agency. Dalby offers Harry the chance to become a spy and help find a missing British nuclear scientist who appears to have been kidnapped by one of Harry's former contacts. Harry soon embarks on a fraught mission alongside upper-crust fellow spy Jean Courtney (Lucy Boynton) but he faces danger and intrigue as tensions between the East and the West rise and he has to work out who he can trust…
Episode 2: Sunday March 13 9pm ITV
The hunt for missing nuclear scientist Professor Dawson takes a perilous turn. Intrepid secret agent Jean Courtney is investigating a mysterious Russian intelligence officer, Colonel Stok (David Dencik), to discover what he knows about Soviet interests in Dawson. She also reluctantly takes rookie spy Harry Palmer (Joe Cole) under her wing as they team up to interview Dawson's wife and colleagues. When shrewd Harry quickly proves his worth, however, some enticing new leads bring jeopardy. Meanwhile, Jean's fiancé James (Ben Lloyd-Hughes), who has no idea she's a spy, is growing suspicious about her behaviour as she becomes increasingly consumed by her mission and blossoming partnership with Harry.
Episode 3: Sunday March 13 9pm ITV
Dogged spies Harry, Jean and Dalby all face stark challenges when they head to Beirut to follow a risky new lead. The trio believe that scheming mercenary Randall has taken kidnapped scientist Professor Dawson to Lebanon and, after they arrive in Beirut, Harry and Jean investigate Randall's local contacts to see if they can find him and Dawson. As their enquiries place them under threat, however, Harry's troubling experiences in the Korean War return to haunt him, but his relationship with Jean deepens. Meanwhile, when Harry and Jean's wry, upper-crust boss Dalby joins them in Beirut, he finds himself the object of scrutiny from the Russians and Americans who are eager to find Dawson. Those complications start to come to light when mysterious Soviet intelligence officer Colonel Stok (David Dencik) resurfaces in Beirut and meets with Dalby. After Stok delivers a revelation about the past that leaves Dalby on edge, the Russian goes on to make a shocking proposal. Will Dalby accept?

The Ipcress File on ITV — what else do we know?
This six-part adaptation of Len Deighton's The Ipcress File (opens in new tab) has been described as "an enthralling and atmospheric espionage thriller." It's been penned by BAFTA-winning Trainspotting writer John Hodge and will be directed by James Watkins, who also took the helm on McMafia and Black Mirror.
Watkins says: "We can't wait to bring Len Deighton's intoxicating web of spies – sexier than Smiley's People, more real than Bond – to a wider television audience. With his sly wit and understated integrity clashing against the establishment, working-class spy Harry Palmer is more relevant than ever."
John Hodge adds: "This is a wonderful opportunity to inhabit a time when the post war world was morphing into the way we live now, when social mobility, civil rights, and modern feminism were forcing their way into public consciousness, and all of it happening with the world divided in two and both halves threatening to blow the whole thing sky high."
From Altitude Television, this bold re-imagining of The Ipcress File brings together an outstanding creative team, with Oscar nominated and BAFTA award winning writer John Hodge (Trainspotting, The Beach, The Sweeney), Emmy award winning director James Watkins (Black Mirror, McMafia, The Woman in Black) and producer Paul Ritchie (Slumdog Millionaire).
More about Harry Palmer and his spy mission in The Ipcress File...
In the newly partitioned city of Berlin, Harry Palmer is a sharp working-class young man with sophisticated tastes determined to make a lot of money. A wholesaler, retailer, fixer, smuggler, Harry's varied interests bring him into contact with everything and everyone in Berlin in the early 1960s – until the law catches up and it all comes crashing to a halt.
Harry finds himself sentenced to eight years in a grim military jail in England, all his prospects abruptly torn away. But his impressive network and efficiency have not gone unnoticed, and a gentleman from British intelligence has a proposal. To avoid prison, Harry Palmer will become a spy. And the case on which he cuts his teeth will be 'The Ipcress File'.
Harry's links to the man suspected of kidnapping a missing British nuclear scientist result in him being conscripted for a dangerous undercover mission that takes him from the Beatles' London to the Berlin Wall, from the back alleys of Beirut to the white hot sand of a Nuclear Atoll in the Pacific.
That famous The Ipcress File screen adaptation from 1965 with Michael Caine...
Len Deighton's original 1962 novel The Ipcress File (opens in new tab)was turned into a BAFTA-award winning film in 1965, starring a young Michael Caine as Harry Palmer. It was directed by Sidney J Furie and included Sue Lloyd (Crossroads) and Gordon Jackson (Upstairs, Downstairs) among the cast, with Michael Caine's iconic performance hailed as being 'anti-Bond'.
Get the latest updates, reviews and unmissable series to watch and more!
TV Content Director on TV Times, What's On TV and TV & Satellite Week
I'm a huge fan of television so I really have found the perfect job, as I've been writing about TV shows, films and interviewing major television, film and sports stars for over 25 years. I'm currently TV Content Director on What's On TV, TV Times, TV and Satellite Week magazines plus Whattowatch.com. I previously worked on Woman and Woman's Own in the 1990s. Outside of work I swim every morning, support Charlton Athletic football club and get nostalgic about TV shows Cagney & Lacey, I Claudius, Dallas and Tenko. I'm totally on top of everything good coming up too.
Thank you for signing up to Whattowatch. You will receive a verification email shortly.
There was a problem. Please refresh the page and try again.