Against The Ice: release date, cast interviews, trailer, first looks. All about the Arctic-set movie with Joe Cole and Nikolaj Coster-Waldau
Netflix film Against The Ice sees Joe Cole and Nikolaj Coster-Waldau star in a true story of Arctic adventure.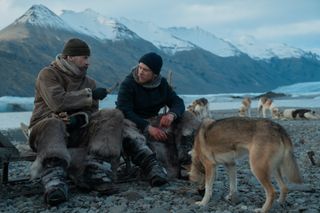 (Image credit: Lilja Jonsdottir/Netflix)
Epic new Arctic survival film Against The Ice on Netflix has all the action and danger you might expect when you hear Peaky Blinders star Joe Cole is teaming up with Game of Thrones Nikolaj Coster-Waldau. They play a pair of Danish explorers, Captain Ejnar Mikkelsen and his crew member Iver Iversen, and it sounds like there's a lot of action and fighting during their battle for survival in Greenland as the pair are set to do battle with polar bears on screen!
For Nikolaj Coster-Waldau,, who also wrote and produced the one-off film, the role also allowed him to reunite with his Game of Thrones' co-star Charles Dance, who takes on the role of Neergaard but also played Twyin Lannister, father to Nikolaj's Jaime.
Against The Ice is a true story about how Ejnar was on a mission to disprove the US claim to the northeastern region of the island country of Greenland. At the time, Greenland was split into two separate bodies of land, so the US was able to claim the northeast as their territory. However, Ejnar was eager to find proof that this wasn't the case and bring Greenland under the control of his native country Denmark.
Arriving in March 2022, here's everything you need to know about Netflix adventure Against The Ice...
'Against The Ice' release date
Against The Ice is released worldwide on Netflix on is Wednesday March 2 2022. It previously had its worldwide cinema premiere at the Berlin film festival in February 2022.
Is there a trailer for 'Against The Ice'?
Yes a trailer for Against The Ice has now been released by Netflix. "When you travel into unknown lands to discover new parts of the globe, it is to ensure the records of your discoveries are delivered back safe and sound," booms Charles Dance's character Neergaard as the Danish explorers trudge through the snow and ice. Take a look at the trailer below...
'Against The Ice' plot based on a true story
Against The Ice is set in 1909, Nikolaj Coster-Waldau plays Captain Ejnar Mikkelsen, who's heading up Denmark's Alabama Expedition. The crew want to disprove the United States' argument that Greenland is two different islands and stop their claim to North Eastern Greenland. Leaving his ship behind, Mikkelsen treks across the ice with his young, inexperienced crew member Iver Iversen (Joe Cole).
But although they find proof that Greenland is a single island, returning to the ship is much harder than expected. Battling extreme hunger, fatigue and a polar bear attack, they finally arrive to find their ship crushed in the ice and the camp abandoned. As the days grow longer, their mental hold on reality starts to fade, breeding mistrust and paranoia, can they fight to stay alive?
"Against The Ice is an intense exploration of two men, two opposites, trapped in an epic dangerous setting,' says Nikolaj Coster-Waldau.
"It's also a story of living under extreme pressure and circumstances, of constant struggle for survival, fighting off threats of extreme cold, lack of food, hungry polar bears and not least the frailty of the human mind."
'Against The Ice' cast — Nikolaj Coster-Waldau on playing Captain Ejnar Mikkelsen
Probably perfect for the action role required for portraying Captain Ejnar Mikkelsen in Against The Ice, Danish actor Nikolaj Coster-Waldau played charismatic Jaime Lannister in HBO's fantasy drama Game of Thrones, for which he received two Emmy Award nominations. He's also appeared in films including Black Hawk Down, Wimbledon and Kingdom of Heaven.
Captain Ejnar Mikkelsen led a Danish expedition to prove that Greenland is one single piece of land, therefore disproving the United State's claim to the north eastern part of the country. To find the evidence he needs, Ejnar sleds across the ice with young, inexperienced crew member, Iver Iversen, played by Peaky Blinders and Gangs of London star Joe Cole.
"You don't just throw a rookie into a situation like the one Iver was thrown into. But that happened," says Nikolaj.
The elated pair prove their theory but then returning to the ship proves to be much harder than expected and they are forced to battle extreme hunger, fatigue and perilous conditions as well as fending off a polar bear. They then find that their ship is crushed in the ice and the camp is abandoned, so they face an almost impossible fight against the odds to stay alive and keep a grip on reality.
As Ejnar and Iver's paranoia escalates, mistrust seeps in and Nikolaj in particular has to learn to relinquish control and have faith in his colleague.
"'Ejnar has all this ambition,' says Nikolaj. 'He's idealistic about what it means to be an explorer, but he's also a human being with emotions. 'And even though he tries to control everything, he can't. The only way he's going to make it is by trusting this young rookie."
'The captain is broken because he's screwed up so many times. He's the one who makes the mistakes. As a viewer, you think, 'OK, so Iversen is the hope here. He's the strong guy. The other guy is starting to lose it'.'
Nikolaj has been particularly impressed by his young co-star Joe Cole, who is also starring in ITV's upcoming spy drama The Ipcress File. "Joe's work is just incredible," he says. "It's funny, because you see Joe in some of his other work and he's a very cool guy. He plays these high-powered men who are very much in control, which is why it's interesting to see him in Against the Ice. He's a really good actor, and then the work becomes easy."
'Against The Ice' cast — Joe Cole
Nikolaj Coster-Waldau's co-star in Against The Ice is BAFTA nominee Joe Cole as crew member Iver Iversen.
Joe Cole says: "I came onto the project relatively late. I think that was Peter's clever casting, giving me no information and me coming out at the last minute, it was all part of the process.
"It was uncomfortable, trudging through thick snow for hours on end, but that adds to the whole experience. You wouldn't change it, as it makes the job of an actor easier. Actually you don't have to do that much acting, you just have to live it. Being out there for weeks on end with nobody around aside from the film crew was really quite special. On the days I wasn't working I'd go on long hikes and send Nikolaj a pin, telling him if I wasn't back in five hours, there was a problem. I'd never been out there, completely on my own, for so much time. It was a nice gateway into those characters."
Joe Cole rose to fame as Birmingham gangster brother John Shelby in BBC's Peaky Blinders. He's also starred in Pure, Skins, Black Mirror and last year as gangster's son Sean Wallace in Sky's gritty drama Gangs of London. Joe's also just started filming classic 1960s spy drama The Ipcress File for ITV.
'Against The Ice' cast — who else is starring
Joining Joe Cole and Nikolaj Coster-Waldau in Against The Ice is Charles Dance playing Neergard. Charles of course starred alongside Nikolaj when he played Jaime Lannister's father Tywin Lannister in Game of Thrones. Icelandic actor Heida Reed, who was Elizabeth Warleggan in BBC drama Poldark, is also among the cast playing Naja, as well as Ed Speelers (Downton Abbey, Outlander, Wolf Hall) who plays Bessel. Also look out for Sam Redford as Laub, Gísli Örn Garðarsson as Jörgensen, Frankie Wilson as Unger, Þorsteinn Bachmann as Amdrup, Diarmaid Murtagh as Poulsen and Nick Jameson as Holm.
'Against The Ice' — what else we know
Against The Ice one-off English language film has been described as "a true story of friendship, love and the awe-inspiring power of companionship." It was adapted into a screenplay by Nikolaj Coster-Waldau and Joe Derrick from the original Danish novel Two Against The Ice (opens in new tab)by Ejnar Mikkelsen. Filming took place in Iceland and Denmark with award-winning Danish director Peter Flinth taking the helm as director.
"Against The Ice has been a passion project for me from the very beginning. It combines a lot of themes that excite me: adventure, Greenland, companionship, loyalty and love," says Nikolaj Coster-Waldau.
"Peter Flinth sent me the book Two Against The Ice by Ejnar Mikkelsen. I read it, fell in love with it and started adapting it together with Joe Derrick. It's our first project, but as luck would have it that Netflix wanted to be the home for our film, which I will forever be grateful for. I can't wait to share Against The Ice with audiences everywhere."
'Against The Ice' behind the scenes trailer
A trailer has been released by Netflix which shows how Against The Ice was made in the snow and ice. Nikolaj Coster-Waldau reveals everything in the four-minute long clip below. Take a look here...
Get the What to Watch Newsletter
The latest updates, reviews and unmissable series to watch and more!
TV Content Director on TV Times, What's On TV and TV & Satellite Week
I'm a huge fan of television so I really have found the perfect job, as I've been writing about TV shows, films and interviewing major television, film and sports stars for over 25 years. I'm currently TV Content Director on What's On TV, TV Times, TV and Satellite Week magazines plus Whattowatch.com. I previously worked on Woman and Woman's Own in the 1990s. Outside of work I swim every morning, support Charlton Athletic football club and get nostalgic about TV shows Cagney & Lacey, I Claudius, Dallas and Tenko. I'm totally on top of everything good coming up too.