'Munich — The Edge of War': release date, cast interviews, trailer, plot, and all you need to know about the new Netflix movie
In 'Munich — The Edge of War' Jeremy Irons plays British Prime Minister Neville Chamberlain dealing with Hitler in 1938.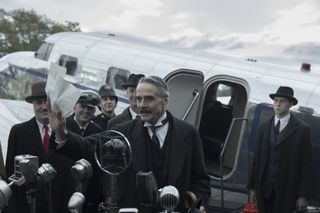 (Image credit: Netflix)
Munich - The Edge of War on Netflix follows the terrifying build up to World War Two. Based on the bestselling novel Munich by Robert Harris (opens in new tab), it shows the tense real-life events set in autumn 1938 with the world on the brink of a calamitous conflict after Germany's Third Reich had set about expanding its territory illegally under the Nazi dictatorship of Adolf Hitler. Stars playing the main characters in this pre-war drama include Jeremy Irons, Jannis Niewohner, George MacKay, Jessica Brown Findlay and Robert Bathurst.
So here's everything we know about the lavish period drama Munich - The Edge Of War coming to cinemas and Netflix in January 2022...
'Munich - The Edge Of War' release date
Munich - The Edge Of War is released in the UK, US and worldwide by Netflix on Jan. 21 2022, having already been shown in select cinemas from Friday Jan 7 2022. The world premiere took place on October 13 2021 at the London Film Festival.
'Munich - The Edge Of War' trailer
An official trailer for Munich: The Edge Of War has been released which shows Jeremy Irons looking and sounding remarkably like Neville Chamberlain, plus it gives a clue to Hugh Legat's mission in Munich. Also see the actor Ulrich Matthes who plays Hitler. Take a look below....
What happens in 'Munich - The Edge Of War'?
The plot of Munich - The Edge Of War follows what happened in 1938 when British Prime Minister Neville Chamberlain led a delegation of British diplomats and civil servants and headed to Munich in Bavaria to meet up with Adolf Hitler and top Nazis to try to avert war.
It looks at the true story through the eyes of young British diplomat Hugh Legat who speaks fluent German and is one of Chamberlain's secretaries who works at 10 Downing Street. Hugh had been close friends with German diplomat Paul von Hartmann and his girlfriend Lenya in the early 1930s when both had been at Oxford shortly before the Nazis came to power. The former friends' worlds will collide at Munich in 1938 when they meet up again at the same time as Chamberlain has his infamous conference with Hitler and both become caught up in a web of political subterfuge and danger.
Neville Chamberlain thought he'd achieved success at Munich by declaring 'Peace In Our Time' when he returned, famously waving about a piece of white paper as he disembarked from his plane back in Britain, having reached a settlement that gave Germany control of the Sudetenland in Czechoslovakia. That agreement of course was to end in tatters as Germany later marched into the rest of Czechoslovakia in early 1939 followed by Poland which eventually brought about the disaster of World War Two.
The author Robert Harris says of the British delegation to Munich:: "They felt trapped, knowing this terrible things is happening, but struggling in the face of it."
Robert Harris is pleased to have Jeremy Irons in the lead role: "It's great to see an actor of Jeremy Irons' stature playing Chamberlain. This will be the first time a major movie has gone beyond the cult of Winston Churchill and tried to show Chamberlain in a more sympathetic light. He was an incredibly dominating figure in his day and tripped Hitler up in Munich."
'Munich - The Edge Of War' cast — who is starring
In Munich - The Edge of War Hollywood star Jeremy Irons (Dead Ringers, The French Lieutenant's Woman) plays Britain's now much-maligned Prime Minister Neville Chamberlain, a naive aristocrat who'd appeased Hitler much to the despair of fellow Conservative MP Winston Churchill. This movie looks at his desperate hope for peace and some of the reasons why he came to an agreement with Hitler over Czechoslovakia which was subsequently broken.
Chamberlain is accompanied to Munich by British civil servant Hugh Legat, one of Neville Chamberlain's trusted secretaries, who is played by George MacKay (The Trick, 1917, Pride, The Outcast, 11.22.63 and upcoming BBC1 drama The Gallows Pole). On the German diplomatic side, Hugh's one-time friend at Oxford University in the early 1930s is Paul von Hartmann is played by Jannis Niewohner.
Former Downton Abbey star Jessica Brown Findlay plays Hugh's wife Pamela, Cold Feet star Robert Bathurst plays British Ambassador to Berlin Sir Neville Henderson, while Alex Jennings (A Very English Scandal) is Sir Horace Wilson, an influential government official who accompanies Chamberlain to Munich. Vigil star Anji Mohindra plays British official Joan, while Abigail Cruttenden (Benidorm) plays Neville Chamberlain's wife.
Also look out for Ulrich Matthes who plays Nazi dictator Adolf Hitler, Sandra Huller (Requiem) as secretary Helen Winter and Babylon Berlin star Liv Lisa Fries as Paul's von Hartmann's girlfriend Lenya.
Jeremy Irons on playing Neville Chamberlain in 'Munich - The Edge Of War'
Jeremy Irons says: "I found the story gripping. I was very interested in the mechanics of the politics. And I thought, 'Well, I'm not bad casting for Chamberlain, actually.' And I was quite pleased because history has brought us Churchill's Chamberlain. Churchill was a great competitor, and a warmonger and wanted to go to war for a year-and-a-half, two years before we did, and I thought Chamberlain, as actually Robert did, had suffered rather in his reputation as the appeaser, as if that was a bad thing. And I hoped this would put it right a little bit. I always find it interesting playing the man behind history. And so...I found an attractive role to think about.
"I thought of Chamberlain as an astute politician, a clear-thinking man. I mean, he'd been a leader of the council in Birmingham city for a long time. He'd had a great experience. He absolutely abhorred the idea of war. Unlike Winston. As we see in the scene in the garden with his wife, he had had so many friends, as everybody had, killed in the first war, which because he was a politician, he hadn't fought in. But he had lost all those friends and he knew the nature of that war, which was horrendous. And so I think he was trying to do almost,anything to stop that happening again. Whereas Churchill – who'd fought in South Africa in the Boer War – didn't share Chamberlain's abhorrence of the idea of the country going to war again. So I think he was quite a sensitive man. He was of his generation. He had a sort of a Victorian or Edwardian quality to him of manners and grace and closeness, but my feeling was that he was a very good politician and a very decent man."
George MacKay on playing Hugh Legat in 'Munich - The Edge Of War'
Hugh Legat is a fictional character among the many famous politicians portrayed in Munich - Edge of War. George MacKay, who plays him, says: "Hugh is a believer in the system and doing things via legislation and putting things down in law. Whereas his German pal Paul is on the ground, wanting to do things through activism and decisive personal action."
As the clock counts down to the signing of the agreement, Paul must avoid detection, keep a secret Nazi document safe, and persuade Hugh to give him access to the British PM. However, even if the meeting takes place, will Chamberlain agree with their fears about the Fuhrer?
For George Mackay, appearing in the film gave him a fresh insight into Chamberlain's role under what were hugely challenging circumstances. "Whether you agree with him as a leader or not, I like the idea that his best efforts were to try to avoid a fight,' he says. 'It's why his reputation was ruined in a sense – because he tried to avoid the fight. But I think there's a real heroism in that."
TV Content Director on TV Times, What's On TV and TV & Satellite Week
I'm a huge fan of television so I really have found the perfect job, as I've been writing about TV shows, films and interviewing major television, film and sports stars for over 25 years. I'm currently TV Content Director on What's On TV, TV Times, TV and Satellite Week magazines plus Whattowatch.com. I previously worked on Woman and Woman's Own in the 1990s. Outside of work I swim every morning, support Charlton Athletic football club and get nostalgic about TV shows Cagney & Lacey, I Claudius, Dallas and Tenko. I'm totally on top of everything good coming up too.