Pure star Joe Cole: Why it was the right time to walk away from Peaky Blinders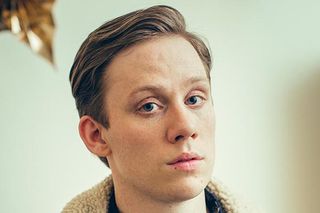 (Image credit: Sophia Spring)
The London-born actor talks about his career and his new C4 comedy drama...
Peaky Blinders fans were distraught when John Shelby was gunned down by the mafia at the start of the last series and Joe Cole rarely goes a day without being asked about his most famous character…
Yet while fans wish he hadn't departed, the 30 year-old actor doesn't regret deciding to step away from the hit gangster show.
"I spent six years doing Peaky Blinders," he says. "I had a great run and loved every minute of it, but I'm trying to push on, to do new things and challenge myself. For me it was definitely the right time to move on and not having that haircut also allowed me to go for a few things I couldn't have done before!'
Born in London, Joe never went to drama school, but was inspired to become an actor after watching an episode of Skins. A few years later he was starring in that very show and demonstrated the same kind of confidence when he set down his flat cap and left the Shelby family in 2017.
In the two years since, he's starred in an episode of Black Mirror, won a BIFA award for his role in critically-acclaimed film A Prayer Before Dawn and now he's returning to our screens as recovering porn addict named Charlie.
Based on Rose Cartwright's acclaimed book, Pure is a moving and warm-hearted six-part comedy drama, which follows a young woman's struggle with a mental illness that leaves her mind flooded with unwanted sexual thoughts. Joe tells us more...
What made you want to get involved with this project?
Joe Cole: "When I read the script I thought it really well put together. It's full of nuance and powerful themes, but also has a light touch. There were a lot of people in the cast and crew who were on their first TV project as well, so there was a real buzz on set. It reminded me of why I love making TV."
http://www.youtube.com/watch?v=ZxK9_-GZeo4
What can you tell us about your character, Charlie?
JC: "Charlie's a charismatic guy, who Marnie meets in a sex addict group in the second episode. He's charismatic and funny, but underneath it all he's suffering. He's walking on soft sand and at any moment everything could fall away, but there's a real connection between him and Marnie, because they recognise something of themselves in each other."
There are some crazy scenes when we get a glimpse into Marnie's subconscious...
JC: "Yeah there are, but luckily I didn't have to get involved in much of that. Any passer-by who saw us shooting the scene with a naked cyclist having an orgasm must have done a double take though!"
You won a BIFA Award for your lead role in Thai boxing film, A Prayer Before Dawn, last year. You must have been delighted!
JC: "Yes that was fantastic. That was a tough shoot and I had to train hard for it, but it was a great experience and the crew were amazing. You don't do it for the awards, but it was brilliant for it to get that reception. It was great for the director as well, because he spent years visiting Thai prisons and researching it, so the award was recognition for him as well."
It's been a few years since you left Peaky Blinders, do you miss the haircut?
JC: "Not so much! The haircut certainly takes you out of a few castings, that's for sure! It's freed me up to do things that I want to do and the show must go on. I've still got a lot of friends on that show and I hear the new series [of Peaky Blinders] is going really well."
You must be pleased with the variety of work you're doing now...
JC: "Back in the day when I first started acting, I was playing a certain type of role because you're trying to get in through the door. Then people say you're in a box, but it's just about making that box a little bigger every year on year. That's what I'm trying to do. I know I can do different stuff and you've just got to keep chipping away."
Pure begins on C4 next week
Get the latest updates, reviews and unmissable series to watch and more!
Thank you for signing up to Whattowatch. You will receive a verification email shortly.
There was a problem. Please refresh the page and try again.