'The Tower' on ITV: release date, cast, plot, and everything we know
'The Tower' on ITV will see Gemma Whelan playing Detective Sergeant Sarah Collins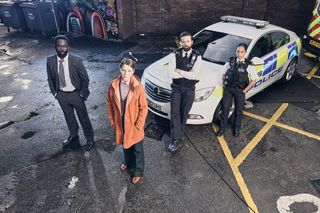 (Image credit: ITV)
We're very excited about The Tower, a new three-part crime thriller heading our way in November on ITV in the UK and in December on BritBox in the US.
The drama is based on Post Mortem, the first in Kate London's Metropolitan series of novels, and sees Game of Thrones star Gemma Whelan taking on the lead role of Detective Sergeant Sarah Collins.
Talking to us about her character, Gemma revealed: "What I like about Sarah is her moral compass is exactly North/South. It's so direct. As a police officer, she's very by-the-book, which makes things interesting because this whole show is about the minutiae of policing and how perhaps protocol is broken in order to save a life. Sarah is very black and white; she's surrounded by people who are much more flexible, while she's very inflexible."
Here's everything we know about the series, which has been adapted for TV by Homeland writer and executive producer Patrick Harbinson.
'The Tower' release date
The Tower premiered on ITV on Monday, Nov. 8 at 9:00 pm. The third and final episode airs tonight at the same time.
The Tower will debut in the US on BritBox on Dec. 1.
'The Tower' plot...
A synopsis from ITV reads...
"In The Tower's breath-taking opening sequence, a veteran beat cop and a teenage girl fall to their deaths from a tower block in south-east London. Left alive on the roof are a five-year-old boy and rookie police officer Lizzie Adama. Within hours, Lizzie has disappeared, and Detective Sergeant Sarah Collins is charged with leading the investigation.
"She not only has to track down Lizzie before she comes to serious harm, but also to uncover the truth behind the grisly deaths. What chain of events took two police officers and two children to the roof of that tower block — why did two of them die? Why did two of them survive?
"The antagonistic relationship between the experienced Sergeant Sarah Collins and the novice cop Lizzie Adama is at the heart of London's novels and The Tower. What happened on the roof of the tower is the mystery that Sarah must uncover. When it's finally revealed, the truth will cast its shadow over Sarah and Lizzie's relationship and their lives."
What happened in episode one?
*spoilers ahead*
DS Sarah Collins and DC Steve Bradshaw arrive at Portland Tower, where 15-year-old Farah Mehenni and PC Hadley Matthews have fallen to their deaths. Sarah heads to the roof and finds PC Lizzie Adams holding the boy who'd been kidnapped along with DI Kieran Shaw.
Kieran allows Lizzie to head home even though Sarah wants her to make a statement about what had happened, and she packs up some things and goes on the run whilst Sarah and Steve launch their investigation.
Through flashbacks, we learn that Hadley and Lizzie had been looking into a criminal damage complaint against the Mehenni family made by the mother of the kidnapped five-year-old. Sarah bails Farah's father out of prison so he can be with his family.
Sarah and Steve continue to try and trace Lizzie's whereabouts, but Kieran pressures Sarah not to go public with Lizzie's identity. He explains she's a key witness in a case against a dangerous criminal called Laszlo Kovacs, whose mobile was pinged near Portland Tower the same day of the incident.
Slowly, it becomes clear that someone was covering up what went on that day; Hadley appeared to drive straight to Portland Tower minutes after the incident was called in, Steve finds out the Laszlo Kovacs connection isn't very important, Farah had Lizzie's personal mobile number on a piece of paper in her jacket (but didn't have her own phone) and Sarah uncovers that Kieran had searched Lizzie and Hadley's lockers at the same time as the struggle.
Lizzie's car is located, and they move to bring her in, but she manages to escape on foot. Despite pressure from her superior, Sarah vows she's done protecting Lizzie and wants to go public. In our first cliffhanger ending, Shaw is revealed to be keeping Lizzie's phone... but what is he hiding?!
What happened in episode two?
DCI Tim Bailie allows Sarah to go public with the search for Lizzie but tells her to back off Shaw in exchange. Later, suspicions rise about Hadley when Sarah and her squad review a recording of Younes Mehenni's interview with Lizzie.
He'd complained that Hadley had made racist comments to his daughter and forced his way inside their home. Lizzie, meanwhile, had put in a second police statement that clarified she had not heard Hadley make any remarks specifically after her commanding officer, Kieran Shaw. In a flashback, we learned that Hadley pressured Lizzie into covering for him, and Kieran was having an affair with Lizzie.
With evidence of police misconduct piling up, Sarah orders that Kieran be placed under surveillance which DCI Bailie denies. Sarah then approaches Kieran and tells him she knows about the affair and demands to know more about the Kovacs case the three officers worked on together. Kieran tells her the case is with the murder squad and directs her to DS Jack O'Neill.
In more flashbacks, we saw the incident unfold: Lizzie and Hadley found Kovacs' victim, Cosmina, badly beaten after a member of the public forced entry into the house. Laszlo returned, pulled a gun on Lizzie, took his money and fled on foot. Hadley found Lizzie shaken by her encounter and called in a description of Laszlo over the radio, then forced Cosmina to go to hospital where she passed away.
Jack O'Neill explains what happened (and all the mistakes that both had committed) to Sarah, but says that the complaint against Hadley would have interfered with the Laszlo Kovacs case. Lizzie clearly covered for Hadley because she was so upset about Cosmina's murder.
Later, Younes finally talks to Sarah about what happened. He revealed that Hadley took Farah's phone. In another flashback, we saw why: Farah contacted Lizzie to ask why she betrayed her and that she'd recorded everything that happened that day on her phone, and knows that Lizzie lied to the police. Farah wanted her to help her father and asked Lizzie to meet her at Portland Tower.
Lizzie calls Kieran, telling him she's going to hand herself in, and he asks her to meet him before she does. Meanwhile, Sarah talks Bailie into authorizing a search warrant against Kieran so they can find Farah's missing phone.
'The Tower' cast...
Detective Sarah Collins will be played by Gemma Whelan, who has worked on a number of critically acclaimed shows in recent years. Game of Thrones fans will remember her as Yara Greyjoy, of the Iron Islands, but she also starred in Ben Elton's Shakespeare sitcom, Upstart Crow.
Her other acting credits include roles opposite Suranne Jones in Gentleman Jack, a memorable portrayal of Karen Matthews in The Moorside, and a role in ITV real-life crime drama White House Farm.
Tahirah Sharif plays rookie cop Lizzie Adama. Tahirah has starred in the series Casualty and Waterloo Road; more recently she had a role in the Netflix horror sequel, The Haunting of Bly Manor.
Emmett J Scanlan takes the role of uniformed police inspector Kieran Shaw. The Irish star played Hollyoaks bad boy Brendan Brady but has also starred in crime dramas Peaky Blinders and Gangs of London. US audiences may recognise him for his work on Treadstone and a cameo in Guardians of the Galaxy.
Jimmy Akingbola, who stars in BBC sitcom Kate & Koji and appeared in US superhero show Arrow, plays DC Steve Bradshaw. Also joining the cast are Nick Holder as PC Hadley Matthews and Lola Elsokari as Farah with Nabil Elouahabi appearing as her father, Younes.
Patrick Harbison on 'The Tower'...
The Homeland writer and executive producer has this to say about his new series...
"After six years on Homeland, I wanted to get back to my roots and write something firmly based in the UK. As soon as I read Kate London's beautifully written novels I knew they were it.
"They are authentic, funny, crammed with original characters, and they tell intense and challenging stories. I know that audiences will fall in love with Kate's two wonderful protagonists Sarah and Lizzie, just as I have."
Who is 'The Tower' author, Kate London?
Kate London is a former Met Police Officer who finished her career working as part of a Major Investigation Team on the Homicide and Serious Crime Command.
In August 2014, she resigned from the Police Service in order to dedicate herself to her crime writing and was named runner-up in Harper Bazaar's 2019 short-story competition.
She followed up her hit first novel, Post Mortem, with Death Message and Gallowstree Lane, which both also featured Sarah Collins.
Is there a trailer for 'The Tower'?
Yes! ITV has now given us our first glimpse at all the action from The Tower, and it looks like a truly tense affair! By the looks of things, this new drama will have plenty of action and lots of mysteries to unravel and is sure to keep us gripped to our screens when it airs in November.
You can watch the trailer below:
Get the What to Watch Newsletter
The latest updates, reviews and unmissable series to watch and more!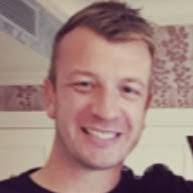 Feature writer for TV Times, What's On TV, TV & Satellite Week and whattowatch.com
Sean has been writing about all things telly for over 10 years and in that time he's been lucky enough to interview stars like Ian McKellen, Tom Hardy and Kate Winslet. His favourite shows are The Great British Bake-Off, People Just Do Nothing and Succession and in his spare time he enjoys drinking tea, doing crosswords and watching football.