Wolves at the Door | Exploiting the Manson Family killings for shockingly bad taste thrills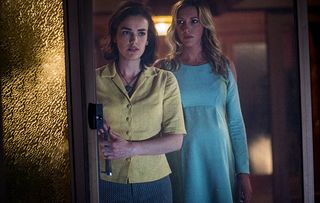 When night falls....the wolves will hunt.
There's something wilfully offensive about this bid to repackage the notorious Manson Family killings of Sharon Tate and her friends in August 1969 as a home-invasion horror thriller.
Annabelle director John R Leonetti and writer Gary Dauberman go out of their way in Wolves at the Door to titillate us with the tropes and tricks of the slasher genre. There's the secluded house and its unsuspecting young occupants, of course. And the dimly glimpsed assailants lurking outside. We even get the ironic foreshadowing beloved of the genre, making characters jump when fireworks go off, a garden sprinkler unexpectedly spatters the windows, and a kitchen blender suddenly splashes its users with blood-red liquid.
The filmmakers double down on the bad taste when the killings begin, as terrified victims and shadowy attackers play hide and seek around the house. They even give us a 'final girl' who fights back and seems to have a chance of eluding her faceless antagonists. Yet why tease us in this way? We know all too well what became of the 'Sharon', 'Abigail', 'Jay' and 'Wojciech' we see being terrorised here. Which makes the film not only objectionable, but pointless too.
Certificate 15. Runtime 71 mins. Director John R Leonetti
Wolves at the Door debuts on Sky Cinema Premiere on 4 January.
https://www.youtube.com/watch?v=ENznX3rF6kY
Get the latest updates, reviews and unmissable series to watch and more!
Thank you for signing up to Whattowatch. You will receive a verification email shortly.
There was a problem. Please refresh the page and try again.