Gordon Buchanan on Animals with Cameras - 'We have exhilarating footage of a cheetah hunting'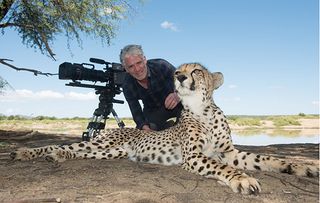 (Image credit: Graham MacFarlane)
Wildlife film-maker on putting cameras on some of our favourite animals for his new BBC1 show, Animals with Cameras
In his latest TV series Animals with Cameras, wildlife film-maker Gordon Buchanan appears to be talking himself out of a job!
"Wouldn't it be incredible if we could see the world from an animal's point of view?" he asks. "In this series, that is exactly what we're going to do – with the help of the animals themselves. They're going to be the ones doing the filming and taking us to places that a cameraman like me simply cannot go, and revealing a side of their lives that we have never seen before."
Thanks to developments in camera technology, Gordon and his team were able to attach cameras to a variety of creatures – from 30cm-tall meerkats to 4m-wide manta rays. In the process, they found answers to questions about animal behaviour that had previously baffled scientists.
Meerkat pups featured in the series
"We wanted to find out things about animals that were new to the scientists who'd been studying them for a long time," says Gordon. "Using cameras in this way feels quite like a new frontier – we're able to reveal much more about their lives."
In Southern Africa's Kalahari Desert, tiny cameras on collars around meerkats' necks take viewers into the previously hidden world of their underground burrow. More onboard cameras offer an animal's eye view of chimps in the treetops of Cameroon, penguins hunting far out at sea off the coast of Argentina, and giant manta rays gathering in huge numbers near the Azores in the Atlantic.
The team also spy on crop-stealing baboons in South Africa, seals swimming in shark-infested waters off Australia, and cheetahs chasing down their prey in Namibia.
"With a small animal like a meerkat, you're compromised in terms of the battery life of the camera," Gordon explains. "A cheetah can carry a much better camera, and it really gives a cheetah's point of view as it hunts. Visually, that was the most exhilarating footage we got."
Animals with Cameras starts on Thursday 1 February on BBC1 at 8pm.
Get the What to Watch Newsletter
The latest updates, reviews and unmissable series to watch and more!
Ian writes about TV and film for TV Times, What's on TV and TV & Satellite Week magazines. He co-hosts the weekly TV streaming podcast, Bingewatch.