Coleen Nolan: 'When I get anxious about baring all, I talk to Linda!'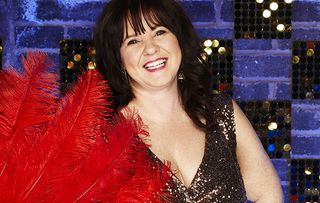 Move over boys! It's time for eight fearless famous females to strut their stuff in The Real Full Monty: Ladies' Night to raise awareness of breast cancer. Coleen Nolan reveals why she's supporting the cause...
Coleen Nolan on why she's getting in the mood for dancing to raise awareness of breast cancer…
Coleen Nolan knows more than most about the devastating impact breast cancer can have on a family. Enjoying Seventies' chart success with her sisters as The Nolans, Coleen's sister Anne was diagnosed in 2000, their sister Bernie tragically died from the disease in 2013 and, last year, sister Linda was diagnosed with incurable secondary breast cancer.
So when Loose Women panellist Coleen watched a group of famous fellas baring all for ITV's The Real Full Monty last year to raise awareness of prostate and testicular cancers, she knew she had to do something to put breast cancer – literally – under the spotlight.
Tonight, Coleen will join seven other brave female celebrities for the performance of their lives in The Real Full Monty: Ladies' Night.
Strutting their stuff with Coleen will be Emmerdale actress Sally Dexter, reality star Megan McKenna, former Liberty X singer Michelle Heaton, actress Helen Lederer, TV legend Ruth Madoc, presenter Sarah-Jane Crawford and broadcaster Victoria Derbyshire – who've all been touched by cancer.
With just a few weeks until the final performance in Sheffield in front of 2,500 people, TV Times popped along to a dance studio in Chelsea to watch them perfect their routine, choreographed by Diversity star Ashley Banjo.
In between rehearsals, we caught up with Coleen, 53, to find out how her nerves are holding up ahead of the big night…
Why did you want to take part in this show?
"Breast cancer has been a massive part of my family's life with my three sisters all having been through it and this was a great way of getting awareness out there. I watched the boys' routine last year and when Ashley Banjo came onto Loose Women afterwards, I said to him: 'Why don't we do a girls' one?' And this is it!"
What's the dynamic been like between all eight women taking part?
"The camaraderie between us all has been lovely and we've really bonded. We've had loads of tears though. Victoria Derbyshire and Michelle Heaton have both been quite emotional; they've been through their own experiences of breast cancer and have the scars to prove it."
Coleen says broadcaster - and breast cancer survivor - Victoria Derbyshire found the experience emotional
Did any of your fellow Loose Women want to do this?
"One person who was really up for it initially was Gloria Hunniford [whose daughter, TV presenter Caron Keating, died of breast cancer in 2004]. But then she said she knew she couldn't do 'the reveal' at the end and didn't want to let everyone down."
So, how are you feeling about 'the reveal'?
"I've really been battling with myself. Part of me is thinking: 'You can't let everyone down, you've committed to it,' and I try and remember what we're doing it for. So I'm loving doing the routine but then I get to the end and I go: 'Ooh, I'm not sure I can do that bit'."
What gives you a confidence boost?
"Whenever I feel like that, my sister Linda will phone or text me, saying I'm so proud of you. She gets really emotional and has said that my doing this is making her feel strong and powerful. And she always reminds me: 'It's just boobs!'"
Your daughter Ciara is 16 years' old – is it important to you that she knows about checking her breasts from a young age?
"Yes massively, especially as Ciara's had three aunties with the disease. We spoke to lots of young people while making this show and I was amazed at how many don't check themselves; they still don't think it can happen to them. I'm more worried about Caira than I am about me."
Also in the programme, we see you all take part in a photo shoot to mark 20 years since The Calendar Girls posed nude. How was that?
"During that photo session, we're all hiding behind bathrobes and trying to get buns and fruit on us before we can take the robes off. Then Ruth comes out and shouts: 'Right, where do you want me?!' So I'm trying to channel my inner Ruth Madoc. She's been so comfortable with all of this and just does it."
Coleen wishes she had half the confidence of former Hi-de-Hi star Ruth Madoc
So how do you think you'll feel when it comes to actually performing on the night?
"I'll be dying of nerves I imagine! But I'm hoping, because it's what we've been building up to, that the adrenaline and the reaction from the audience will get me through it. I've told the organisers to take the first three rows of seats out of the theatre, though, because I might knock people out!!"
The Real Full Monty: Ladies' Night can be seen on Thursday March 29 at 9pm on ITV.
Main pic: Ken McKay/ITV/REX/Shutterstock
Get the latest updates, reviews and unmissable series to watch and more!
Thank you for signing up to Whattowatch. You will receive a verification email shortly.
There was a problem. Please refresh the page and try again.