Endeavour's Roger Allam: 'Everyone would like a Fred Thursday in their life'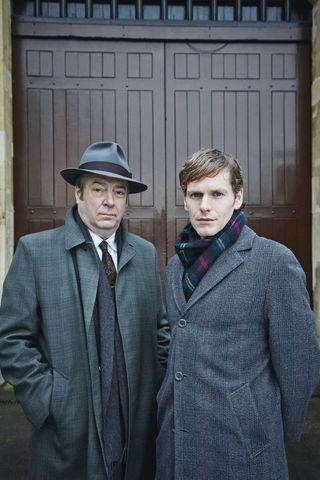 (Image credit: JFORD)
Roger Allam talks to TV Times magazine about the joy of playing no-messing DI Fred Thursday in Endeavour (ITV, Sunday)...
Do you enjoy starring in a show set in the 1960s?
"I like this period because Thursday would have been around the same age that my parents and my aunts and uncles were at this time."
And what about the costume, too?
"Unfortunately Thursday's original hat, which I loved, got damaged. I don't know how, but it got completely crushed. Although they tried to resuscitate it, there was a big mark left around the top. So this series I'm sporting an absolutely beautiful soft felt one. It's probably a bit too smart for Thursday so I'm trying to wear it in a slightly less elegant way!"
What's driving a vintage black Jaguar police car around the streets of Oxford like for you?
"As a small boy I remember the first car my father ever bought – it was a second-hand Austin of England costing about £30. It felt as if you were sitting in an armchair in your living room. I wouldn't say the Jag was an easy drive, far from it, it feels like you have to catch a taxi to reach the gear sometimes! But it's old now so not easy compared to the cars we have nowadays."
The second series, which started on Sunday, sees the action move to 1966, when England won the World Cup and you were 12…
"There's a scene where Thursday's family is sitting around the television watching the football. I remember doing just that – cheering and shouting with my family around me. One of the pleasures of Endeavour is being able to look back, but it also serves as a way in for younger people who didn't witness that period."
One of the big reasons the show has proved to be such a hit is the relationship between your character and his protégé Morse (Shaun Evans)…
"I think everybody would like a Fred Thursday in their life, someone older, reliable and a father-figure, teacher and friend all in one. He feels like someone you'd like on your side, and whom you'd trust. In a way, he's our kind of ideal policeman."
Are there any more nail-biting stunts this time after that fabulous rooftop fight in series one operatic-themed mystery Fugue?
"There's a little fight – I like that Fred gets stuck in! I love doing stunts. When you're an English actor of my age and haven't been in a Western, this is the nearest you'll get!"
Get the latest updates, reviews and unmissable series to watch and more!
Thank you for signing up to Whattowatch. You will receive a verification email shortly.
There was a problem. Please refresh the page and try again.