Far From the Madding Crowd | Film review - Magnificent Mulligan dominates ravishing costume drama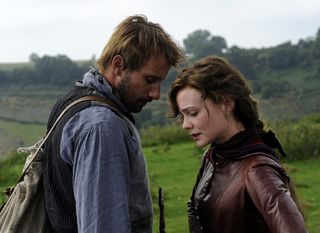 What is it about Scandinavian filmmakers and Brit Lit period dramas? First Danish director Lone Scherfig unerringly evokes the drab pre-swinging-sixties suburbia of Lynn Barber's An Education; then Swedish director Thomas Alfredson nails the clammy Cold War London of John Le Carré's Tinker Tailor Soldier Spy; and now along comes Scherfig's fellow Dane Thomas Vinterberg to capture the lushness and cruelty of Thomas Hardy's Wessex, circa 1870.
Vinterberg's superb adaptation of Far From the Madding Crowd stars Carey Mulligan (the lead in An Education) as Hardy's headstrong, independent young heroine Bathsheba Everdene, who entrances and entwines three very different suitors - ever-faithful shepherd Gabriel Oak, rich squire William Boldwood, and dashing soldier Sergeant Troy.
Bathsheba is a fascinating mix of virtues and flaws. A poor orphan whose life is transformed after she inherits her uncle's farm, she brims with poise and self-possession when she takes over the estate, telling her workers, 'It is my intention to astonish you all.'
And what is truly astonishing, for the era, is her determination to take on a male-dominated world on her own terms, which includes whom and when she should marry. Yet when it comes to dealing with the men in her life, she is wilful and impulsive – with, typically for Hardy, fateful results.
Bathsheba is definitely a woman ahead of her time, yet unlike some other recent period films there is nothing anachronistic about Vinterberg's treatment of her – the boldness of her conception is all Hardy's. When she says, 'It is difficult for a woman to define her feelings in a language made by men chiefly to express theirs,' it is the book's character speaking.
Mulligan is perfectly cast, and looks the part, which can't exactly be said of Julie Christie's unquestionably 60s Bathsheba in John Schlesinger's 1967 film. Vinterberg's film improves on its predecessor in other ways. Compared with Schlesinger's languorously epic version, Vinterberg takes the events of the novel at quite a lick.
Where Schlesinger took 167 minutes to tell Hardy's tale, Vinterberg gets the job done in a brisk 119 minutes. But his version – scripted by One Day author David Nicholls – almost never feels rushed (its skimpy treatment of Juno Temple's Fanny Robin, Troy's tragic first love, being an exception). The richly nuanced performances give the action depth.
Belgian actor Matthias Schoenaerts, at first a surprising choice to play the resolute Oak (played by Alan Bates in 1967), exudes a slow-burn charisma, his solidity and dependability becoming more attractive as the story unfolds. And Michael Sheen is excellent, too, finding touching pathos in the figure of the repressed, awkward Squire Boldwood (previously Peter Finch). In Terence Stamp's former role, Tom Sturridge's gimcrack Sergeant Troy is possibly the cast's makeweight, too meretricious by far, surely, to dazzle Bathsheba. Yet even his callowness comes to serve this telling of Hardy's tale.
But it is the magnificent Mulligan - grabbing our attention from the moment she appears in a tight-fitting strikingly dashing russet leather jacket to gallop across the Dorset countryside - who rightly dominates this ravishing costume drama.
Certificate 12A. Runtime 119 mins. Director Thomas Vinterberg. http://youtube.com/v/WCm1XNVD_0c
Get the latest updates, reviews and unmissable series to watch and more!
Thank you for signing up to Whattowatch. You will receive a verification email shortly.
There was a problem. Please refresh the page and try again.