Jenny Seagrove: 'John Thaw was a true great'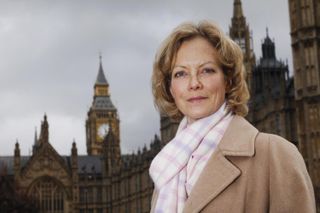 Jenny Seagrove reminisces about the magic of Morse star John Thaw and tells TV Times magazine (opens in new tab) why Shaun Evans is a worthy successor to him in ITV crime drama Endeavour (Sunday)…
We know in 1987 you starred alongside John Thaw in The Sign of Four, and in 2009 you had a guest role in Lewis. Now this week, you're starring in Endeavour...
"When you've been around as long as I have, you've worked with everyone! But it was a real pleasure working with John Thaw."
What was so special about him?
"He was just a pro. Whatever 'it' is, he had it in spades. John brought the screen to life as soon as he stepped on it. He was a very private man so I didn't get to know him personally, but he was an utter joy to work with – a truly great leading man."
You play Nora Broom, the wife of a munitions factory owner whose dysfunctional family becomes embroiled in a murder on the shop floor in Endeavour…
"Nora is the matriarch of her now divided family. She has a lovely line in sardonic put-downs, but you sense that's a defence she's had to put up. She's the brains of the business and of the family, but she lives in an age where no one will take her seriously as a woman. The fact is that she'd make a better job of running it than the men, but because she's a woman she can't. She's also lost a son, the apple of her eye, so it's easy to see how life has toughened her up."
What do you make of Shaun Evans?
"I think Shaun is a very clever boy – he's putting so many subtle and deft touches into his performance that emulate Morse brilliantly. It's hard for a young man to come in and lead a series, but he's doing it. He has some very big boots to fill. But I think he's making his own boots and he's doing a great job."
What other shows do you like on TV?
"I admit I don't have a lot of time to watch TV because I'm so busy. I also find a lot of crime dramas so predictable and formulaic – I can see whodunit in a moment. But Endeavour is very well-written and the production is superb."
You also spend a lot of time working with the Mane Chance Sanctuary near Guildford, where abandoned horses and children with life-limiting illnesses are brought together to help each other…
"I feel that animals, children and older people aren't given a voice and I've always tried to address that. A lot of my work has been with animals as I think people forget how crucial they are to our happiness and wellbeing. I feel that I've been very blessed. I've been very lucky during my life and I never forget that. It's given me a huge determination to give back and I will continue to do so for as long as I am able."
Get the latest updates, reviews and unmissable series to watch and more!
Thank you for signing up to Whattowatch. You will receive a verification email shortly.
There was a problem. Please refresh the page and try again.