Jon Bernthal on The Punisher: 'I think there is a bit of Frank in all of us'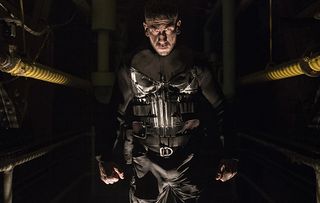 (Image credit: Jessica Miglio/Netflix)
Jon Bernthal returns as Frank Castle, aka The Punisher, in a new vigilante spin-off on Netflix
After his widely praised portrayal of troubled anti-hero Frank Castle, aka The Punisher, in Netflix's Daredevil, it was only a matter of time before actor Jon Bernthal was given his own stand-alone series.
Available now on Netflix, the 13-part spin-off continues the story of Marvel's ultra-violent vigilante whose family were murdered by the Mob.
But after exacting revenge on those responsible, Frank is now in hiding and begins to uncover a much larger, deep-rooted conspiracy than what happened to his family.
As he wages his own brutal and bloody war on crime in New York City, Frank's few allies include an ex-analyst for the National Security Agency, Micro (Girls star Ebon Moss-Bachrach).
Frank is also reunited with reporter Karen Page (Deborah Ann Woll reprising her Daredevil role), plus his old US Marine Corps pal, Billy Russo (Westworld actor Ben Barnes) resurfaces.
We spoke to Jon Bernthal, 41, on set in New York to find out why this series will reveal new and surprising sides to The Punisher…
Fans have been campaigning for a Punisher spin-off. Do you feel the pressure?
"I want to honour the character and I really want to get it right for the fans. I'm enormously grateful to Daredevil, which was a great launching pad for Frank Castle as it followed him in the aftermath of the unbelievably traumatic event with his family, which came to define him and transform him into The Punisher."
How does Frank's story continue?
"We saw him in Daredevil wanting to seek out the people responsible for his family's death and trying to kill them in the most brutal way possible because it was the only way he could quiet the noise in his head.
"Here, we look at Frank before, during and after the event to show how he became bad, and we also ask, 'What's next?' It'll be somewhat loose with chronology, but it digs deeper into who he is and how his self-loathing grows."
After destroying his family's killers, is there any light left in Frank?
"He's put a lot of effort into squeezing out any light and creating a completely bleak existence. It makes sense to me that a man like this would like to punish himself. He absolutely blames himself for what happened to his family and for how he's dealing with it by using violence to self-medicate."
How do Micro and Karen influence him?
"The other characters in the show all have a profound effect on Frank. In fact, I've been surprised by how much they are able to penetrate what he does. All of a sudden he's finding himself caring about other people and their wellbeing. He doesn't want to but goddam it, he does."
He's one of Marvel's most bloodthirsty characters so can we expect the violence to go up a notch?
"It's going to get into dark and brutal place, I can promise you that. But the comic-book audience is well educated and mature, and I've never met a fan who asked us to be a bit less violent. I've only ever felt encouraged, with people begging me to push harder and stronger. I think we should always press the pedal and see how far we can go."
What is it about Frank that appeals to fans?
"The world we live in is spiralling out of control and there's a reason why we are drawn to superheroes. They try to control the uncontrollable, or at least make a stand somehow.
"We've all had moments when we haven't liked what someone else has done to us and maybe wanted some sort of revenge. He speaks to that basic, primal human desire. I think there is a little bit of Frank in all of us."
All episodes of The Punisher are available on Netflix from 17 November
Rebecca has more than 20 years' experience in journalism and is now writing about all things telly-related for TV Times, TV&Satellite Week, What's On TV and whattowatch.com (opens in new tab).
She's interviewed all sorts of big-name stars, including Al Pacino, Ewan McGregor, Tom Hardy, Winona Ryder, Benedict Cumberbatch and more. She's also been known to step in front of the camera, dressing up as a 1920s flapper to star in ITV's Mr Selfridge and co-hosting ITV News at Ten with Mark Austin – all in the line of duty!
When she's not quizzing actors, directors and producers, you'll find her bingeing US dramas and anything horror/sci-fi/zombie-themed. But her greatest love will always be Game of Thrones… just don't mention the ending!
Get the latest updates, reviews and unmissable series to watch and more!
Thank you for signing up to Whattowatch. You will receive a verification email shortly.
There was a problem. Please refresh the page and try again.