Lily James: 'There are elements of Cinderella in War and Peace, but it turns very dark and sad' (VIDEO)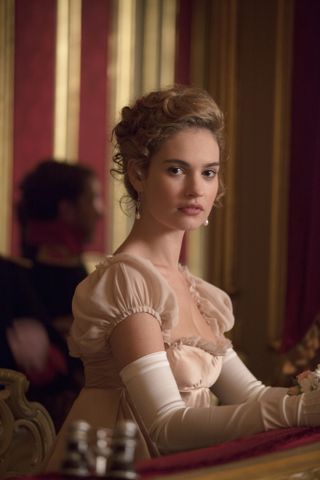 (Image credit: BBC/Laurie Sparham)
Lily James's newest role sees her playing Leo Tolstoy's iconic heroine Natasha Rostova in BBC1's adaptation of Russian classic War and Peace.
Talking to What's on TV, the Cinderella and Downton Abbey star revealed how she approached the famous role, played previously by Hollywood legend Aubrey Hepburn.
Lily said: "I tried to keep it faithful and true to the book, really, because what Tolstoy has written is so sensational. I love the story and I love Natasha."
She also encouraged viewers to read the notoriously weighty Russian novel for themselves: "The book's really easy to read. There are some heavier parts to it in the war and the politics, but it's a page-turner and I hope that translates into the TV show. I was addicted to it when I read it… I hope that [this TV show] inspires people to read it. It was an amazing experience reading this book."
Lily added that there are some similarities to her smash-hit movie Cinderella: "I did a waltz with James Norton in a very romantic, magical dance at the Tsar's ball. There are elements of that character [Cinderella] when Natasha is younger, but the journey Natasha goes on is completely different. It becomes very dark and sad."
The lavish production also stars Paul Dano, Gillian Anderson, Adrian Edmondson, Rebecca Front, Brian Cox, Tom Burke, Stephen Rea and Aisling Loftus.
Lily said: "It's an amazing ensemble cast, and everyone's storylines weave in and out of each other's. It was amazing to be with such amazing actors."
For the full interview with Lily James, watch the video, above. "]
War and Peace premieres on BBC1 on Sunday, January 3.
Get the latest updates, reviews and unmissable series to watch and more!
Thank you for signing up to Whattowatch. You will receive a verification email shortly.
There was a problem. Please refresh the page and try again.