Little Boy Blue star Stephen Graham: 'I couldn't stop crying when the poem was read at the funeral'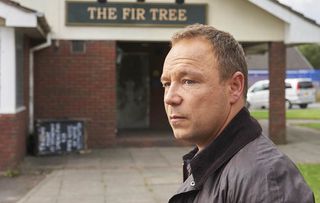 This is England and Decline and Fall star Stephen Graham on the harrowing retelling of the tragic murder of schoolboy Rhys Jones for a new ITV drama
This is England star Stephen Graham says he's 'honoured' to be involved in ITV's heartbreaking drama Little Boy Blue (Monday, April 24), based on the tragic real life murder of 11-year-old Rhys Jones.
The four-part series, written by award-winning scriptwriter Jeff Pope (Cilla and Mrs Biggs), retells the harrowing story of how Everton FC fan Rhys was fatally shot outside the Fir Tree pub in Croxteth, Liverpool, after being caught in the crossfire between rival gangs on August 22, 2007, and how Sean Mercer was eventually convicted of his murder.
Based on seven years careful research, it's made with the full support of Rhys's parents, Melanie and Steve Jones (played by Being Human's Sinead Keenan and Mildred Pierce's Brian F. O'Byrne).
Here Stephen, who plays Senior Investigating Officer Dave Kelly, who led the murder investigation on behalf of Merseyside Police, tells us more…
How did you become involved in Little Boy Blue? "After reading the first two episodes, I told them it would be an honour to be involved. I haven't lived in Liverpool for a long time [Stephen was born and bred in Kirkby, 10 minutes away from where Rhys was murdered], but I remember hearing about it and how horrified I was that an 11-year-old child had been shot on the streets. I'm very blessed to have two beautiful children, so I feel it's a story that has to be told so we can ask ourselves questions about why these things happen.
Did you meet Dave Kelly? "Yes. The producer, Kwadjo Dajan, asked me if I'd like to and I said, 'Of course I'd love to,' just to meet the man and shake his hand. I think his dedication, conviction and willingness to want to get to the truth and make these people be responsible for what they had done, was amazing."
You were determined to get your portrayal of Dave spot on, even down to wearing the same aftershave as him. "I spent an afternoon with him at his house and he was understandably slightly cagey. I wanted to absorb as much information as I could. I asked him: 'What drove you to want to solve this case?' and he broke, I saw a chink in his armour as he replied: 'Because it was a little boy that had been killed and that could have been my little boy.' That was the essence that drove the character for me."
Little Boy Blue was filmed over nine weeks in Liverpool. Most of the real locations weren't used, but you did film Rhys's funeral scenes at Liverpool Cathedral, where it actually took place... "It was a very heavy day. The coffin was a replica of the actual coffin. As actors, we have to put ourselves in that situation to the best of our ability to try to pull out the truth in the scene. I use my children in those circumstances. It was the poem that was read out at the funeral that got me. I said to Jeff Pope, 'That poem you've written was amazing. I couldn't stop crying.' And Jeff said, 'I'd love to take the credit for that. But I can't. They were Steve's actual words.' Which then made it hit home even more."
You also filmed the trial scenes at Liverpool Crown Court… "It was the actual same courtroom as used for the trial. It resonates in a different way because it's real and you think, 'I might be sitting in the exact same chair he sat in.' The behaviour of the lads at the court was disgusting. We've had an opportunity to show that. It's not just being made up for dramatic sense of, 'Look at these bad lads from Liverpool.' That's how they behaved there."
What do you think the audience will take away from this story? "We have a duty to honour the spirit and memory of Rhys. As a society we should never let this happen again. Hopefully Little Boy Blue will make people stop and think for a little bit. The only way things are going to change is if we make changes ourselves."
Get the What to Watch Newsletter
The latest updates, reviews and unmissable series to watch and more!