"I never wanted to do Baywatch the movie" says Pamela Anderson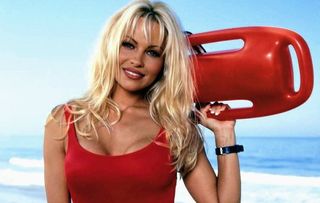 It doesn't sound like original Baywatch babe Pamela Anderson is a fan of the forthcoming big screen version of the hit 90s action series.
Pamela Anderson was all smiles when she filmed a cameo appearance in the upcoming Baywatch movie alongside Dwayne "The Rock" Johnson last year. But that hasn't stopped Pam, who shot to fame as lifeguard CJ Parker on the original TV series Baywatch, throwing some shade at both Dwayne and the big screen version.
Pamela doesn't think former WWE wrestling star Dwayne is the right choice to play Baywatch boss Mitch Buchannon, the character David Hasselhoff played in the TV series. And she is not sure whether this big screen version is a good idea.
"I'm doing a cameo at the end," Pamela has said. "They asked me to. But I like the TV show. I never wanted to do the movie, I don't like when they do these remakes of TV shows because it was bad TV for a reason. It was good bad TV, now it's going to be a spoofy movie."
David Hasselhoff has also filmed a cameo in the movie, which follows the adventures of a sexy group of Los Angeles County Lifeguards including Zac Efron. But unlike Pamela he has praised the cast and crew and reckons long-time fans won't be disappointed by the update.
"I'm playing Hasselhoff. I play the Rock's mentor," reveals David. "I come to him when I see he's in trouble. The rest is a surprise."
Baywatch is due for release in the UK on 29th May https://youtu.be/nZ5tqzw841s
Get the latest updates, reviews and unmissable series to watch and more!
Thank you for signing up to Whattowatch. You will receive a verification email shortly.
There was a problem. Please refresh the page and try again.