Phoebe Fox: 'It's a joy to wear jeans!'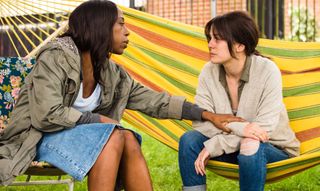 (Image credit: BBC / Riot Communications / Steffan Hill)
After a clutch of period dramas, Close To The Enemy star Phoebe Fox tells What's on TV about her new series, NW, set in modern-day London…
After a clutch of period dramas, Close To The Enemy star Phoebe Fox tells What's on TV about her very modern new series, NW, based on Zadie Smith's bestseller…
After period dramas Close To The Enemy and Life in Squares, is it good to be in a modern-day series?
"Yes, I've done a lot of period drama and I can't tell you the joy of being able to wear a pair of jeans. It was a joy unrivalled so far in my acting career! I've been told I have a period face, so I think sometimes people don't think I look modern enough to exist in 2016!"
Had you read the book, NW?
"I hadn't read it before but I read it during the shoot. It's an absolutely amazing book, set in London, and the way Zadie Smith paints London is incredibly vivid and also accurate. Having grown up in London myself, the London she depicts is definitely the one I grew up in. I recall Nike Airs becoming really big in London!"
So for those who haven't read the book, what's it about?
"We meet these two women, Natalie and my character Leah, when they're both about 35. They've been friends since they were five years old, but have nothing in common anymore and they've sort of forgotten why they were friends. They're at a crisis point, in their friendship but also their lives."
What's Leah's crisis?
"The main crisis is that Leah's husband is desperate to have children, but Leah doesn't. She's deeply in love with him but it drives a wedge between them. A lot of my friends are on the fence about becoming mothers but it's still quite a taboo subject. There's still this idea that young girls grow up and get married and have children. To even utter out loud that you maybe don't want children is still controversial."
NW starts on Monday 14 November at 9.00pm on BBC2
Get the latest updates, reviews and unmissable series to watch and more!
Thank you for signing up to Whattowatch. You will receive a verification email shortly.
There was a problem. Please refresh the page and try again.