Requiescant (1967) | Blu-ray release - This wild Spaghetti Western gives Sergio Leone a run for his money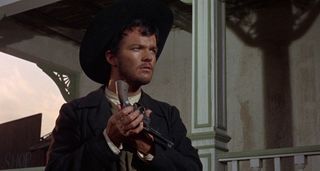 Out on Blu-ray and DVD following a new transfer comes Italian director Carlo Lizzani's 1967 Western Requiescant (aka Kill and Pray).
Directed and written by a committed communist (Lizzani) with help from fellow Marxist, famed Italian film director Pier Paolo Pasolini, who also cameos as a militant missionary, this must be the most political Spaghetti Western ever made as its themes are all about class struggle.
Western star Lou Castel is the sweet natured Bible-quoting foundling turned sharp shooter who goes out for revenge against ruthless Southern landowner George Ferguson (Mark Damon), who orchestrated a bloody massacre that killed Castel's Mexican rebel father and mother, and who is now desperately trying to keep it hushed up.
The Arrow Video release boasts a new transfer taken directly from the original camera negative (which looks absolutely fantastic) with both Italian and English sountracks and optional English subtitles, the Arrow release marks the first time that Requiescant has been made available on Blu-ray. The bonus content includes an all-new interview with star Castel, recorded exclusively for this release and an archival interview with director Lizzani.
READ MORE ABOUT THE FILM HERE… (opens in new tab)
http://www.youtube.com/watch?v=Y69xNeY6qsw
Thank you for signing up to Whattowatch. You will receive a verification email shortly.
There was a problem. Please refresh the page and try again.