Sean Bean loved getting Wasted: 'It showed my gentler, more ludicrous side'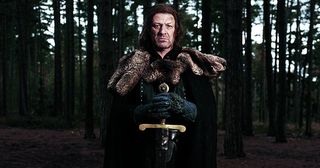 (Image credit: Dave King)
Sean Bean plays himself (at least a heroic version of himself) in new E4 comedy Wasted and says the 20-somethings' show is 'exactly my kind of humour'
Plenty of actors have sent themselves up while playing themselves on television, from Daniel Radcliffe in Extras to Stephen Hawking in The Simpsons, yet when Sean Bean got the call for E4's new six-part comedy series Wasted, he was a little taken aback...
How did you feel about playing yourself? "It was very bizarre. I've never played myself before and, when they first sent me the idea, I was quite bemused by it. Then I got the scripts and they were so funny – exactly my kind of humour, right up my street."
What was the costumes like? "I was dressed up in leathers and a wig, but we played it very straight, which is what made it credible and comical."
Did you enjoy playing this character? "A few years ago, I did Patriot Games and Bond and everyone thought I was a good villain, which was fine by me. But then you start getting pigeon-holed, so it's nice to get a part like this, showing a gentler and more ludicrous side to my personality. I watched the first two episodes of Wasted last night and I was laughing my head off."
https://youtu.be/Lb9OtTDNh8c
The show's creators, Jon Foster and James Lamont, were delighted by Sean's willingness to send himself up.
"We always felt the spirit guide had to be him," said Jon. "We knew Sean Bean would be Sean Bean. What we couldn't have known is, he'd be really, really good at landing jokes."
How the show based on your own experiences growing up? Jon: "Everything is based around something that happened to us or our mates, or something we always planned to do. These characters are slightly past the point of being young enough to think the future's still really bright, and they're thinking now that they might as well stay in their home town.
"It's the feeling of knowing each other really well, the way you talk to each other, being able to take the mickey out of each other while knowing it doesn't ruin anything."
Did you see yourself in these characters? "These guys, they've not really been around the world much and their idea of going out is down the pub. I had friends like that. We knocked around together and lived in each other's pockets. You form a very strong bond at that age, when you're not quite sure where you want to go or what you want to be.
"We had a good laugh and got up to some very silly stuff, but I was lucky that I found something I wanted to do in acting, and just went for it."
Get the latest updates, reviews and unmissable series to watch and more!
Thank you for signing up to Whattowatch. You will receive a verification email shortly.
There was a problem. Please refresh the page and try again.