One Million Years BC (1966) | Hammer's iconic prehistoric adventure is still fur-tastic fun at 50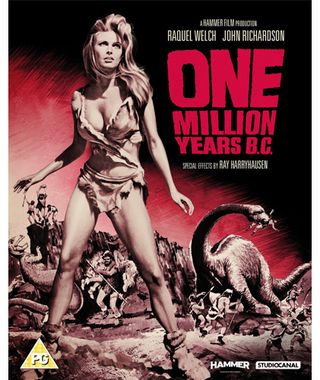 From Studiocanal and Emfoundation comes the release of the 4k restoration to mark the 50th anniversary of the Hammer classic One Million Years BC, the spectacular prehistoric adventure which gave the world the most iconic fur bikini shot of all time, and made a star of Raquel Welch.
This epic tale of man's battle for survival at the dawn of civilisation begins on some rugged cliff faces (in real-life Lanzarote), which is home to the Rock People. When their leader Akhoba (Robert Brown), banishes his son Tumak (John Richardson) from the tribe, the young warrior battles a giant lizard and a brontosaurus, before reaching the sea where he is taken in by the Shell People, and falls in love with Loana (Raquel Welch). Together they face an array of dangers, including fearsome beasts, an angry volcano and even Tumak's former lover Nupondi (Martine Beswick)…
Billed as Hammer's 100th production, the film's highlight was the brilliant stop-motion dinosaur animation by Ray Harryhausen. The result was Hammer's biggest commercial success and an enduring classic that looks the best its ever been following its restoration.
This release contains exclusive artwork from the Harryhausen foundation, and will reveal fully for the first time detailed notes and storyboard for an unfilmed Brontosaurus sequence, which was originally planned as the film's dramatic climax, along with other brand new extras.
One Million Years BC is out on Doubleplay DVD and Blu-ray on October 24th 2016, and includes the following extras: • New Interview with Raquel Welch • New Interview with Martine Beswick • Exclusive Ray Harryhausen stills, storyboard and artwork • Production stills gallery
Get the latest updates, reviews and unmissable series to watch and more!
Thank you for signing up to Whattowatch. You will receive a verification email shortly.
There was a problem. Please refresh the page and try again.