10 Frightfully Fun Horrors You Must See This Halloween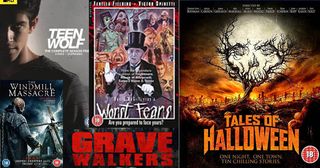 So what are you going to watch this Halloween weekend? Movie Talk counts down 10 that are a must-see…
10. WORST FEARS
This wicked confection of old-school horror from the legendary 1970s master of the macabre David McGillivray (House of Whipcord, Frightmare, Satan's Slave) features seven nightmarish tales in the style of TV's Tales of the Unexpected; and it's the winning combination of campy turns from veterans like Fenella Fielding (Carry On Screaming) and Anna Wing (EastEnders) and the great locations (Marrakech, Lisbon, Nice) that will make you forget that this was shot on video with next to no budget. The extras are hoot! Out on DVD from Nucleus Films.
9. THE WINDMILL MASSACRE
Stella's Patrick Baladi swaps the South Wales Valleys for the Dutch countryside in this And Then There Were None-styled slasher in which a group of cagey tourists board a coach for a tour of Holland's world famous windmills. But when the bus breaks down, they find themselves targeted by a Devil-worshipping miller who grinds the bones of locals instead of grain. Among the doomed souls are Noah Taylor (Peaky Blinders), Charlotte Beaumont (Broadchurch) and Fiona Hampton (Kingsman: The Secret Service). Out now on VOD and DVD from Kaleidoscope Home.
8. TEEN WOLF | SEASONS THREE, FOUR & FIVE
Sink your teeth into the hit fantasy series when three seasons of Teen Wolf, which have yet to be screened in the UK, are unleashed on DVD from 31 October from Twentieth Century Fox Home Entertainment. Each season is crammed with nail-biting episodes involving Alpha werewolves, resurrections, The Benefactor and The Beast and a whole new dimension of extras never seen before.
8. GRAVE WALKERS
It's a case of Ghostbusters meets Dawn of the Dead in The Twilight Zone when supernatural forces are locked into a college town police force's basement jail in this indie spookfest. The sheriff and his deputies are then subjected to psychic attacks, preying on the fears of the loyal officers and only those with the strongest wills can survive. Out now on Digital and DVD from Solo Media and Matchbox Films.
7. LET'S BE EVIL
A modern twist on Village of the Damned-style futurist horror, crossed with the fast-paced thrills of Hanna, this unnerving exploration of tech run amok sees an experiment in augmented reality spiralling badly out of control, and stars Kara Tointon (The Sweeney), Elliot James Langridge (Northern Soul) and child actress Isabelle Allen. In cinemas and on VOD from Friday 28 October from Vertigo Releasing.
6. ROB ZOMBIE'S 31
Rob Zombie returns with this ultra-violent grindhouse-infused 1970s-set slasher starring the legendary Malcolm McDowell as the head of a weird cabal who take bets on a deadly game in which a group a kidnapped carnival workers try to escape a maze filled with deadly traps and murderous psychopaths. It's a sick, slick blood-drenched rock 'n' roll rollercoaster ride of terror – and yes, Sheri Moon Zombie plays another dreadlocked heroine. Available on VOD now (Google Play, iTunes, Amazon).
5. DOWNHILL
Prepare for a crazy ride in the Chilean mountains filled with deranged hunters, naked witches and a deadly virus in the latest horror sensation from 'Chilewood'. During a exhibition in Chile, biking star Joe and girlfriend Stephanie find themselves in a world of pain when they find themselves being hunted by relentless killers hiding a deadly secret that's just waiting to burst out… Out now on DVD from Matchbox Films
4. THE CHURCH
During the renovation of a Gothic cathedral in Germany, a mass murder site is uncovered and it's not long before the victims come back from the dead in search of their revenge. Father Gus (Holby City's Hugh Quarshie) and a group of visitors find themselves trapped inside the church with the evil spirits. Will any of them make it out alive?
Prepare yourself for stunning visuals in the 1989 atmospheric cult Italian horror, La chiesa, from Michele Soavi, which is getting a restored and re-mastered 2K release on Blu-ray from Shameless on 31 October in original English (as well as Italian with new English subs).
3. THE CURSE OF SLEEPING BEAUTY
If you love your horror part-Maleficent, part-Vampire Diaries, then you are going to enjoy this dark new twist on the classic fairy tale, which features a bright young cast (including Gregory Peck's grandson, Ethan), gorgeously sinister design, and more than a touch of gothic terror. Out now on DVD from Lionsgate
2. TALES OF HALLOWEEN
Named 'the best horror anthology since Trick 'r Treat' by Fangoria, Tales of Halloween weaves together 10 tales from horror's top directors including Neil Marshall (The Descent), Lucky McKee (The Woman) and Darren Lynn Bousman (Saw II, III & IV), and includes cameos from genre legends Barbara Crampton, Adrienne Barbeau, John Landis and Joe Dante. Watch in terror as ghosts, ghouls, monsters, aliens, axe murderers and the devil himself delight in terrorising unsuspecting residents of one American suburban neighbourhood across one heart-stopping Halloween night. Out now on Digital HD, DVD and Blu-Ray from Arrow Films
1. TRAIN TO BUSAN
South Korean animation director Sang-ho Yeon switches to live action – and lots of CGI – for this flesh-eating thriller which ramps up the claustrophobia by being set on a train. City boy Seok Woo (Yoo Gong) reluctantly takes his neglected young daughter (Soo-an Kim) on a 270-mile HST journey from Seoul to see her mother in Busan, but news of civil unrest on TV soon morphs into an all-out zombie virus outbreak. Yeon's fusion of digital trickery, old-school make-up and ingenious stunts keeps the tension apace and there's a host of quirky characters that will have you cheering on their heroism or booing their villainy all the way to the final station. Out now in UK cinemas.
Get the latest updates, reviews and unmissable series to watch and more!
Thank you for signing up to Whattowatch. You will receive a verification email shortly.
There was a problem. Please refresh the page and try again.