Cohen & Tate (1988) | This action packed thriller is ripe for rediscovery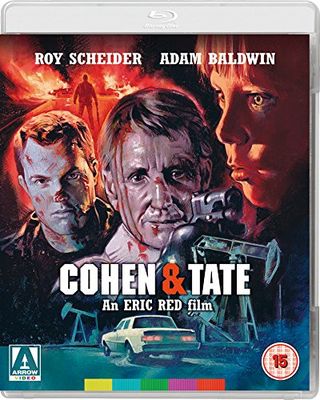 Roy Scheider and Adam Baldwin take centre stage in director Eric Red's hitman versus hit man 1980s thriller, which gets a feature-packed, director-approved dual format release in the UK from Arrow Video.
When a young boy called Travis (Harley Cross) witnesses a gangland killing, two professional hitmen – grizzled, experienced Cohen (Roy Scheider) and impetuous, psychopathic Tate (Adam Baldwin) – kidnap the boy and transport him from Oklahoma to their bosses in Houston.
A nightmarish journey ensues, with the jaded Cohen increasingly angered by the lunatic ramblings of his violent sidekick. Added to this is their young hostage, who sets the men up against each other and concocts various escape plans…
This blood-soaked atmospheric thriller marked the directorial debut of Eric Red, who penned the excellent screenplays for The Hitcher (1986) and Near Dark (1987). Combining the unnerving suspense of his celebrated road horror classic The Hitcher with some psychological horror elements, chase action aplenty, and some darn fine performances, its one of those 1980s action pics that totally went under my radar when first shown, but Arrow Video's director-approved dual format edition provides the perfect excuse to revisit this blast from the past.
DIRECTOR-APPROVED SPECIAL EDITION CONTENTS • High Definition Blu-ray (1080p) and Standard Definition DVD presentations • Original stereo audio (uncompressed on the Blu-ray) • Optional English subtitles for the deaf and hard of hearing • Audio commentary by writer/director Eric Red • A Look Back at Cohen & Tate: a retrospective documentary featuring Eric Red, cinematographer Victor J Kemper, editor Edward Abroms, and co-stars Kenneth McCabe and Harley Cross • Original, uncut versions of the farmhouse and oilfield shoot-outs • Original theatrical trailer • Extensive stills gallery • Eric Red's original storyboards for the opening farmhouse shoot-out (BD-ROM/DVD-ROM Content) • Newly commissioned artwork by Graham Humphreys
https://youtu.be/7DPqNgVI5sY
Get the latest updates, reviews and unmissable series to watch and more!
Thank you for signing up to Whattowatch. You will receive a verification email shortly.
There was a problem. Please refresh the page and try again.