Journey to Oz | Animated Russian children's adventure is far from wizard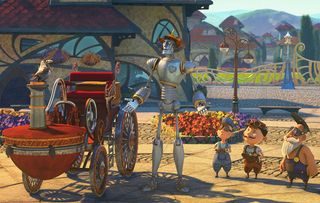 We're not in Kansas anymore.
Based on one of a series of Soviet-era tales adapted (or ripped off, if you prefer) from L Frank Baum's The Wonderful Wizard of Oz, Russian computer-animated children's film Journey to Oz makes curious viewing.
It has a version of heroine Dorothy in the figure of her modern-day granddaughter, as well as those familiar figures the Lion, Tin Man and Scarecrow. But the story will be new to most of us. And so will its baddie, an envious toymaker who brings to life an army of wooden soldiers and uses them to capture the Emerald City.
A bitter and resentful crosspatch, the character of Urfin Jus doesn't feature in the original Land of Oz, but his creator, Soviet author Alexander Volkov, did borrow the magic 'powder of life' Urfin deploys to conjure inanimate objects into life from Baum's second Oz book, The Marvelous Land of Oz. And Urfin doesn't only use this powder to forge wooden soldiers. The sidekicks he summons up also include a creepy-looking clown puppet and a dusty bearskin rug.
As you might expect, the peace-loving Munchkins don't stand a chance against Urfin's fierce will – until Dorothy and her chums lend a hand.
As it happens, Dorothy and her allies actually play a surprisingly small role in the overall story. Which may confuse and disappoint some viewers. Even so, the end result is passably entertaining, although the bumpy plotting and lacklustre voice work do let the film down.
Certificate U. Runtime 91 mins. Directors Fyodor Dmitriev, Darina Shmidt, Vladimir Toropchin
Journey to Oz (aka Fantastic Journey to Oz, aka Urfin and His Wooden Soldiers) available on DVD & Digital from Signature Entertainment.
https://www.youtube.com/watch?v=7DChtasp7Ec
Get the latest updates, reviews and unmissable series to watch and more!
Thank you for signing up to Whattowatch. You will receive a verification email shortly.
There was a problem. Please refresh the page and try again.