The Man from U.N.C.L.E. | Film review - Retro chic spy caper with a champagne cocktail's effervescent fizz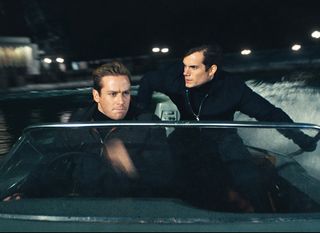 (Image credit: Courtesy of Warner Bros. Picture)
Guy Ritchie gives the iconic 1960s TV series The Man from U.N.C.L.E. a slick and stylish reboot, delivering a breezy mix of spy caper and buddy movie, a deliciously old-fashioned romp brimming with retro chic, and with a champagne cocktail's effervescent fizz.
Set in 1963 against a backdrop of Cold War suspicion and jet-set cool, The Man from U.N.C.L.E. takes us back to the origins of the partnership between the TV show's mismatched espionage duo, Napoleon Solo and Illya Kuryakin. Henry Cavill's Solo, suave art thief turned equally debonair CIA operative, displays the unruffled ease that nonchalant Italians call sprezzatura.
Armie Hammer's Kuryakin is the Roundhead to Solo's Cavalier, a scowling, by-the-book KGB agent who looks daggers as well as throws them. They are forced to join forces, however, to stop that obligatory foe, the mysterious international criminal organisation.
Along with them for the ride, and creating an additional frisson of tension between them, is Alicia Vikander's East German car mechanic Gaby Teller, the estranged daughter of a missing Nazi rocket scientist whose secrets the mysterious international criminal organisation is hell bent on exploiting.
After the rival spies have stopped taking pot shots at each other, the mission takes the trio from dour, drab East Berlin to glamorous, cosmopolitan Rome, where they encounter their ruthless, nuclear-bomb-seeking nemesis, Italian socialite Victoria Vinciguerra, portrayed with icy blonde hauteur by The Great Gatsby's Elizabeth Debicki.
Despite the high stakes, Ritchie and his cast play it cool – the thrills and spills here are larky rather than grim, save for one queasy sequence involving a former Nazi concentration camp doctor. That misstep apart, Ritchie's film is enormous fun. Cavill and Hammer's chalk-and-cheese chemistry is a delight and, on this occasion, Ritchie's typical tongue-in-cheek approach proves a better fit for the material than his brace of Sherlock Holmes movies. A third Sherlock film is apparently still in the works, but I'd rather see Ritchie and co-writer Lionel Wigram making an U.N.C.L.E. sequel first.
Certificate 12A. Runtime 116 mins. Director Guy Ritchie.
https://www.youtube.com/watch?v=4K4Iv_N9Nno
Get the latest updates, reviews and unmissable series to watch and more!
Thank you for signing up to Whattowatch. You will receive a verification email shortly.
There was a problem. Please refresh the page and try again.