A quick chat with James Fleet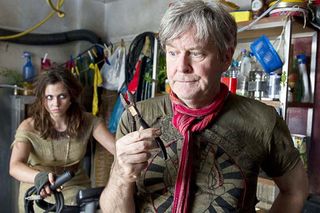 (Image credit: Dan Smith)
The Vicar of Dibley's James Fleet stars in two new Channel 4 comedies this week, playing a mild-mannered teacher in Just Around the Corner, a dystopian sitcom set in a Britain ravaged by climate change, and appearing as a flamboyant actor in The Function Room, which takes place in a room above a pub. TV&Satellite Week magazine caught up with him to find out more... Just Around the Corner imagines a future where mod cons are in short supply due to climate change. What was it like to film? "The worst thing was being dirty. There were chickens and goats on set, and we had lots of dirt make-up to make our necks and legs look filthy. My shower broke down during filming, so I'd go home and wash in a bucket. It was pretty method." Can you remember your first acting role? "The first piece of acting I did was at primary school, and I dressed up as a wolf. At secondary school they didn't do drama, but I always felt I had a connection with the theatre. I didn't actually go to see a play till I was about 20." After playing Tim in Four Weddings and Hugo in The Vicar of Dibley, do you tend to get typecast? "I've played a lot of honest, loyal but weak men who are pushed around by other people. I thought for a long time that had happened by accident and I'd been pigeon-holed, but it's probably because I'm really like that." You've done a lot of comedy. Who makes you laugh? "Dawn French, Richard Curtis and Hugh Grant really make me laugh. They're terribly guarded in public, but in private they are very naughty and extremely funny." You've done a lot of stage work, and you branched out into musicals this year. Was that an enjoyable experience? "Yes, I sang in My Fair Lady at the Proms. I was Colonel Pickering and Anthony Andrews was Professor Higgins. So I've gone from not being able to sing at all to singing at the Albert Hall." Looking back on your career, would you have done anything differently? "When Four Weddings came out, I should have gone to America. I had the chance, but I didn't go because we'd just had a baby and had no money. I think I'd have ended up playing lots of butlers and posh English golf club owners." Do you have a preference in terms of the parts you play and the things you appear in? "I just devour every role. It doesn't matter what it is, from Shakespeare and Chekhov to Coronation Street, as I still have the appetite to appear in different things and pretend to be different people." What's next for you? "I'm off to Guadeloupe to film an episode of Death in Paradise. I'm sure Ben Miller got me the job. We were in a West End production of The Ladykillers together, and I told him I'd love to guest star in the series. I'm appearing as an arrogant plastic surgeon." The Function Room is on Channel 4 on Sunday, August 19 at 10.40pm. Just Around the Corner is on Channel 4 on Thursday, August 23 at 10.35pm.
Get the latest updates, reviews and unmissable series to watch and more!
Thank you for signing up to Whattowatch. You will receive a verification email shortly.
There was a problem. Please refresh the page and try again.