Absolutely Anything | Film review - Simon Pegg's super powers can't save this feeble British comedy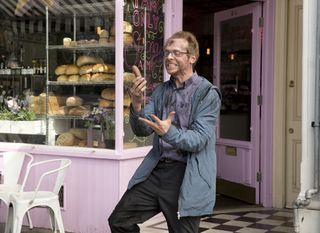 (Image credit: Giles Keyte)
Simon Pegg's feckless London schoolteacher suddenly finds himself endowed with the ability to do anything he wishes. Sadly, this doesn't extend to saving embarrassingly feeble British sci-fi comedy Absolutely Anything, a long-nurtured project by co-writer-director Terry Jones that has finally but inexplicably been greenlit.
Pegg's bone-idle teacher is an unwitting guinea pig being tested by a bunch of aliens (voiced by Jones and fellow Pythons John Cleese, Terry Gilliam, Michael Palin and Eric Idle) as a prelude to destroying the planet.
The uses to which he puts his new gifts are fairly lame - enabling his dog to talk (a dismayingly dog-eared final role for Robin Williams), turning his school colleague Sanjeev Bhaksar into an object of cult devotion and striving to make his frosty downstairs neighbour (Kate Beckinsale) fall in love with him.
The jokes are mostly mirthless, sub sit-com stuff, but one brief gag does raise a chuckle when Pegg's wish for a penis that women find exciting is swiftly followed by the addendum, 'Can I have one in white?'
Certificate 12A. Runtime 86 mins. Director Terry Jones. http://youtube.com/v/0CYVGN98ZLA
Get the latest updates, reviews and unmissable series to watch and more!
Thank you for signing up to Whattowatch. You will receive a verification email shortly.
There was a problem. Please refresh the page and try again.