Black Work star Phil Davis: 'I'll play anything interesting – from serial killer to bank manager!'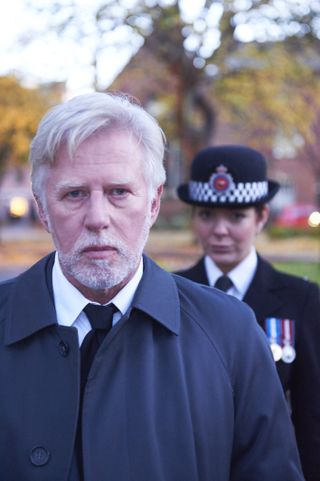 Phil Davis turns up in episode two of ITV thriller Black Work on Sunday as a shady police handler, Tom Piper.
What's on TV talk to Phil about his latest part, and discover why the accomplished character actor is open to playing such a variety of characters…
You've done a fantastic range of work over the years (Quadrophenia, Pink Floyd The Wall, North Square, Alien 3, Poldark). What keeps you motivated?
"Well, I like to work, I enjoy it. I have a living to earn just like everybody else. I've been at this 42 years now and it's all I ever wanted to do as a kid. And I do love it. It's just endlessly fascinating; putting your feet into other people's shoes and investigating other people's lives. I've been lucky, as I've got older the range of characters I get to play have broadened out and it's a very interesting life."
Are there any roles you've not yet done that you'd like to play?
"There are lots yes, of course. There are all sorts I haven't tackled. But the great thing is I don't have a list of parts I'd like to play because I do new work and the writers will set the agenda. It means you don't know what's going to drop through the letterbox or ping on your email. The questions I ask are – is it an interesting character and can I do something with it?"
Are there any parts you wouldn't consider?
"I don't do everything I'm asked to do. Once or twice it's happened. I'll play anything – a paedophile, a serial killer, or a bank manager. It's just whether the role is challenging in some way or takes you somewhere you haven't been before. The really exciting ones are the ones where you think 'Whatever made you think of me for this?' or 'Oh blimey! How am I going to do that?' But that doesn't happen that often really."
What was it about Tom Piper in Black Work that drew you in?
"I read the whole script and I found it gripping. I wanted to keep turning the pages to see what was happening. You really feel for this character, Jo Gillespie, that Sheridan Smith's playing. She's lost her husband, Ryan, and then discovers he's been leading a whole double life. Although Tom's not a huge role, it's an important one, so I decided to give it a whirl."
Have you enjoyed working with Sheridan Smith?
"Working with Sheridan was another incentive. We've quite a bit to do [together] and she's been fantastic!"
What can you reveal about your character, Tom Piper?
"He's rather mysterious, but it all becomes clear in the end. He's the handler for undercover cop Ryan. Tom's kind of responsible for what went on and in the final episode he finally reveals to Jo exactly what he knows!"
Watch a clip from episode 2 of Black Work
Get the latest updates, reviews and unmissable series to watch and more!
Thank you for signing up to Whattowatch. You will receive a verification email shortly.
There was a problem. Please refresh the page and try again.