12 Things You Need To Know About Tom Hardy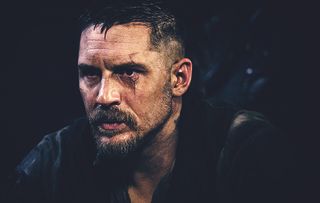 (Image credit: Scott Free Prods/Robert Viglasky)
There is something dark and sinister, yet romantic and sensitive about Tom Hardy that has elevated him to become one of Britain's leading stars. But how much do you know about the Hammersmith-born actor?
As Taboo comes to an end this Saturday on BBC1, we'll miss Tom Hardy playing the damaged, cold-blooded murdering James Delaney, determined to take on the corrupt East India Company. Who doesn't love a baddie, particularly one who thinks nothing of cutting out people's tongues and hearts and getting passionate with his sister?
Tom Hardy is renowned for playing villains but we wanted to find out more about the man behind the mad, bad and downright evil mask!
A GOOD IDEA Tom Hardy and his father, Edward, known as 'Chips' came up with the idea for the series Taboo, about the evil dealings of the East India Company in the 19th Century. They then handed the concept to Steven Knight, the creator of Peaky Blinders, who had worked with Tom when he played Jewish gang leader Alfie Solomons on the show.
A MODEL CITIZEN Tom came to public attention when he won a modelling competition on C4's Big Breakfast in 1998, at the age of 20, while at drama school. He wore baggy trousers and an alice band in his hair, as the show's presenter swooned over his tattoos and bone structure!
SO BAD HE'S GOOD! Tom has played a string of bad boy characters, including both Kray brothers in Legend, psychotic prisoner Charles Bronson, Bill Sikes in Oliver Twist and Fitzgerald in Oscar-winning film, The Revenant, who left Leonardo DiCaprio's character, Hugh Glass, to die after a grizzly bear attack!
Why does he take on such challenging roles? "The appeal for me in playing villains is there's a lot more complexities of the human condition than playing a straight lead," said Tom.
BACK TO SCHOOL Tom was privately educated and attended Tower House School in Richmond upon Thames and Reed's School in Cobham, Surrey. Tower House is the same school that Rory Kinnear, Jack Whitehall, Robert Pattinson and Louis Theroux attended, while over at Reed's, Tim Henman was a former pupil
LIVING UNDER AN ALIAS His real name is Edward, but he uses his middle name. He was born Edward Thomas Hardy — an only child — in Hammersmith in London on 15 September 1977. His mum, Anne, is an artist, and his dad, Edward, is a novelist and comedy writer.
Tom and Woody at the Legends premiere
CRAZY ABOUT CANINES He adores canines and has two dogs, one of which was a stray he rescued called Woody. Tom has appeared in a campaign to promote pet adoption, has appeared on Paul O'Grady's For the Love of Dogs on ITV and often takes Woody on the red carpet when promoting his films. "They're just so clean and straightforward, you know what you're getting with a dog," said Tom. "Unfettered companionship and loyalty."
MARRIED TO THE JOB He's married to actor Charlotte Riley, who he met on the set of ITV's Wuthering Heights in 2009, when he played Heathcliff to her Cathy. The pair have a child, born in 2015, and have starred together in TV dramas The Take and Peaky Blinders.
GREAT BEDSIDE MANNER Tom's softer side came to the fore when he appeared on Bedtime Stories on CBeebies, reading the story You Must Bring a Hat by Simon Philip and Kate Hindley while accompanied by his snoozing dog, Woody.
TOP DRAWER! In order to get to grips with the characters he plays, he draws them by hand, doodling to figure out how to play them. He also draws pictures for his kids including a cat called Marmalade, who is the star of bedtime stories that he reads to his children.
FIT FOR A QUEEN As Dudley, Earl of Leicester, in the Virgin Queen, he wooed and romanced Elizabeth 1, played by Anne Marie Duff. A devoted subject, Dudley was a favourite of the queen, and a favourite with viewers before he died while Elizabeth celebrated her greatest victory, defeating the Spanish Armada. Tom can certainly rock the ruffly shirt look!
BANE OF HIS LIFE Tom played Batman villain Bane in The Dark Knight Rises, a role that launched him as a Hollywood star. But he had to undergo a gruelling regime to beef up for the part, which he found hard. "You pay the price with any drastic physical changes. It was all right when I was younger, but as you get into your forties you have to be more mindful of the rapid training, packing on a lot of weight and getting physical. I'm certainly achier than I used to be! I have joints that click that probably shouldn't click, and I'm certainly achier than I used to be!"
MORE DELANEY!
Good news for Tom Hardy fans – two more series of Taboo are planned, according to writer Stephen Knight. "The plan is there would be three seasons," he said. "After that, who knows?"
Get the latest updates, reviews and unmissable series to watch and more!
Thank you for signing up to Whattowatch. You will receive a verification email shortly.
There was a problem. Please refresh the page and try again.