'I thought there was a real body buried there!' Brenda Blethyn on the new series of Vera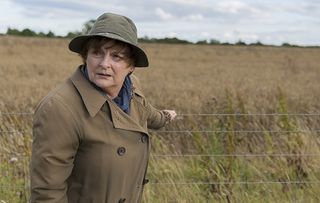 As the popular detective returns for a ninth series, actor Brenda Blethyn, who stars as Vera, reveals what's in store...
After eight successful series of Vera, acting royalty Brenda Blethyn is back this week and will be donning her trusty mac and trademark hat and scarf as she resumes the role of DCI Vera Stanhope.
Abrupt, no nonsense and rarely cracking a smile, the unconventional detective is a world away from Brenda who, when TV Times arrives at ITV HQ to meet her in the run up to Christmas, is busy giggling with her co-star Kenny Doughty (DS Aiden Healey), and planning the panto they're hoping to see together in Brenda's home town of Ramsgate.
The new four-part series sees actor and former Dennis Pennis prankster Paul Kaye join the cast as a pathologist, meanwhile a host of other well-known faces join as guest stars, including Peter Davison, Mark Addy, Downton Abbey's Rob James Collier, former Corrie stars Natalie Gumede and Dean Fagin, The Bill's Mark Wingett and Patrick Baladi (The Office).
Here award-winning actor Brenda, 72, shares the highlights and new additions to this year's series and tells us why she feared there may have been a real corpse buried on one of the filming locations...
TV Times speaks to Vera star Brenda Blethyn
TV Times: Tell us about Vera's opening case…
Brenda Blethyn: "She and Aiden have to go and investigate the murder of a young woman whose body has been found dumped on a landfill site. It was our first day of filming and it was really hot and windy, all the dust was blowing around and there was the stench of methane. It was rank. Also, I couldn't help thinking that the chances are, there probably was a real body buried in there somewhere! Peter Davison (former Doctor Who) plays the victim's colleague and Adrian Lukis is her father."
TVT: You have a new pathologist this series, Dr Malcolm Donohue played by actor and former celebrity-prankster, Paul Kaye…
BB: "Yes, Paul himself is gold-dust, he's terrific and such a joy to work with. I remember when he used to be Dennis Pennis. He used to frighten the living daylights out of me. That was around the time I'd be doing a lot of red carpets and I thought, 'I really hope I don't come across him!' Paul couldn't be more different from Dennis Pennis, they're chalk and cheese!"
TVT: How do Vera and Dr Malcolm get on?
BB: "They tolerate each other to get the job done but he's got no time for her. When Vera finds out she has to work with him she's almost rolling her eyes because he's such a miserable git! He's got his own agenda and very much sticks to the rules, unlike her. With all the previous pathologists Vera has always had banter but with Malcolm it's very different so it's a nice new dynamic."
TVT: What do you still love about playing Vera?
BB: "I love the way she doesn't beat about the bush, you don't have to second- guess her, she calls a spade and a spade and she's fair. I like that about her. It's such an enjoyable job to do because we all get on so well. Not only Kenny and I, but the whole crew. Even the supporting artists are loyal and come back year after year. And it's such a great family show, we have parents bringing their nine year-olds to locations because their children have drawn pictures of Vera and Aiden and want to give them to us."
TVT: Do you get people approaching you saying they'd love to be in it?
BB: "Yes sometimes, I always point them in the direction of our brilliant casting director, Maureen Duff and sometimes I recommend people myself. Two years ago we had an International Film Festival in Ramsgate where I live and I saw an actor called Gerard McDermot in one of the films. I thought he was terrific and so I recommended him for Vera and he got the part in episode one, playing the father of a murdered boy."
TVT: You also have a lot of new first-time young actors in the series. Do they get nervous on set?
BB: "Yes, because they might have only seen Vera on the telly, they think she's this monstrous, scary woman. Kenny and I always make it our mission to make people laugh and get rid of any nerves. It could be anything from me doing a funny walk, anything that breaks the ice. People need to know we're not scary and it's fine if they go wrong!"
TVT: Which TV detectives do you like to watch yourself?
BB: "I like Michael Kitchen in Foyles War. I think he's great and he just goes at his own pace. I really like Endeavour and Miss Marple too. Joan Hickson was divine and when she went I thought nobody was going to fill those shoes but then Julia McKenzie came along and she did such an excellent job."
TVT: Did your beloved cockerpoo dog Jack manage to get in any scenes this year?
BB: "No although if you look closely at DC Mark Edwards desk there's a photograph of Jack on his desk. Vera's not the sort of person to attach herself to a dog although a dog might attach itself to her. She'd treat it the same way she treats everyone, 'Go on! Clear off'!"
TVT: If there was a final season there'd have to be a big finale for Vera wouldn't there?
BB: "I don't think they're looking at a final yet. If we keep going I'll have to come out with a zimmer frame, or Vera could go round on a mobility scooter. She'd have to jack the Land Rover in though!"
The new series of Vera begins on Sunday Jan 13, 8pm on ITV
Get the latest updates, reviews and unmissable series to watch and more!
Thank you for signing up to Whattowatch. You will receive a verification email shortly.
There was a problem. Please refresh the page and try again.