Ex Merlin star Angel Coulby reveals her new Thunderbirds character is a hands-on action heroine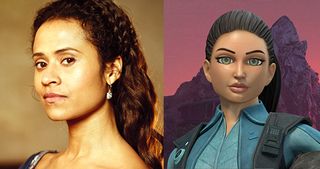 Thunderbirds Are Go is about to hit ITV this evening, and there are some new characters to look out who weren't in the original 1960s series. One of them is a girl called Kayo, voiced by Angel Coulby, best known as Gwen in BBC1's fantasy series Merlin…
"Kayo has kind of been adopted by the Tracy family and is a tough action kind of girl. She often has to get very hands on with fighting the bad guys and doesn't mind doing a bit of martial arts or having fisticuffs if necessary," Angel told What's on TV.
"Kayo's supposed to consult the team if she wants to go in and get the bad guys, but she kind of can't be bothered to do that. She tends to get on board a spaceship, fly in there and get rid of them. Lots of viewers will be jealous of Kayo because she's amazingly cool."
"Initially Kayo was supposed to be American, but because of something that happens later in the show we decided actually it was better if she was English."
Angel is sure Kayo will be popular with the new generation of Thunderbirds Are Go fans watching the new 26-part series. She also reckons it'll bring her back on to the sci-fi fantasy convention circuit soon…
"I did a few Merlin conventions which were great. There's just this massive enthusiasm, which you don't tend to see around other genres. People are so dedicated, they live for these conventions, and shows like Thunderbirds.
"I remember our first group of Merlin fans who turned up at the castle when we were filming Merlin. They were just there every year and they were like we just get together every year and we're just so passionate about it. Generally it's a really nice thing."
Thunderbirds Are Go begins Saturday April 4, ITV, 5pm
Get the latest updates, reviews and unmissable series to watch and more!
Thank you for signing up to Whattowatch. You will receive a verification email shortly.
There was a problem. Please refresh the page and try again.